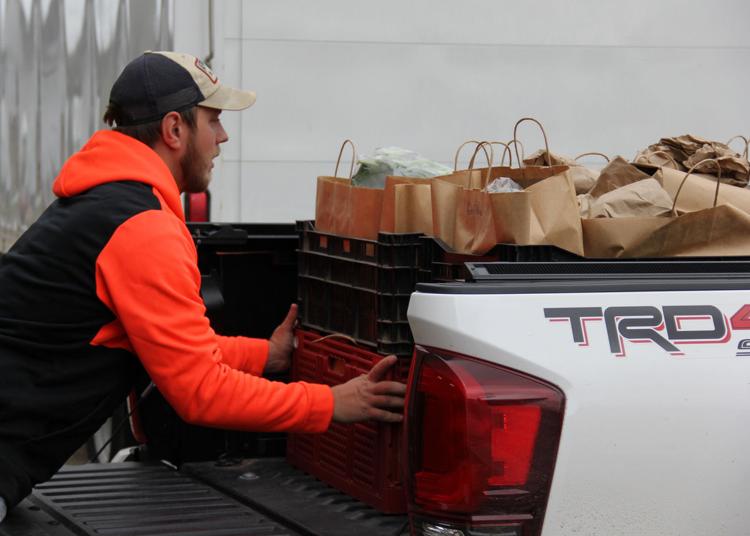 After the Safer at Home lockdown started last March, community members came together to help Ripon weather the pandemic. In the ensuing months, over three dozen people — including police officers, nonprofit administrators, farmers, therapists, pastors, and business owners — participated in Ripon Community COVID-19 Task Force.

As we start a new year, here are some of the 2020 accomplishments of the Task Force and the community.
Ripon's food pantries — Traded Treasures, St. Catherine of Siena, and the Blessing Box located outside of St. Peter's — helped feed the growing number of Riponites facing food insecurity.
First Congregational Church of Ripon converted their community dinners into drive-through meals, feeding 90 people per event, up from 35 before the pandemic. They also coordinated the distribution of over 200 Thanksgiving dinners donated by Crossroads.
The Ripon Area Ministerial Association developed safe funeral protocols (www.riponcovid19.org/funerals).
The Ripon Area United Way sponsored Ripon Community COVID-19 Task Force's hotline number intended to respond to community needs. Call 920-345-2212 and leave a message in English or Spanish.
The Ripon Community Church developed an on-call network of volunteers to address requests coming through the hotline.
Our Saviour's United Church of Christ became a depository for cloth masks.
Ripon College's physics department used their 3D printer to manufacture face shields. The college also made special efforts to care for students who could not return home during breaks and followed rigorous safety protocols to allow students to complete fall semester on campus.
Webster's Marketplace became a pandemic safety leader and cooperated with the Task Force to distribute informational flyers about help and resources.
Tech-savvy volunteers set up the COVID-19 Task Force website (www.riponcovid19.org) for up-to-date local information.
Olden Organics launched a collective marketing and delivery service with numerous other producers, helping both farmers who suddenly lost markets and consumers who needed food delivery.
Ripon's Senior Center offered creative programming and support for seniors, including meals and drive-through socials.
Collaborative Wellness increased mental health resources, including some free options for those without insurance coverage, and collaborated with Ripon Area School District (RASD) and others to support Riponites with mental health needs.
RASD donated iPads so assisted living facility residents could communicate with their families. They provided thousands of meals to students, even during breaks, and pivoted to online learning and then back to in-person and blended learning, all while avoiding virus transmission.
Grant Pack-N-Ship & Office Supply became a drop-off and storage location for donated PPE.
Aither State Farm Insurance donated face shields.
The Ripon Medical Center Foundation raised funds to purchase a BiPAP breathing machine for patients.
Hometown Broadcasting sponsored the COVID Task Force's mask-up public service announcement competition. See winners at www.riponcovid19.org/psa.
Two Ripon High School teachers continue to pull COVID data daily to share Ripon's statistics. See www.riponcovid19.org/local-covid-19-cases.
LeadingAge Wisconsin improved the pandemic preparedness of local assisted living and long-term care facilities, helped obtain needed PPE and helped facilities follow evolving pandemic regulations.
Members of organizations as diverse as the Tri-County Boys and Girls Club, the National Forensics League, local daycare centers, the League of Women Voters, the Ripon Fire District, and others gathered regularly on Zoom to troubleshoot, problem-solve, network, and help our community through this dark time.
In a year that offered so many challenges, it is encouraging to see the resilience of our community, thanks to so many Ripon community members who came together for the greater good.