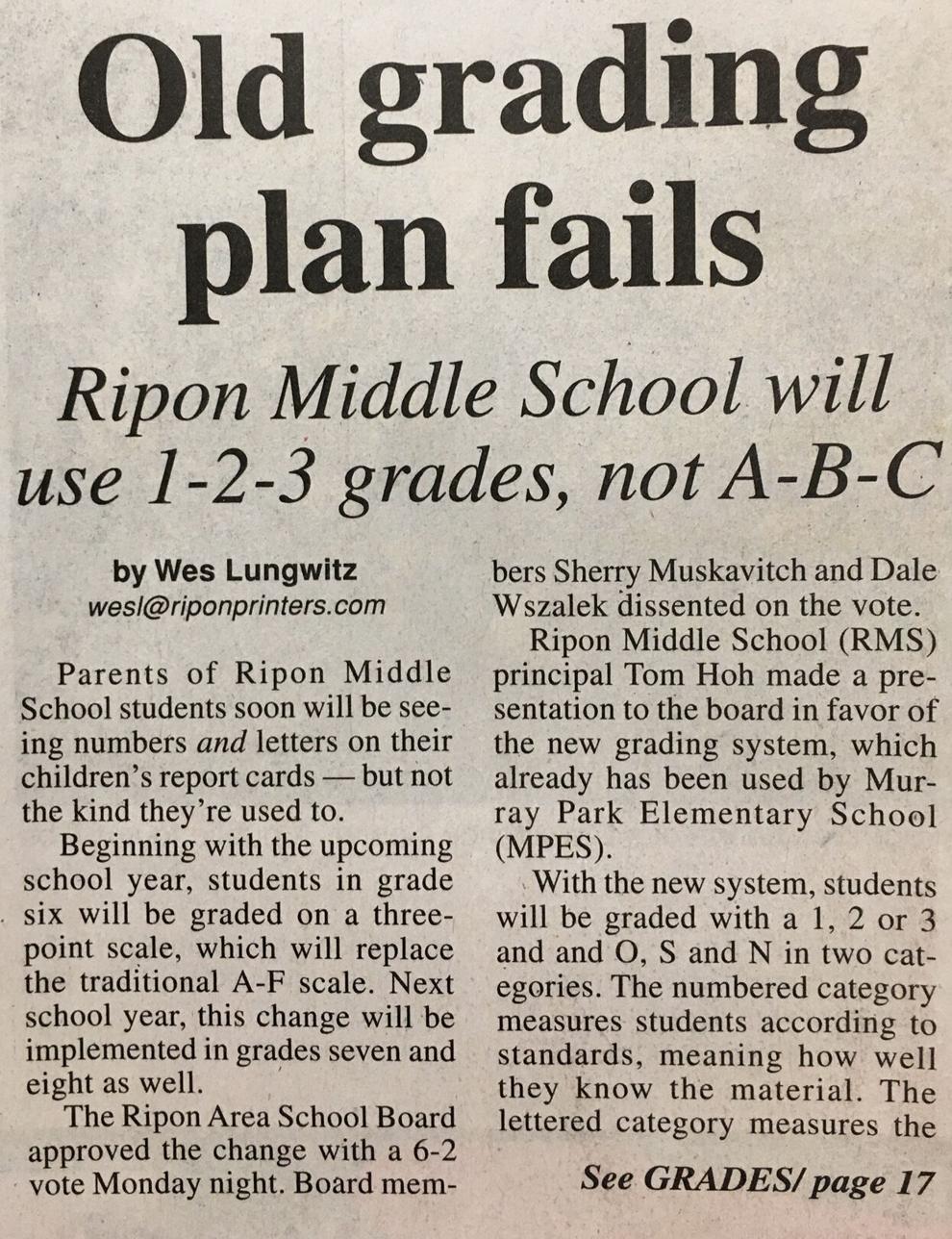 How can Ripon teachers best communicate to parents the progress, or challenges, their children are experiencing in school?
A. Traditional letter grades to evaluate the student's overall performance?
B. A numeric scale that identifies to what degree a student is proficient mastering specific skills, concepts and standards?
C. A written narrative — "comments" — that enable a teacher to discuss in detail student-specific accomplishments, concerns and suggestions for at-home enrichment?
D. All of the above?
The answer, of course, is the last one, and this is not to suggest teachers are in need additional work outside the classroom.
But as the Ripon School Board considers whether the Ripon Middle School should transition back to the traditional, letter-grade system it swapped out several years ago for a standards-based numeric scale, the board needs to recognize that the two systems, when both employed, send different but complementary messages to parents.
Grades provide a "What?" — a summary of how a student performed during a quarter or semester. If school were a race, a grade would tell a parent in a particular period whether a son or daughter finished in the top 10% of finishers, was in the middle of the pack or didn't complete the event.
A numeric scale provides a "Why" — descriptors of the students' strengths and areas for improvement. In racing parlance, it would explain whether the son or daughter started too slow, exercised a sensible pace, stayed with the pack and sprinted at the end.
So as board members consider the brief presentation provided to them last month by Ripon Area School District Curriculum & Instruction Director Chrissy Damm and Ripon Middle School Principal Rick Bunge, they should heed the administrators' counsel that letter grades should again be given yet augmented and buttressed with an accounting of a student's proficiency in meeting standards.
"In doing so, middle school students will have a clearer understanding of their academic progress toward grade-level benchmarks that will reflect high school expectations," Damm and Bunge wrote in a district memo.
Board member David Scott wrestled with how a student's progress on a numeric system of competencies would translate into an overall letter grade.
That's a critical question administrators will wrestle with in the days ahead. But a caution: Efforts to robotically match numbers with letters will miss the mark
There has to be some room for teacher subjectivity, for example, providing credit to the struggling student who has displayed greater developmental progress than the higher-achieving students who put forth relatively little effort.
This is where supplementary comments in the form or a written narrative — not pre-selected computer answers that simply need to be clicked on — can provide greater direction for parents who believe their child's education doesn't begin and end on Tiger Drive.
Administrators are correct that an effective evaluation system recognizes and demonstrates that learning is an ongoing progression such that a letter grade, while an important snapshot of a student's academic accomplishment for a particular quarter or semester, can be a motivator for greater accomplishment the next period.
As School Board President Nicole Dash said of the letter grade, "This doesn't define my competency."
But if they stimulate a student to maintain or exceed a past performance, letter grades will serve the dual role of providing a comprehensible progress report to parents while encouraging and rewarding students who aspire to excel.
— Tim Lyke