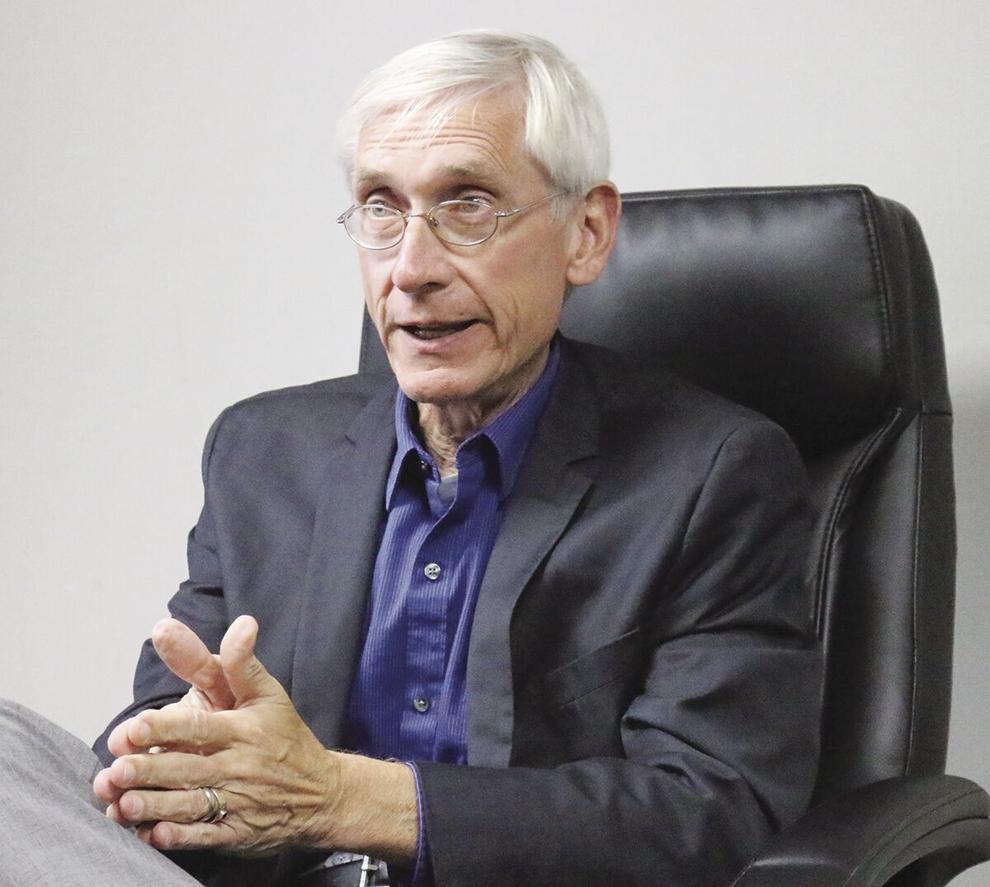 In October 2017 a candidate for Wisconsin governor visited the Commonwealth office.
When editor Ian Stepleton and publisher Tim Lyke interviewed state school Supt. Tony Evers, they asked him about legalizing marijuana.
Evers responded that he was fine with removing the ban on medical marijuana, permitting physicians to prescribe what their patients need to treat pain, glaucoma, nausea and other symptoms.
But permitting recreational pot?
Not so fast, Evers said. "I think we need to go slow on the legalization piece. I think we can learn from other states."
Evers proved last week Sunday that while taking his foot off the brake of caution, he hasn't learned much from the 15 states (plus D.C.) that have legalized marijuana use.
In a transparent money grab, he proposed legalizing and taxing marijuana to "open the door for countless opportunities for us to reinvest in our communities and create a more equitable state," adding that "there is no reason Wisconsin should be left behind" other states that have discovered another way to confiscate more tax dollars.
Proof that this is a bad idea is the governor selling it to the public as a revenue opportunity rather than a public health benefit. Or, to be more crass, he's trading our children's health for more bucks in his bank.
Before he even introduced his 2021-23 budget Tuesday night — and by the way, marijuana legalization doesn't belong in a budget bill — Evers already had allocated in which pots he'll "invest" his pot pennies. The more than $165 million legalized marijuana is expected to generate will pay for a new Community Reinvestment Fund; provide $30 million in "equity grants;" $5 million to fund grants to underserved communities through the Wisconsin Economic Development Corp.; more than $34 million in "sparsity aid" to support small, rural school districts; and the rest in the state's operating fund.
Proof that Evers knows his idea is a loser lies in the final sentence of his news release last week hyping legal ganja: "Wisconsin residents can possess no more than two ounces of marijuana and six plants for personal use."
Wait a minute, governor. If pot isn't a public-health concern and so is worthy of legalization, why limit state residents' possession? Either open this barn door all the way, or keep it shut. What are you afraid of?
State Sen. Melissa Agard, D-Madison, argues that "during a global pandemic, this is a pragmatic, safe way to raise state revenues, refocus our priorities and plant seeds in Wisconsin's future."
Notice how she cites more money for state coffers first, includes the word "refocus" in advocating for a mind-altering substance and ignores that in a pandemic, when people's lungs are failing, Evers wants to compound respiratory distress by encouraging more smokers.
An oft-quoted November 2019 study by the Center for Opioid Epidemiology and Policy at NYU examined the first four states to legalize recreational pot: Colorado, Washington, Alaska and Oregon.
Here's the good news: it found that legalized marijuana tended to flatten social injustice, as black people no longer were disproportionately prosecuted than whites.
Beyond that finding, the study turned bleak as it found an increase in problematic pot use among teens and adults age 26 and older.
The rate of use for children age 12 to 17 was 25% higher than in non-recreational states. Rising 37% was "problematic use," defined as increased tolerance, repeated unsuccessful attempts to control or quit, depletion of users' time and motivation, and related social problems.
"Cannabis use disorder in adolescence is associated with long-term adverse health, economic and social consequences," said Dr. Silvia Martins, the study's senior author and an associate professor of epidemiology at Columbia University Mailman School of Public Health in New York City.
But if you don't want to listen to experts or prefer to ignore science — both of which are in vogue by many these days — trust your common sense.
We're living in an age of extreme cynicism, when people are divided, view truth as relative and find political leadership and integrity lacking at best.
This is the very time people need to be more engaged, clear headed, discerning and selfless.
Instead, Evers is encouraging additional escapist activity in Ripon, where 40% of our parents can't afford to buy their kids lunch and police have closed meth labs on Jackson, Eureka, Belleville, Pleasant, Douglas — pick your street.
Opioid use in Ripon and elsewhere around the state still leads a trail from the medicine cabinet to the morgue. Probably not a good time for another excuse to turn-on and tune-out.
Pot likely is no more a gateway drug than alcohol. Yet there is no reason Evers or any state leaders should be sanctioning another substance that impairs children's brains and demotivates adults who should be contributing to communities with their time and ideas, not sheltering from them as they fire up their bongs.
— Tim Lyke