On Nov. 19, Ripon's congressman Rep.Glenn Grothman, R-Glenbeulah, went to the floor of the House of Representatives outside of the legislative day to offer his take on COVID vaccination mandates.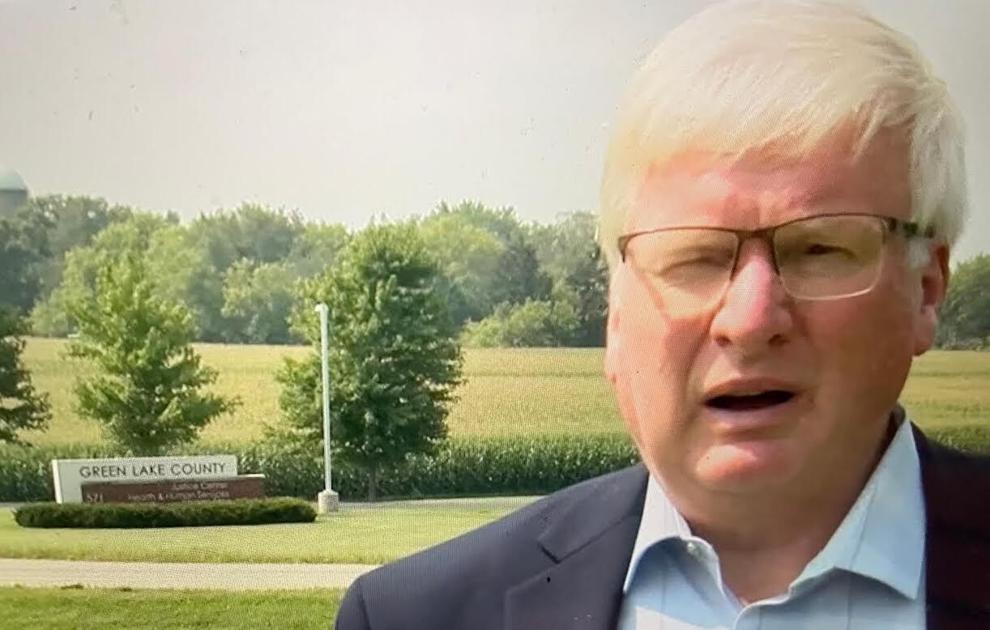 Specifically, he addressed President Biden signing a Sept. 9 executive order that establishes a vaccine mandate beginning Jan. 4 for employees of hospitals and health-care facilities funded by the federal government, and businesses with more than 100 workers.
A U.S. federal appeals court on Nov. 6 issued a stay on Biden's order, citing "grave statutory and constitutional" issues with the rule.
Below is a verbatim transcript of what Grothman said:
"Thank you. Like all other congressmen, I'm sure my office has received many calls from people objecting to the OSHA rules or related CMS [Centers for Medicare & Medicaid Services] rules related to employees of hospitals. It amazes me the number of articulate doctors and nurses, other employees out there who have good reasons not to take the vaccine. Whether their doctors have told them don't take it because you already have antibodies, you have too many antibodies, the vaccine is going to make you sick. Whether it's doctors who tell their patients you better not take the vaccine, your cancer is in remission, the vaccine can weaken you and bring it back. Again and again and again it appalls me that Dr. Biden decides to weigh in and knows better for these people than what their own doctors do. Not to mention that there's [sic] plenty of things on the internet which may be true even though they try to take them down and keep us in the dark, that some people, very articulate people, believe the vaccines are not for you and there are other ways to deal with the problem."
First, give Grothman his due.
He's right. We should consult our physicians about our health care.
Now to the substance of his message.
Grothman's disinformation fire hydrant spewed torrents. His bogus claims, as well as his unwillingness to share his vaccination status while in Green Lake County on Aug. 4, are measures meant to scare people away from protecting themselves and others.
First, his one-minute talk failed to acknowledge that he was speaking more than two months after Biden's order was issued and two weeks after a court froze it, suggesting his diatribe was meant to score political points rather than save lives.
Second, his warnings that cancer victims or immuno-compromised people may become more sick due to a vaccine mandate fails to acknowledge that the order required eligible businesses to provide employees unable or unwilling to be vaccinated to be tested at least weekly. One can argue whether this is government overreach, but the counterargument requires acknowledgement of the current public health care/economic/public school crisis we have been dealing with for almost two years. And it might also include the notion that state government for years has required Wisconsin's public school children to receive the polio/rubella/mumps etc. vaccines (or to provide parent-signed waivers).
Third and most important, Grothman's primary premise is fallacious: the body's immune system does not make "too many" antibodies directed against an infectious agent. There is no basis for this claim, clinically or scientifically. None.
There are health conditions — autoimmune diseases, cancers of B-lymphocytes and plasma cells (multiple myeloma); etc. — where abnormal antibodies are produced and in large quantities. But those conditions have nothing to do with infections, and nothing to do with vaccines.
There also are "adverse events" that may be related to the vaccine, such as minimal nephrotic syndrome, where protein is excreted in urine that does not contain antibodies raised by the body's immune response to a vaccine. This condition arises as a rare, adverse reaction to a variety of vaccines. It is not related to COVID vaccines as such. In most cases, it is not even clear that the condition is caused by a vaccine.
A journal article estimates the size of a human's antibody repertoire at about 10 billion antigens that the body can raise antibodies against. So receiving a vaccine to get one's dendritic cells to activate and organize a clone of his or her B-lymphocytes to make antibodies against one antigen (e.g. spike protein epitopes identified on COVID patients) consumes just one of that repertoire of 10 billion (source: Fanning LJ, Connor AM, Wu GE, April 1996, "Development of the immunoglobulin repertoire").
In other words, contrary to the Grothman's assertion, it's not "too many." The vaccine is not reducing any significant percentage of one's immune system's lifetime natural capacity or repertoire for responding to other antigens/epitopes needed to defend oneself in the future. It's taking only about 0.00000001% of the immune system's repertoire. So deciding not to get vaccinated if possible is not "smart" or manifesting some greater insight of superior logic.
It is not shrewdly conserving some scarce capability your body has that requires stingy stewardship or rationing like the congressman implies. Instead, it's foolishly foregoing safe and effective protection and putting yourself and others needlessly at risk.
Fourth, the notion that being "articulate" — Grothman uses the reference twice — somehow implies that good speech = good science, is fallacious. Hitler knew the art of cogent public speaking was crucial to his political career, yet that didn't give his hateful words any virtue or validity.
Fifth, internet overseers "try to keep us in the dark." Look in the mirror, congressman. Grothman's words are irresponsible and dangerous. America's current COVID death count of 777,000 will reach 1 million by March if this keeps up.
The virus does not care about Grothman's beliefs or opinions or free speech or lies. What he and others peddle, recklessly and shamefully, have caused unprecedented harm to civil society and to the health of individuals and communities.
Our congressman is beyond ignorant. He deliberately sows lies to help foment voter fear and anger to assure his own reelection. Shame on him.
And shame on us if we reelect this charlatan in 2022.
— Tim Lyke