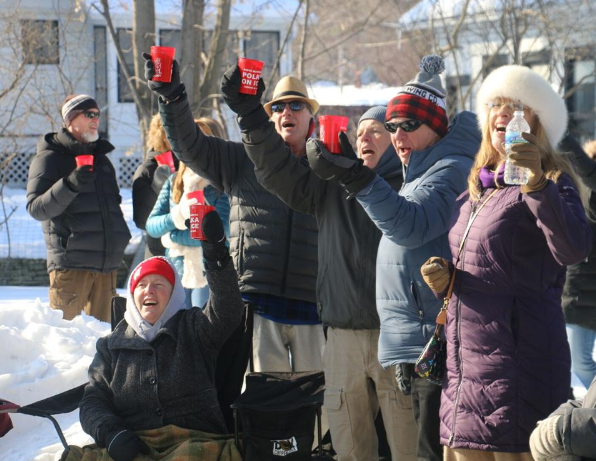 Editor's Note: Next week Monday, Adam Sonntag will begin working with City Administrator Lori Rich, who will retire two weeks hence. Sonntag has served as city administrator for Hillsboro, WI for the past 10 years. He is an '08 Ripon College graduate.
Dear Adam:
Welcome to Ripon. Again!
We are excited to welcome you, Cari and your daughter to Ripon. We also are delighted that you will be our city's next city administrator and trust that the feeling is mutual.
You agreed to move to Ripon and guide its government in the days ahead because you believe, like we do, that this is a special community.
But it's been more than a dozen years since you've lived in Ripon, so here's a brief reintroduction to the city where you soon will serve as CEO.
Had you been here two-and-a-half weeks ago, you'd have been able to attend "Polka on the Ice," an outdoor concert featuring Copper Box, one of the country's hottest polka/zydeco/swamp blues/rock bands with roots right here in Ripon.
Copper Box's lead singer's father is a Ripon institution named "Tuba Dan," who in the past has delivered our mail and taught our children, and every November and December with wife Lila is our Santa Claus. He was honored at the February event by the Wisconsin Broadcasters Association for more than a half century of entertaining us behind and in front of the microphone.
You'll meet him. Always quick with a joke and a smile, Tuba Dan is a character. And best of all, he's our character.
The ice skating rink on site is rebuilt and maintained each winter by one of your future bosses, Ald. Howard Hansen, and his son, Casey. Two months ago a former Ripon resident donated $1,500 to place a liner beneath that rink next year after she learned Hansen, a local business owner, was unable to raise the money from festival proceeds after the pandemic cancelled our city's annual Septemberfest celebration last fall.
The donor asked that she remain anonymous. You can take girl out of the city…
Ripon residents, past and present, have generosity, compassion — and conviction. That may have something to do with 54 men women and children gathering in Ripon's Little White Schoolhouse 167 years ago this month to create a Republican Party to stop the spread of slavery.
Or our former resident, Carrie Chapman Catt, a champion of women's suffrage and founder of the League of Women's Voters.
Or a fellow named Harry Gordon Selfridge, born in a house on that same "Polka on the Ice" site — at the southwest corner of Watson and Seward streets — who grew up to found the famed London-based department store Selfridges and coined the phrase, "Only __ days until Christmas" and the philosophy, "the customer is always right."
Back to Polka on the Ice, the bandstand there quietly was donated by a Ripon family and the park on which it sits was a gift from a Ripon bank.
The concert itself was funded by local businessman and craft brewer extraordinaire David Knuth. Like Hillsboro Brewing Co, Knuth Brewing Co. is located in the heart of downtown — it began three years after Hillsboro's brewpub — and quickly became a community gathering place.
We know, Adam, you find that short of plucky entrepreneurship appealing and particularly welcome in rural Wisconsin communities limited only by their determination to envision opportunities where others see obstacles.
You said so in your 2018 interview with the LaCrosse Tribune, when you maintained, "Don't short sell the small towns out there. There is a lot of opportunity in small towns and you can really become a part of the community in a very deep and meaningful way."
Bingo!
We know the Tribune identified you as "a rising star."
We're grateful Ripon's Common Council made the same observation. We now look forward to the days ahead when, together, we can shine more light on this community of bright stars who believe caring for their friends and neighbors is a critical component of taking care of their city.
— Tim Lyke