When a Ripon journalist would speak to third graders at Murray Park Elementary School about why newspapers are important, he'd give them a clue by taking out his wallet.
Only then would they get it. Public affairs reporting in newspapers lets readers know how powerful people are spending their money.
It provides some degree of transparency about budget priorities, but also accountability with those making financial decisions.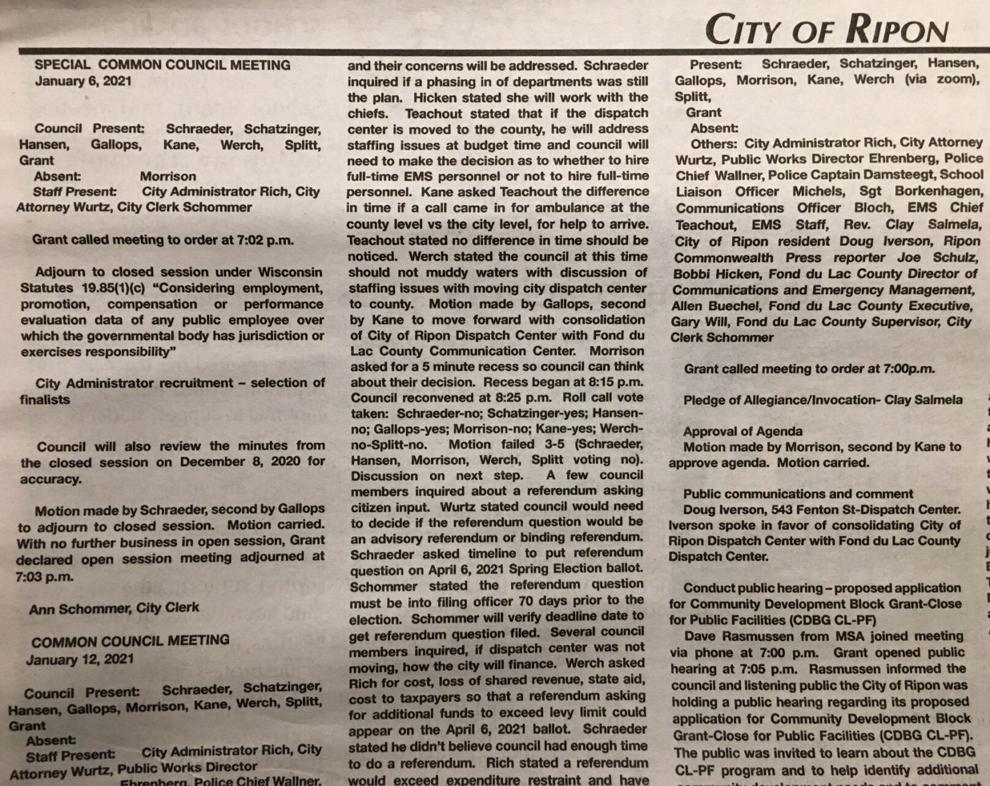 All this is predicated on a simple notion, that even third graders understand: Knowledge is good. The corollary? The less we know, the less responsible to our wishes are those who do our bidding and open our wallets.
The Legislature in Madison is now entertaining the notion — and it has done this for years — of making citizens less aware of how their tax dollars are being spent by closing the curtain on accountability.
In Senate Bill 55, which passed last week, they propose to shroud democracy by removing meeting minutes from community newspapers. State statutes currently require local government units such as school boards and city council to post accounts of their activities in the local paper.
The bill, instead, would require government officials to post the minutes in a public place and on the internet (i.e. on their own websites). What's a public place?
In Ripon, you could scotch tape School Board meeting minutes to the front windows of Ripon High School. And an account of City Council proceedings could go in the outdoor bulletin board in front of City Hall. What? You didn't know there was such a bulletin board? Few do. And that's the rub.
Likewise, the internet is a solution that doesn't address the problem.
Posting meeting minutes on city of Ripon and Ripon Area School District (RASD) websites is an effective way to reach the public if:
Taxpayers have computers in their homes, and
Those computers have internet access, and
If the internet is fast, reliable, secure, and
If, and this is the biggest if, one can assume that folks every week have the time and motivation to peruse government websites.
Now compare that universe — which likely is somewhere between none and zero — with the number of people who read public notices in newspapers, whether by design or because they happen to be adjacent to news stories and advertisements.
It becomes apparent why S.B. 55 makes somewhere between none and zero sense.
The bill's proponents, who include Ripon's state Sen. Joan Ballweg, argue the bill will save taxpayers money.
No it won't.
It would have to offset the meager, below-market reimbursement rates (set by the state's Department of Administration) that local governments pay to newspapers to keep their citizens informed. Studies have shown that government officials tend to be more profligate with public funds when they know the public is in the dark about their spending habits. So save a nickel to spend a dollar.
Also, consider the source of this alleged fiscal frugality: A Legislature run by leaders who are hiring redistricting lawyers that likely will cost state residents more than $1 million for legal services to implement and defend state redistricting maps to assure the job security of those in power so they may pass bills that pinch pennies to keep the rest of us in the dark about what our governments are doing.
If, like them, you believe that public-notice requirements are an expensive nuisance that do not inform the citizens, then by all means, move them to where they may be posted in the dark, where no one will see them.
But if you believe, like Ripon's third graders, that meeting minutes published in the Commonwealth are a critical component of the democratic experiment, then surely you believe that the cost of having an informed citizenry is a meager investment. For Ripon the last time a similar bill was introduced and defeated, the cost to the RASD was $3,628 out of a $19.5 million budget. That's 2/100ths of a percent, or 29 cents per year per school district resident.
That's a puny price to pay for having an informed citizenry.
Democracy never cost so little.
— Tim Lyke