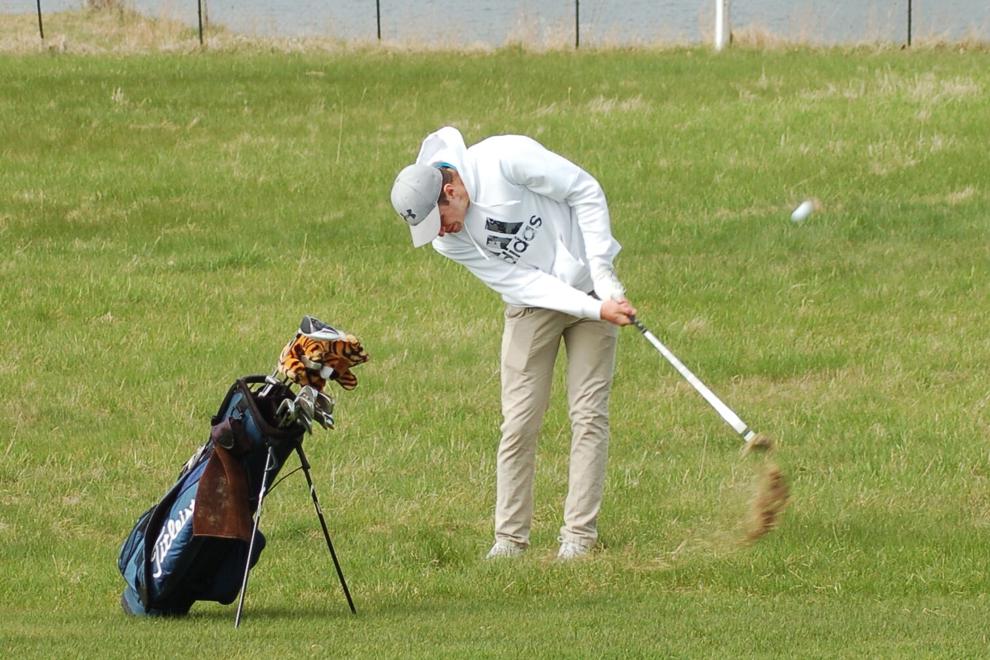 Rick Kelm didn't really know what to expect from his Ripon High School golf team during its season-opening competition Wednesday at Washington County Golf Course in Hartford.
"I wanted them to just go out and have fun in the first one being everything that we've been through," the head coach said, referring to COVID-19 canceling last season.
He ended up being pleasantly surprised as the Tigers finished fifth out of eight teams with a 182 in the first Mini-Tour meet, which was hosted by Kettle Moraine Lutheran (KML). The finish is their highest since the conference began doing Mini-Tour meets in 2016.
KML won the meet with a 168 and was followed by Winneconne (171), Berlin (177), Plymouth (179), Ripon, Campbellsport (200), Kewaskum (204) and Waupun (214).
"I think we can be competitive," Kelm said, noting it's a good group of kids to be around.
"I think a really good goal for us is maybe to try to get up into even the top-three at some of our matches. We definitely didn't play our best golf, but I was pleased with the first go."
Making the head coach optimistic that the Tigers can finish in the top-three at a meet was that they were only three strokes behind fourth-place Plymouth and five shots back of Berlin.
"For a first go, a lot of people were somewhat satisfied," Kelm said. "The idea that everybody knows where they can make improvements and realistically being five shots out of third place, we're right there and we will be very capable of being competitive to that level going forward ... I look forward to seeing what we can do. It's going to be fun."
Ripon's four-scoring golfers Wednesday were tightly bunched as Riley Brooks and Sam Yeomans finished tied for 12th place out of 40 golfers with nine-over-par 45s, and Cole Burdick and Drew Kastenschmidt came in a shot behind to tie for 17th place with 10-over-par 46s.
Kelm noted that Yeomans, Burdick and Kastenschmidt are the heart of who the Tigers have returned. Yeomans, a senior, played his freshman and sophomore years, while Burdick and Kastenschmidt, who are juniors, played as freshmen before losing out on their sophomore year.
Brooks, who is a sophomore, is a newcomer that Kelm is happy to have on the team.
"It was nice to have somebody coming in not only with a really good attitude, but also being able to contribute," Kelm said, noting Brooks also works at the Golf Courses of Lawsonia in Green Lake, which is the Tigers' home course. "It was just kind of natural for him. He really wanted to come to have fun and that's more what I really want. That was a very nice addition. I think we've got a great combination of players; they get along real well."
Ripon also welcomes three other first-year competitive golfers to the team in junior Colin Schneider and freshmen Drini Ahmedi and Willard Miller. Schneider finished 40th Wednesday in the varsity competition with a 34-over-par 70, while Ahmedi and Miller placed 24th and 29th, respectively, out of 30 JV golfers. Ahmedi shot a 22-over-par 58, while Miller fired a 31-over-par 67.
Kelm noted Ahmedi and Miller show "a lot of promise" and he likes what he's seeing in practice.
"We're going to make some big gains in the next two weeks with a good share of our players," he said.
The Ripon head coach will hope to see some of that improvement Tuesday, when the Tigers travel to the Rock Golf Club in Waupun for the second of eight Mini-Tour meets. They then will compete Wednesday at an invitational at the Golf Courses of Lawsonia, which is set to begin at 9 a.m.