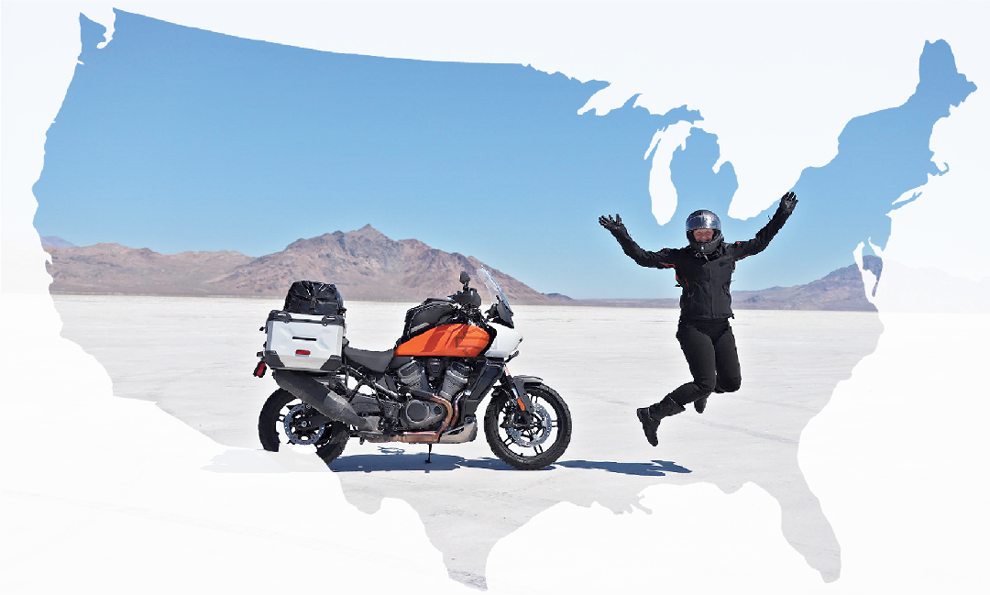 When Ripon resident Whitney Meza purchased her first motorcycle, she never imagined that eight years later she would complete a multi-day ride across the continental United States.
That's exactly what happened Thursday, June 29 when Meza finished the 48 States in 10 Days challenge. She rode 7,982 miles in nine days, riding through all of the lower 48 states on a Harley-Davidson Pan America motorcycle.
During the journey, Meza rode in 10 hours of straight rain while on the East Coast, 20-plus mph crosswinds while in the south, through forest fire smoke and endured temperatures ranging from 51 degrees to 117 degrees in the desert.
"There have been tears, frustrations, exhaustion, so much sweat and grime, laughs and smiles so large my cheeks went full-on chipmunk," Meza said in an Instagram post the day she completed her adventure. "I left Wisconsin knowing I was capable of something like this, and I end tonight proving to myself that — without any hesitation — I could accomplish something only a few women have been certified to do."
Meza is one of only approximately 20 women to complete the 48 States in 10 Days challenge. She said more than 20 women are currently participating in the challenge with hopes of doubling the number of completions among females.
While Meza is part of the movement to increase female completion of the challenge, she hasn't always been a trailblazing motorcyclist.
The Ripon College graduate has been a fixture in the local community over the years, from opening a Ripon photography studio — Whit Meza Photography, LLC — in 2012 to being the former marketing coordinator for the Green Lake Area Chamber of Commerce.
GETTING INTO MOTORCYCLING
Meza's journey toward completing the 48 States in 10 Days challenge began eight years ago when she and her husband, Chris, purchased their first motorcycles.
They got licensed and began leisurely riding. Then, about three years ago, Meza's passion for motorcycles increased tremendously after her first daughter was born.
She began visiting the Iron Butt Association website, which shares stories from the "world's toughest motorcycle riders." There, she began learning about various distance challenges.
After witnessing a few people complete distance challenges last year, Meza decided that she would, too, when she had a few days off in a row.
Last June, she took her Sportster motorcycle around Lake Michigan to complete 1,000 miles in 24 hours.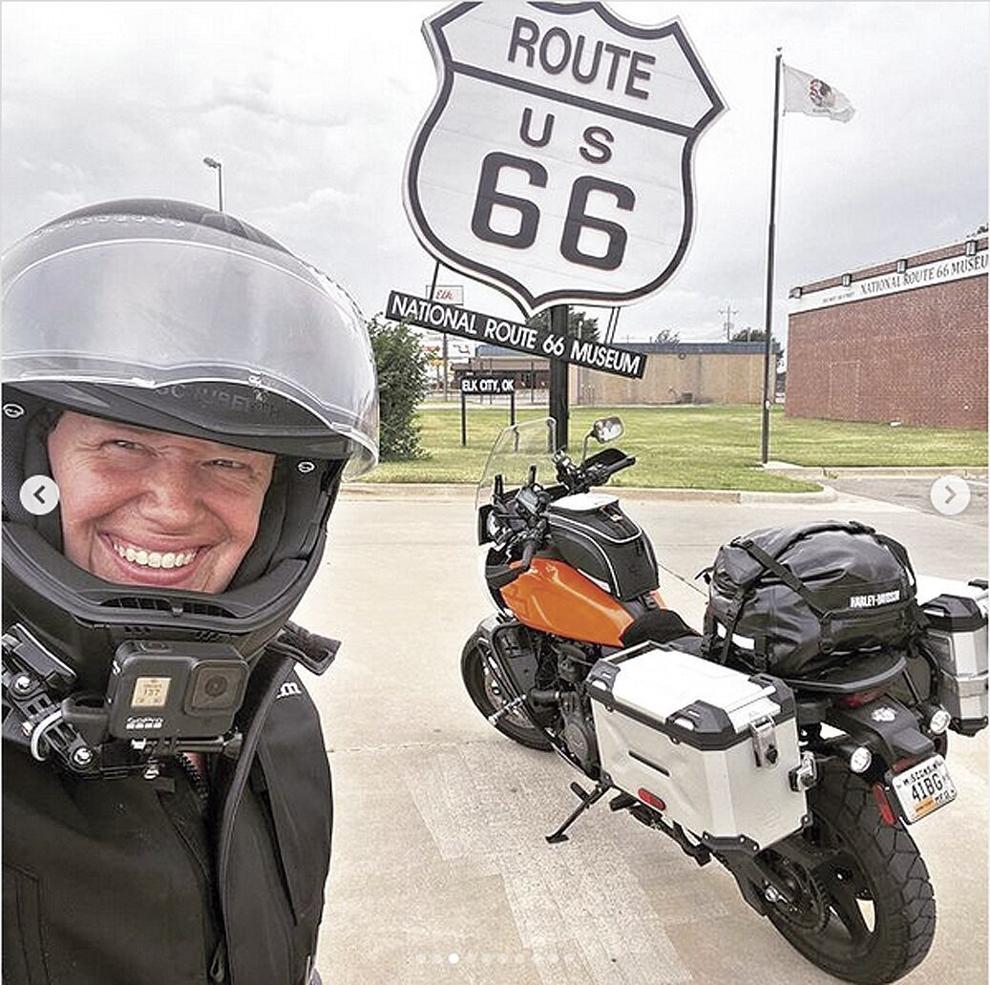 "That got me started," Meza said. "Once I finished that, I was like, 'What's next? What else can I do?'"
The ride around Lake Michigan sparked something within Meza and helped her develop a passion for long, endurance-testing motorcycle rides.
"For me, it's a mental and physical challenge," she said. "You're not competing against anyone else, but you're making sure that all the planning and the work that you did, in trying to complete it, pays off. It's similar to people who enjoy running marathons."
PREPARING FOR THE CHALLENGE
This year, Meza set her eyes on the 48 States in 10 Days challenge. After looking at the Iron Butt Association website, she discovered that fewer than 20 women had been certified as having completed the race.
"That made me more and more motivated to do it," Meza said, noting that more than 20 women are currently working to complete the challenge and she wanted to be part of that movement.
As she prepared for the challenge, Meza reached out to Harley-Davidson with a proposal. Meza pitched using her Instagram page to help promote the Harley-Davidson Pan America motorcycle during her trip.
The company liked her idea and donated a Pan America motorcycle for Meza's adventure.
"I asked for the Pan America specifically because it's the newest model that Harley has come out with and I wanted to really showcase the bike and how it can do on the longer mileage," Meza said.
She added that her husband, Chris, was supportive of her interest in completing the challenge and watched their children while she was riding across the country.
"My husband was phenomenal with pretty much holding down the fort for those 11 days that I was gone," she said. "If we have dreams and things that we want to tackle and complete, we're going to try to make them possible for each other."
48 STATES IN 10 DAYS
During her voyage, Meza was up each day before sunrise and didn't stop riding the Pan America until after sundown each night — riding for 13 to 14 hours on average each day.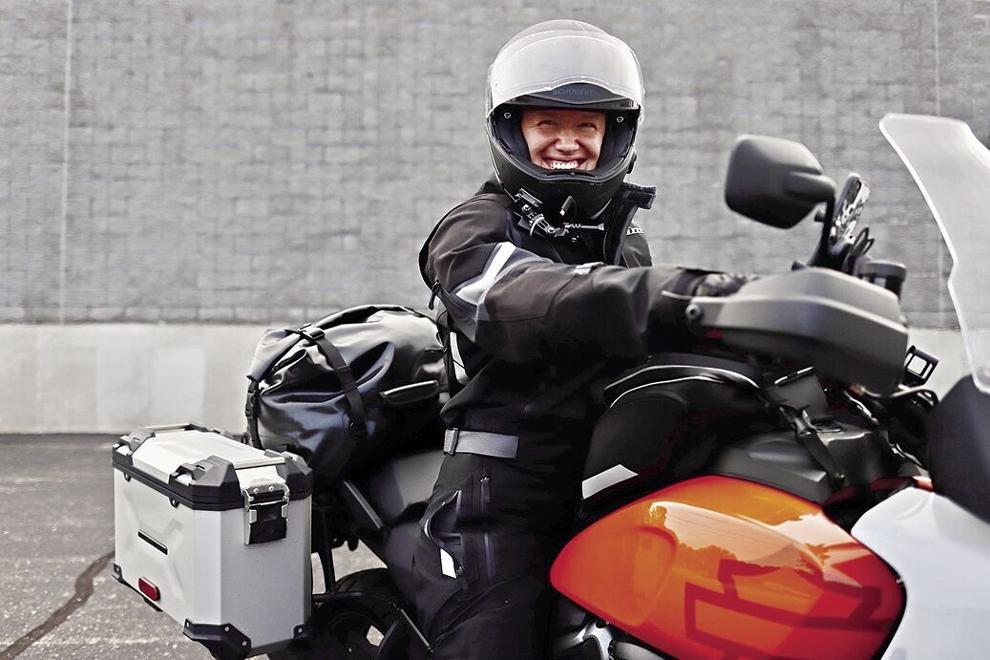 Mentally, Meza's focus was on getting from one stop to the next as she had mapped out the entire journey before leaving.
"I knew exactly which gas station I was going to for the next stop," she said. "For me, it was, 'OK, I'm here now, but I need to get to the next stop within a certain timeframe.'"
Beyond focusing on getting from point A to point B, Meza was largely running on adrenaline.
"I didn't relax, or feel like I relaxed, until I finished," she said. "Even then, I ended up in Iowa and had to get back to Wisconsin, so that next day still felt like part of the challenge."
Although she completed the race in late June, Meza said it "didn't feel real" until she received a confirmation email from the Iron Butt Association that verified her completion.
During the trip, Meza collected receipts from each state and sent documentation to the Iron Butt Association after completing the challenge.
"Once I got the email verification back last Thursday saying, 'You're approved, this is verified in the record books,' that's when it got real for me," Meza said.
REFLECTING ON THE EXPERIENCE
The motorcycle community is composed of roughly 20% females, according to Meza. She hopes that sharing her story helps inspire other women to pick up the hobby.
"If I can help build those numbers up and provide more inspiration that other female riders can do something like this, that would be incredible," she said.
During her journey, Meza provided updates to followers on social media. She said some were inspired to start participating in distance events, while others were inspired to begin riding a motorcycle.
"It was like almost providing them the fuel to get themselves going to do what they wanted to do," Meza said of the social media reaction.
Meza added she doesn't have any immediate plans for another distance challenge, but hopes to continue participating "as time allows" with two children at home.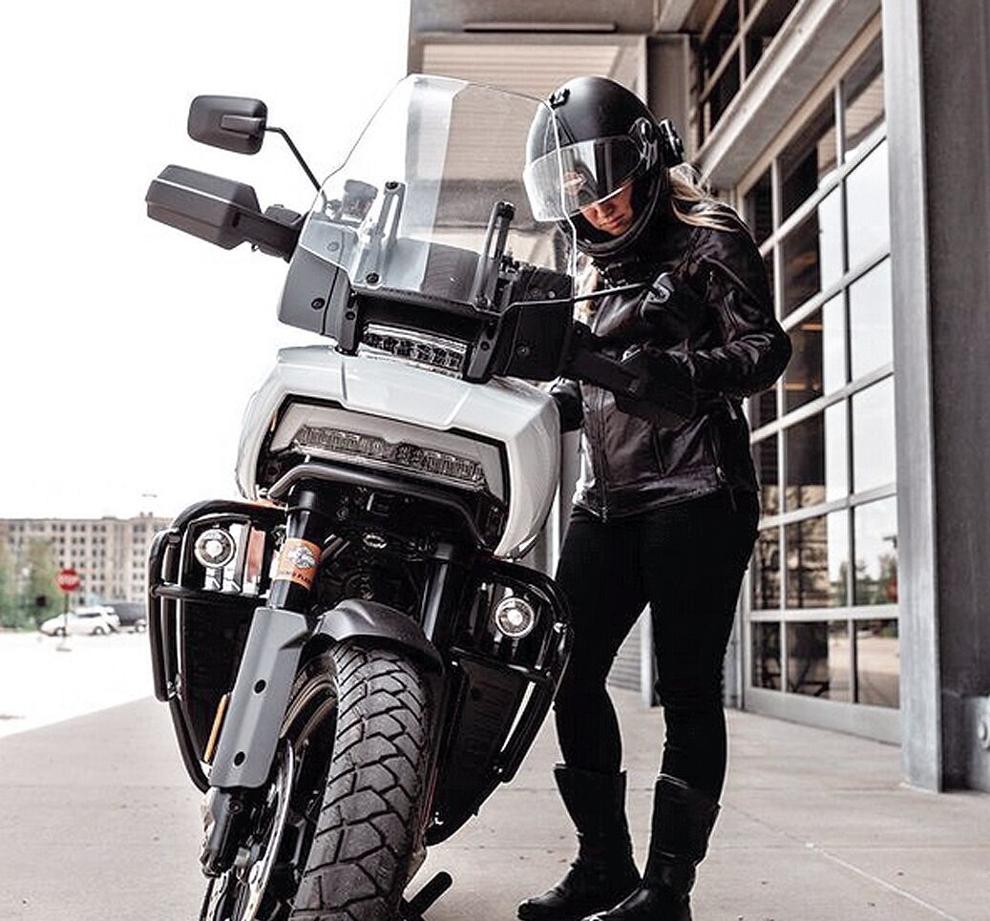 Her 7-year-old and 2-year-old were a bit confused when Meza explained that she would be leaving for 10 days to complete a motorcycle challenge.
However, they were excited to see Meza pull into the driveway on the Pan America motorcycle when she came home.
"I had them waiting outside the garage when I pulled in after I finished," she said. "It was kind of a sweet welcome home from them because they were excited to see mom."
In the future, Meza hopes to complete a long-distance Iron Butt Rally as she saw several participants while on her 48-state journey.
"I would love to try my hand at those long-distance endurance rallies, which are over 11,000 miles in 11 days," she said.
Overall, Meza is thrilled to complete the 48 States in 10 Days challenge and is happy to be reunited with family and friends back home.
"The most rewarding part is that I did it for myself to be able to say that I can be verified, but it kind of grew into so much more than what I expected," Meza said. "It enabled me to help others enjoy the way that they motorcycle as well."