In 1963, Dave Duehring was a junior at Ripon High School. He had just failed to make the starting lineup for the baseball team and felt lost.
His early dreams of being a baseball player disappeared as it became clear that he needed to begin looking at other career options.
Duehring grew up on an 80-acre farm outside of Ripon, and early on he knew that he did not want to become a farmer.
"I didn't hate it, but I knew it just wasn't for me," he recalled. "I really liked farm animals, so I thought of maybe becoming a veterinarian. I also thought about being a forest ranger. I thought about being a minister."
But then, Duehring's grandfather asked him a question that would change the trajectory of his life.
"Did you ever think of pharmacy?"
He hadn't, until that moment. It turned out that being a pharmacist was Duehring's "calling."
In fact, Duehring celebrated the 50th anniversary of joining Ripon Drug as a pharmacist Monday.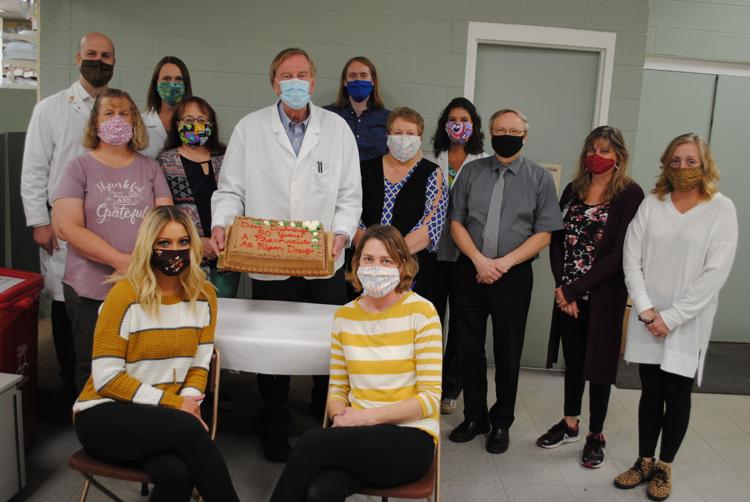 And just like his first day of work on Sept. 21, 1970, there was a sign on the door greeting him when he came to work.
"When I walked in on what happened to be a Monday morning 50 years ago, there was a sign on the door that said, 'Welcome aboard,' showing a ship," he said.
When he came to Ripon Drug this past Monday, he wasn't working but he was greeted by a different sign. This one said, "Congrats Dave Duehring, 50 years as a pharmacist at Ripon Drug."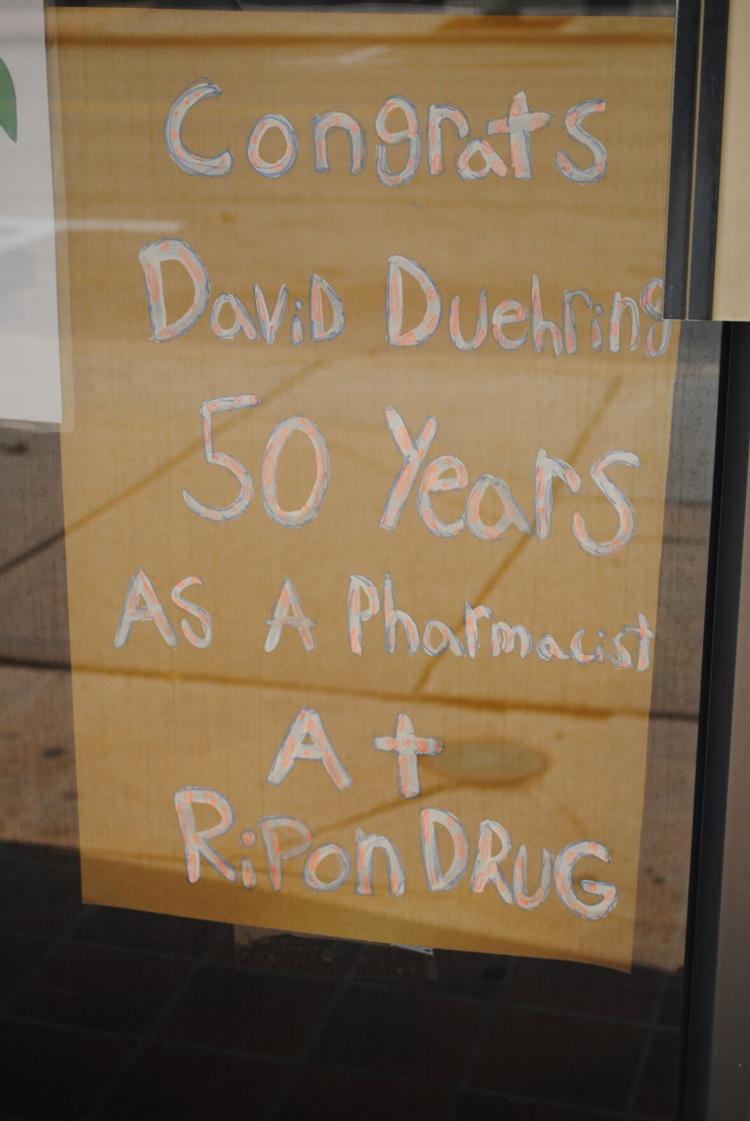 "Little things like that" shared with his co-workers and community have been all the reward Duehring could ask for after a half-century of ensuring Riponites have the proper medications.
While he only works part-time nowadays, Duehring's journey toward working at Ripon Drug began shortly after that fateful conversation with his grandfather in '63 when he began researching the field.
"When I was still in high school, I went down to the University of Wisconsin-Madison campus because they had a career day," he said. "I spent a day and a half attending pharmacy school classes and talking to people who were in school there."
During his senior year of high school, Duehring began working part-time at Ripon Drug as a stock boy.
After graduating high school, he attended pharmacy school at UW-Madison, which at that time was the only pharmacy school in Wisconsin. Each summer he would come home and work as a stock boy at Ripon Drug.
He graduated in June 1969, and spent the next six months interning for a pharmacy licensure before receiving his license in January 1970.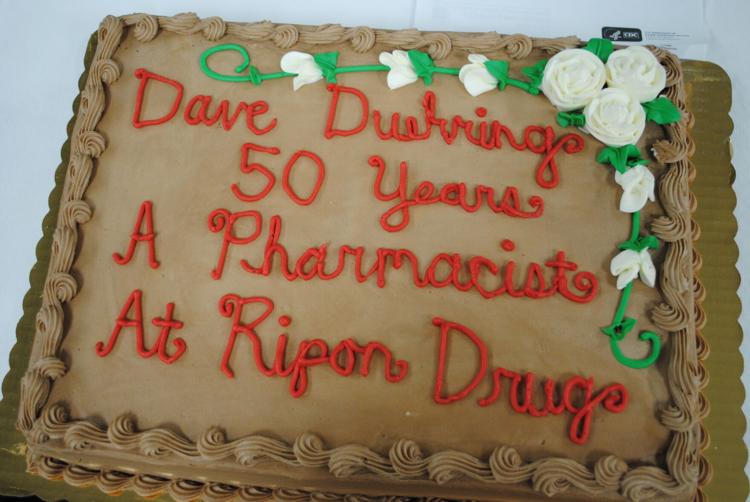 But when he finally received his pharmacist license, there were no positions open for him at Ripon Drug.
He got a job as a pharmacist at an independent shop in Oshkosh with the idea of saving money and eventually moving to the West Coast.
"I love the Ripon area, it's where I grew up, but I was really drawn to the beauty of the west at that time," Duehring recalled.
Roughly eight months after he began working in Oshkosh, however, an opportunity presented itself.
Alfred Nimz and Robert Evensen, the majority owners of Ripon Drug at the time, were planning to move the business down the street to 328 Watson St. and they offered Duehring the opportunity to become a junior partner in the business.
He took the opportunity. At first, he was just a staff pharmacist with a small minority ownership in the business and he was responsible for filling prescriptions.
Duehring saw firsthand the Ripon Knitting Works building transform into Ripon Drug, which opened at its current location Nov. 15, 1971.
During his first year at Ripon Drug, before the business moved, Duehring met the woman that would later become his wife, Karen Stoddard.
Nimz and Evensen had launched a record-keeping project that aimed at filing copies of receipts,information that today would be stored on a computer with each transaction.
Stoddard worked in a support role on the record-keeping project, and helped transcribe receipts into a spreadsheet that would be filed away somewhere.
"I wasn't seeing anyone, and we just kind of hit it off," Duehring said. "We struck up a friendship, which ended up turning into a long-term relationship, and we finally got married about 15 years ago."
Aside from meeting the love of his life at Ripon Drug, Duehring noted Nimz and Evensen served as great mentors who taught how to not only be a good pharmacist, but also how to be a good community member.
"They just were two really good people and they were also really good pharmacists," Duehring said. "There's so much you don't know when you get out of school. You know a little bit, but you don't know a lot of that hands-on stuff. Those two were instrumental in teaching me the hands-on stuff."
Over the years, Nimz and Evensen continued to give Duehring more responsibilities, and he continued to purchase more stock in Ripon Drug.
Duehring eventually became the pharmacy manager, and in 1992 he became the majority owner of the business as well.
From day one, Duehring always intended to purchase the pharmacy.
When he was a younger man, he remembers wanting to purchase the business faster. Today, however, he understands where his mentors were coming from.
"When you're in that majority owner position, then the buck stops with you. The final decision is yours," he said. "I've been blessed that I've gotten along with all of the people I've been in ownership with."
Becoming the majority owner also afforded Duehring the opportunity to mentor the next generation of Ripon Drug pharmacists.
Specifically, in 2009, Duehring was instrumental in getting another junior at Ripon High School — Connor Hanson — interested in a career as a pharmacist as he gave him the opportunity to job shadow in the pharmacy.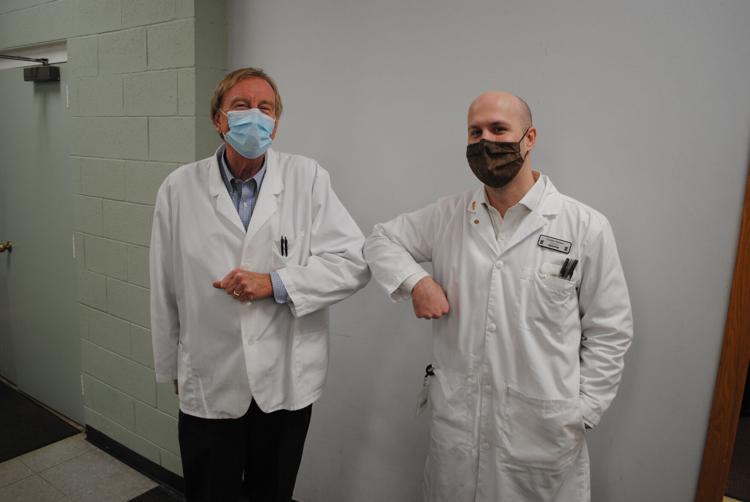 "I wanted to learn about pharmacy, so what better place than your local drug store? Dave actually knew one of my relatives, so there was a family connection there," Hanson said. "I was able to get my foot in the door and learn about what pharmacies are like."
In fact, Hanson went on to follow in Duehring's footsteps as he too went to UW-Madison, completing two years as an undergraduate before attending four years of pharmacy school. He then came home to work at Ripon Drug during the summers as a pharmacy technician.
After his second year of pharmacy school, Hanson returned to Ripon Drug for his formal internship, where he was essentially working as a practicing pharmacist.
"At that point, I didn't quite know what my future was going to be, whether I would actually come back to Ripon and work as a staff pharmacist or if I would end up working somewhere else," Hanson said.
Hanson got his answer in 2016 when Duehring offered him a job shortly after graduating from UW-Madison's pharmacy school.
Two years later, when Duehring stepped down as pharmacy manager, Hanson took over that position. Duehring also sold the business to David Gitzel at that time.
Hanson noted Duehring has been an "extraordinary" mentor that taught him "the value that an independent pharmacy can offer."
"We really care about everyone who walks in the door, you're not a number when you come in," Hanson said. "I think Dave taught me how to treat everyone as if they're a special person who needs extra care. He really exemplified that and really showed me how important that is."
Duehring didn't leave the business in 2018 though. He stayed on, opting to continue working part-time.
"Some people can retire and stop working just like that; I'm not one of those people," Duehring said. "I like to stay busy and stay involved in the community."
Hanson believes Duehring continuing to work part-time, while being retired and during a pandemic, is a testament to what the community means to Duehring.
"He loves taking care of patients, even when he doesn't have to," Hanson said. "He doesn't have to be in here, but he's that committed to patient care and making a difference in our community."
For Duehring, being a good community member is just something that's ingrained in his DNA.
"My mentors here had a very strong sense of community and that's something I've tried to continue," he said. "I'm a firm believer in trying to be a good listener and showing empathy in trying to help someone solve a problem."
Duehring expects to continue working at Ripon Drug part time for at least "several years" more, noting he's been blessed to be surrounded by great people.
Especially during the pandemic, he hopes people continue to support their local businesses because those businesses add value to the community.
"Who we buy from now will decide who we're buying from in the future," Duehring said. "What does shopping at Amazon or Walmart add to the community?"