When Kat Griffith of Ripon organized Sunday's vigil, she said she was doing so with a simple premise.
"This is a somber, respectful vigil to honor victims of racial violence," said Griffith, who planned the 30-minute ceremony with Katie Grady and Austen Wallenfang.
But then, amid rumors and threats of destruction and violence, a second gathering with a very different purpose was organized: to protect Ripon landmarks.
Yet, even as emotions ran high, not a single act of violence occurred and nothing was thrown but a few expletives.
Griffith explained last week that the idea for the downtown vigil came in part from residents who felt like they needed to do something in the wake of the death of George Floyd Jr. in Minneapolis, as well as others.  
"I got calls from two separate people asking if I was doing anything about the current situation or wanted to work with them to organize something," she said. "I knew them, but had never worked with them before. But I decided that yes, we needed to do this."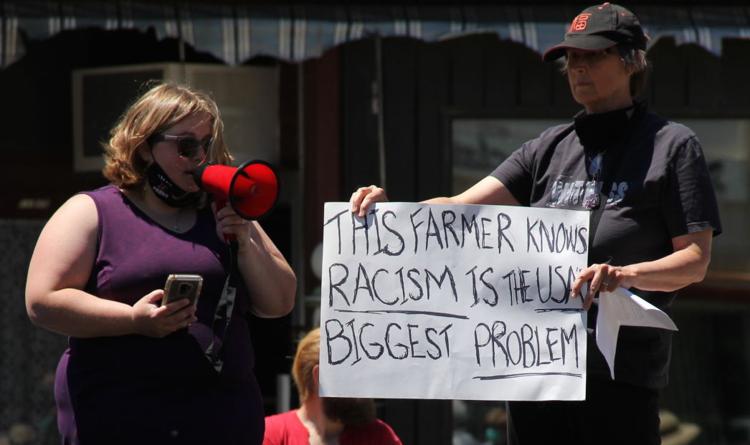 Griffith, who also works with a couple diversity groups, noted that she's heard "a lot of stories of racism" from students.
"My students experienced bold insults, subtle jibes, occasional violence, and ubiquitous cultural and institutional barriers that wore them down or derailed their best efforts," she said. "... When it came to racism, my students were my teachers — and once they opened my eyes, I saw the world differently."
Given such concerns, she felt it was time to hold a vigil downtown at which the community could lend its support to victims.
Then, the situation took a turn.
"On Thursday I was contacted by [Ripon Police] Chief [Bill] Wallner, who told me he had heard that there was a potential group coming to potentially damage the Little White Schoolhouse," said Jason Mansmith, executive director of the Ripon Area Chamber of Commerce, which owns the Little White Schoolhouse. "... [Then] Friday evening ... I got a phone call from Capt. [Troy] Damsteegt that Congressman [Glenn] Grothman had gotten a call that ... there would be some type of damage to the Little White Schoolhouse as well."
That led to the chamber closing the schoolhouse indefinitely and requesting extra security to guard the schoolhouse.
"We decided on Thursday after the first call ... that we were going to close it down for the safety of our staff there," Mansmith said. "The additional call on Friday led us to bring in and hire the Fond du Lac County Sheriff Reserves to be at that building for the weekend."
Wallner confirmed that his department had heard these concerns.
"In the week prior to the event at the Rotary Square in downtown Ripon, we had been receiving and monitoring statements by individuals and groups concerning the event at the square as well as an event that was organized for the Little White Schoolhouse area,"  he said. "Most of these comments and concerns were on social media and sources for the statements could not be verified. As a result of much uncertainty surrounding information that was in the public, our department put plans in place to be prepared should anything transpire or get out of hand."
A Ripon man, meanwhile, decided to take the situation a step further.
Rob Wittchow invited people to gather on the private property that surrounds the Little White Schoolhouse — birthplace of the Republican Party — to guard it, and alluded to it being a good idea for individuals to legally possess conceal-carry firearms while doing so.
"I now have on very good authority that if any person is coming to Ripon or showing up to peacefully gather and observe their 2nd amendment right freedoms that they should have their permit and card on their body and please gather at the Little White Schoolhouse on all sides and the veterans memorial park," wrote Wittchow, a retired Marine. "... I am not a spokesman of or declaring any stance, just that I took an oath to defend my nation from threats both foreign and domestic."
A brat fry in support of the schoolhouse also was announced.
Those two calls to action — by Griffith and Wittchow — led to passionate assemblies at both locations: downtown and surrounding the Little White Schoolhouse.
On Rotary Square, as many as 200 people filled the street, most of whom wore COVID-19 face masks, many carrying signs bearing phrases such as "Justice too long delayed is justice denied," "Justice for Floyd," and "White silence is violence."
Two blocks east, a smaller assembly gathered. This group of 30 to 40 people, who largely eschewed face masks, included multiple individuals wearing jackets with motorcycle clubs' logos from outside the Ripon area emblazoned across their backs.
As they hung out, Wittchow stood atop a trailer, flipping brats next to a sign that stated, "God Bless America."
Neither group left their chosen site much. Before the vigil, members of the Little White Schoolhouse visited local taverns. After the vigil, some went from the schoolhouse over to the veteran's memorial off Ransom Street.
Meanwhile, the downtown group took some time to march around the square.
While the assembly by the schoolhouse was without much fanfare, the downtown vigil included calls to action by Griffith as well as Wallenfang, Grady, Natasha Paris and the Rev. Jeffrey Dodson of First Congregational Church of Ripon.
"Let us bring our sorrow, our fear, our faith and our righteous anger as we remember those lost to racial violence. Let us gather together and knowing that we have work to do. Let us acknowledge those of us who are white, our complicity in injustice," Griffith said.  "Help us to wake up. Help us to stand up. Help us to walk in humble solidarity with those impacted by racial violence. Let us gather together to give life to our yearning for peace through justice. Let us gather together to commit knowing the truth of ourselves, in our community, and to healing whatever is sick or broken. Let us start this work in our own hearts."
Grady, meanwhile, acknowledged the concerns by some in the community about the vigil.
"I know that I, as well as many of you, were very discouraged and saddened by the ire and the negativity and the fear that just the organization of this vigil created in our community," she said. "But I'm looking around and I see the turnout, and this shows how amazing our community really is. That negativity does not speak for us."
Wallenfang then read off 37 names of individuals who died due to the actions of law enforcement. Some people on the periphery of the action laughed between the reading of many of the names.
Griffith implored those who were listening to take action.
"I'm talking to white people now. This issue, and our black and brown and indigenous brothers and sisters, need us to stay the course," she said. "We need to commit to doing this work when it isn't popular anymore. We need to commit to doing this work when it isn't as easy as showing up downtown with a sign for an hour. We need to commit to it when it means having hard conversations with people we love."
The event closed shortly after the group chanted "Black Lives Matter" three times.
By and large, the assembly remained peaceful, with a couple of dogs barking at each other and a man stationed next to a police officer just outside of the square between Patina Vie and Hamilton's shouting at vigil attendees, "Get a job you f***ing hippies."
Ultimately, despite concerns about violence or destruction, Sunday came and went with few problems.
Law enforcement — including the Ripon Police Department, the Fond du Lac County Sheriff's Department and the Wisconsin State Patrol — stood watch at both sites, and followed the Little White Schoolhouse group to the veteran's memorial as well.
Given the lack of problems Sunday, Wallner was pleased with how everything turned out.
"Our ability to openly communicate with organizers from both the downtown event and the event on Blackburn Street was significant in relaying our expectations, as well as being able to allow those groups to get their message out," he said. "I compliment both groups' organizers for being willing to talk with us and confirm the schedules for both events.
"... Other than a few minor verbal exchanges between persons at both events, they both seemed to go very well. No arrests were made at either event. This was a great demonstration on the ability of our community to express opposing viewpoints and their constitutionally protected rights in a peaceful manner."
Both Wittchow and Griffith, meanwhile, took to social media afterward with positive messages.
"Proud of my fellow vets and our community," Wittchow wrote.
"Our vigil went great! I'm so relieved," Griffith wrote.
Though Sunday's events have passed, the chamber isn't ready to reopen the Little White Schoolhouse just yet.
"We're going to be feeling how comfortable our staff is with going back to the location, and after that we'll make a decision," Mansmith said. "Hopefully sometime soon."
Former publisher Tim Lyke contributed to this story. Photos by Jonathan Bailey and Tim Lyke.
** This story has been updated to correct a misspelling of a name (Katie Grady) due to incorrect information provided to the Commonwealth.