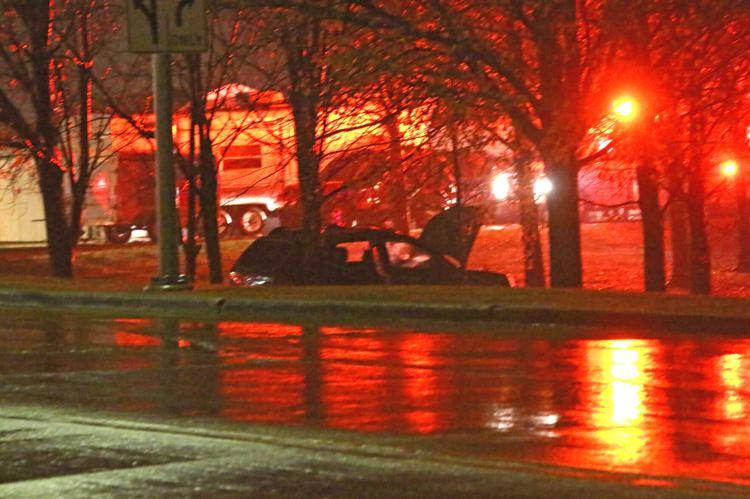 As the weather begins to cool and the roads begin to get slick, law enforcement officials are reminding the community to keep safety in mind this driving season.
Just last week, a bit of rain made nearby roadways a little slick, which resulted in an out-of-town driver losing control of his vehicle and sliding off the road.
According to town of Ripon Police Captain Howard Stibb, last week Tuesday at roughly 7 p.m., Tristan Buechse of De Pere, took a wrong turn too fast with four other people in the car, lost control and slid off the road, into a ditch between several trees near the intersection of Douglas Street and Olden Road.
"It wasn't slippery, but it was wet enough and he just lost control," Stibb said.
While there were no life-threatening injuries, he noted two of the people in the car were taken to the hospital. Stibb added that the town of Ripon Police Department is still investigating the incident, but he anticipates charges being filed.
Aside from the incident in the town of Ripon, the city didn't have any weather-related driving issues last week Tuesday, according to Ripon Police Captain Troy Damsteegt.
The Fond du Lac County Sheriff's Office, however, saw "some minor issues on our highways" during last week Tuesday's first snowfall of the season, according to Sheriff Ryan Waldschmidt.
Even though last week Tuesday's weather event was "more of a rain event than snow," Waldschmidt noted the southern part of Fond du Lac County did have minor snow accumulations on roadways
The slick weather conditions resulted in six crashes with property damage only, three crashes with injuries and seven vehicle runoffs last week Tuesday alone.
"Several of the crashes occurred when vehicles lost control on bridges that froze over, and others occurred in the rain [and were] not snow- or ice-related," Waldschmidt said. "People should always be mindful that bridges oftentimes freeze up before the roadway surface over ground does, as cold air blowing underneath the bridge will freeze the bridge deck itself faster than the roadway over ground."
Although there hasn't yet been a major snowstorm in which all roadways in Fond du Lac County are covered with snow and ice, Waldschmidt noted the first few snowstorms each year "always cause havoc, as people's winter driving skills tend to diminish over the summer and they need to reacclimate to driving on snow and ice."
In addition, he said the lighter, 1- to 3-inch snowfalls typically cause more issues than the heavier, 11- to 13-inch, snowstorms.
"That is because in lighter snow, people can accelerate faster and travel at higher speeds than in deep snow, but that higher speed in lighter snow leads to longer stopping distances and more difficulty regaining control if you spin out," Waldschmidt said. "Just because you can move along at normal posted speed limits in lighter snow does not mean it is safe to do so."
Likewise, Stibb recommends driving slower on snow-covered roadways, which sometimes even requires drivers to proceed under the speed limit.
By driving at a lower speed in poor conditions, he added, a driver has more control when stopping or slowing down, which helps prevent accidents.
"Just because you have the confidence you can drive on [an icy roadway], it doesn't mean that it's not a problem," Stibb said. "If a person is driving on a snow-covered road and they're doing 55, when they put the brakes on the vehicle is going to lose control."
Beyond driving slower to account for snowy conditions, Waldschmidt recommends drivers conduct "a thorough check of your vehicle's preparedness for winter weather — before the snow flies."
That thorough vehicle check includes replacing old wiper blades, topping off window washer fluid, putting a snow brush/scraper in the vehicle, checking for proper tire pressure and tread depth for maximum traction, replacing worn out tires as well as checking all lightbulbs to replace any that are burned out.
In addition to checking a vehicle, Damsteegt recommends drivers be cognizant of weather conditions because sometimes ice-covered roads can appear to be dry and clear but they're actually covered with black ice.
He also noted commuters should be prepared in case of emergency by keeping a cell phone, jumper cables, blankets and winter clothing in the car.
"Make sure to keep your vehicle fueled above at least half a tank," Damsteegt said. "If you do become stranded or run off the road, stay in the car, don't get out and stand next to the car or start walking. Stay in the car and call for help."
He also explained that before getting in the car, drivers are legally required to clear all ice and snow from windows, not just an eye hole.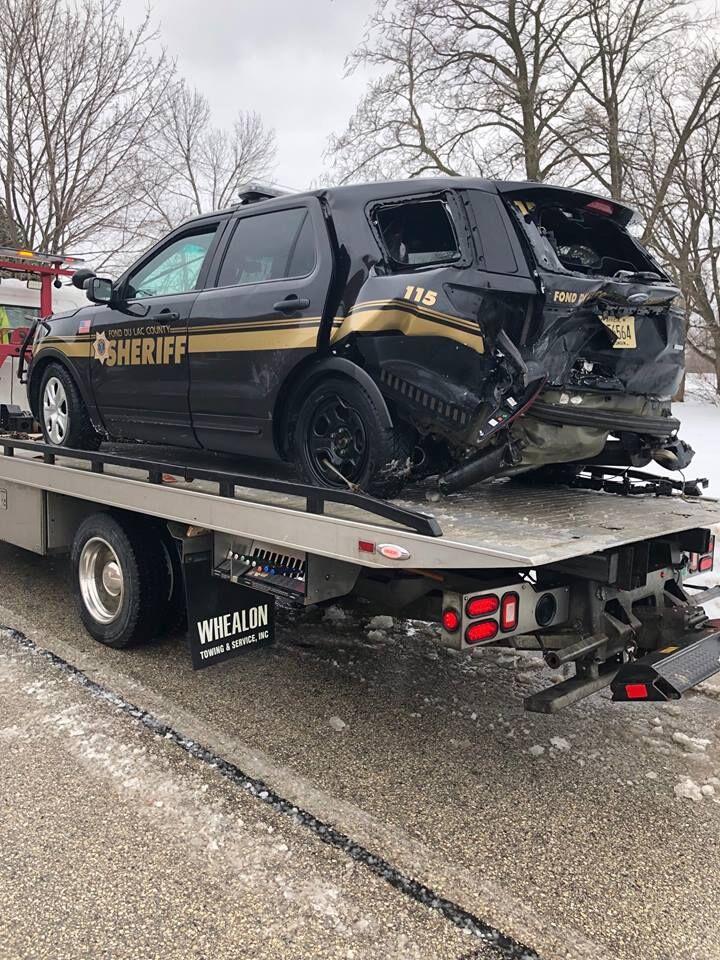 "We routinely see people just clear off a little circle in the windshield; that's not legal and it's very dangerous," he said. "Make sure windows are completely cleared."
Aside from taking specific action to mitigate potential hazards in slick conditions, Waldschmidt noted wearing a seatbelt is essential to ensuring safety, no matter the conditions.
"It provides the best protection in a crash, and other safety features like airbags provide the best protection to an occupant who is seatbelted in place during a crash," he said.
Additionally, he noted Wisconsin's "Move Over" law requires a driver to either move over if they can, or slow down if they cannot move over, when passing an emergency vehicle alongside the roadway. 
Waldschmidt added that moving over for emergency vehicles, which include squad cars, ambulances, fire trucks, tow trucks or highway maintenance vehicles displaying flashing lights, helps first responders quickly and safely get where they need to go.
"Know that if we are on the highway with emergency lights flashing, there is some kind of emergency that we are working to clear as quickly as possible," he said. "The safer the environment we can work in, the faster we can get the incident cleared and the highway fully opened."
Waldschmidt noted the sheriff's office has had "numerous squad cars struck at emergency scenes the last few winters" as a result of drivers assuming emergency lights were on the shoulder of the roadway.
When crashed vehicles or debris are in a lane of traffic, he added that first responders often use emergency vehicles to block the roadway. 
"If you do not slow down enough before you realize the emergency vehicle is in, not alongside, the roadway, you may strike that emergency vehicle," he said. "That is why we always prefer people slow down, move over if you can, and even be prepared to stop, when you see emergency lights."