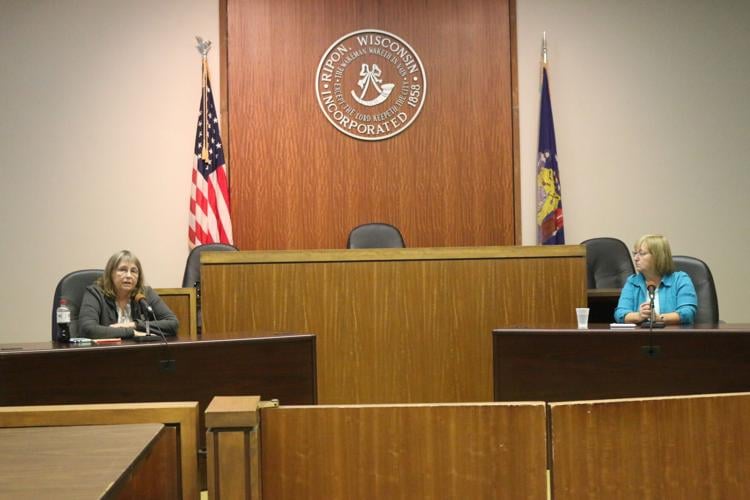 A little less than two months before going up against each other in the polls, Joni Anderson and Joan Ballweg squared off in a candidate forum last week Thursday.
The candidates for the state Senate District 14 seat took turns answering questions at Ripon City Hall in an event hosted by the League of Women Voters of the Ripon Area and Ripon College's Center for Politics and the People.
The forum was closed to the public due to COVID-19, but was shown live on Ripon Channel's YouTube channel and can be rewatched there. More than 24 questions were submitted in advance by Ripon College students, to go along with several others sent in by members of the public.
The current state senator of the 14th district, Sen. Luther Olson, R-Ripon, decided this past winter to not run for another term after serving in the role since 2005.
Ballweg, who is running on the Republican ticket, is no stranger to Madison as she has represented the 41st Assembly District since 2011. The Markesan resident noted in her opening comments that, if elected, she hopes to continue some of the bipartisan initiatives that she has brought forward, including support for financial aid, legislative children's caucus and mental health.
Anderson, meanwhile, is representing the Democratic side and is from Adams, Wis. She worked at Farnam (now Freudenberg-Nok) for the past 27 years before retiring this spring to run for state senate. During her time at Farnam, she was not only an active union member, but a union officer. She's active in statewide organizations such as Citizen Action of Wisconsin, Our Wisconsin Revolution and Wisconsin Voices, which has to do with non-partisan redistricting.
Here is how Ballweg and Anderson answered some of the questions that were asked at the candidate forum:
Do you support use of a nonpartisan agency to carry out redistricting after 2020 census
Anderson: "I am definitely in favor of a nonpartisan redistricting forum. I believe that neither political party should be drawing those … voting lines, and I will not only co-sponsor a bill, I will work to get it out of committee, and on the floor to a public hearing, if necessary, to have it voted on."
Ballweg: "I do believe that the commission that the governor is putting together has the capability of putting together a suggestion that can go to the Legislature, go through the committee process for consideration. That is something that the committee would like to do, or use part of that. But, of course, with the announcement of that commission today [Sept. 17], we see that there is no way to possibly do a nonpartisan commission. Some of these individuals that have been named to the commission were signers of the recall. There was no input from Republicans or the Legislature as to the members of that commission."
What actions can the legislature take to protect youth from becoming addicted to nicotine?
Ballweg: "This is something that I think the Legislature should look at, and we should be increasing the tax on the Juul products. I was an advocate over the last several years when we finally passed into law something in Wisconsin to make sure that those products are behind the counter … I was visiting with area members of the tobacco coalition … and I think that they made a good point in that we should try to move forward with some kind of state legislation that puts some teeth in the ability for local law enforcement to move forward in making sure that those that are under 21 don't have the access to those nicotine products."
Anderson: "I had a little discussion with some of the individuals that work with the non-tobacco part of the community services program this past week, and one of their issues was these types of cigarettes, or nicotine ... They were concerned, not only with the amount of tax that was being charged on them compared to regular cigarettes, but they were also concerned with the fact that they've lost a lot of funding. And so they no longer have the ability to run the educational programs and the training programs that are necessary in the schools."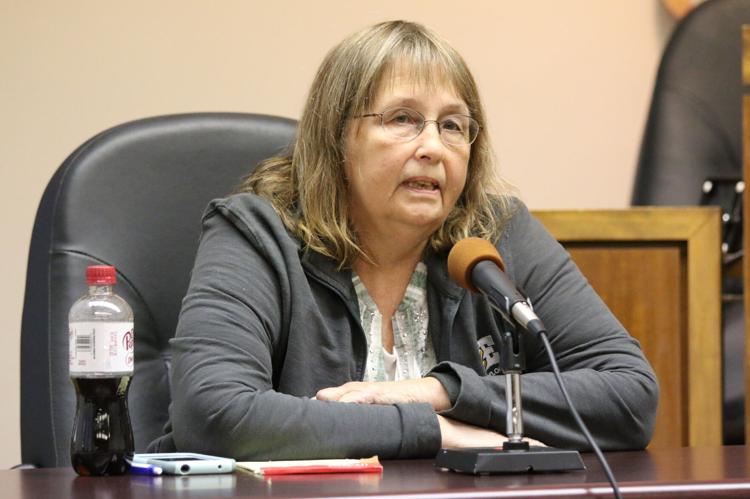 How would you address health disparities, specifically rural areas with high poverty?
Anderson: "Healthcare has become a huge issue in this state and we need our Medicaid dollars back in this state so that they can provide insurance and healthcare coverage for a lot of different people that do not have it. We need health care that isn't connected to employment, and rural areas need doctors and they need healthcare professionals. You have places like Gundersen that's supposed to be a nonprofit corporation hospital, and they make millions of dollars; they profit millions of dollars. And they're buying up a lot of these rural hospitals."
Ballweg: "I've been a major advocate for critical access care hospitals in our rural communities on both the federal and the state level because we do need to have quality access to emergency care throughout all our communities. Now, I think one of the things that we've seen through the COVID pandemic … [is] that we could maybe do more when it comes to telemedicine, whether that be on a behavioral health side or a medical side … But that doesn't mean that we're going to be able to get a rid of, or continue to decrease the number of clinics and hospitals and access in our rural areas."
What do you believe is the importance of education in the 14th District?
Ballweg: "I think we have a good educational system on a K-12 basis. We are lacking … when it comes to early childhood education; that's something that I'm very passionate about that we can try to make sure that supporting some of the initiatives that we have in the state, and support for our early childhood educators so that those daycares can have a better handle and better help to make sure that kids are ready to go to school. On the higher education end of things I've been a big supporter of increased financial aid for individuals. And I think one of the things that … we would like to continue to enhance is some of the school-to-work programs."
Anderson: "I think that we need to put more funding into our public school system overall. The school funding has not been there for the last good number of years. Our teachers need to be paid better and they need to be able to go into their classrooms and feel like they're safe. So with the COVID now, many of them had to go back to school. Well, they petitioned the governor's office for funding for safety so that the teachers and the students could feel safe."
Should medical marijuana be legalized in Wisconsin?
Ballweg: "I'm not ready to legalize medical marijuana at this point, but I think we probably ought to take a look at it based on something that we did over the last couple of years to try to bring into medical use CBD oil … It still needs to probably have some regulation and oversight to make sure that the products people are getting are correct, but what I would hope to do over the next session is to work with healthcare providers to find out what are the situations where we would most likely find relief for their patients when it comes to medical marijuana."
Anderson: "I think it's time that we legalize medical and recreational marijuana. People need to be able to control their pain without having to buy expensive opiate drugs and possibly even become addicted to them. Some people when they have to buy the opioid drugs for pain killing, they just never are able to have control of their pain … We need to provide this route for the people. States like Illinois, and Michigan already have it, and …they're reaping the tax benefits. People go across the state lines to buy these drugs; why should we be giving the tax money to these states?"
Should taxpayer funds set aside for public schools, be diverted to schools via vouchers?
Anderson: "I'm absolutely against it. Property taxes should be going into the public schools or other public services, not private voucher schools ... If people want to send their kids to voucher schools, so be it, let them pay for it."
Ballweg: "Our property taxes aren't paying for the vouchers, it's our general fund taxes that are paying for vouchers. And after all, aren't we all educating children? We're giving the parents an opportunity to make a choice as to what type of school those students go to, and in the majority of cases those vouchers cost far less than the subsidies that go to our public schools."
What's the biggest issue facing legislators in Wisconsin?
Anderson: "The legislators have a lot of big issues that they need to deal with, and some of these issues are not being dealt with in the state. We have the voting issues. We have issues where our governor and our attorney general have been attacked by reducing their ... ability to do their job just simply because certain parties weren't in power. We need this stopped. We need the legislators and the governor ... all working together to solve the problems that we have in the state: the wages, the health care, the nonpartisan redistricting, the roads, the school funding."
Ballweg: "The No. 1 thing that the legislature does every biennium is the state budget. That is something that not only funds our schools, our roads, our communities, our counties that are working on child protective services and healthcare and everything else. Now, this coming year, we are going to be impacted with less revenue in both the general fund and the transportation fund because of the results of COVID-19 and our economy being shut down and slowed down for many number of months, so that's the thing we're going to have to take a look at."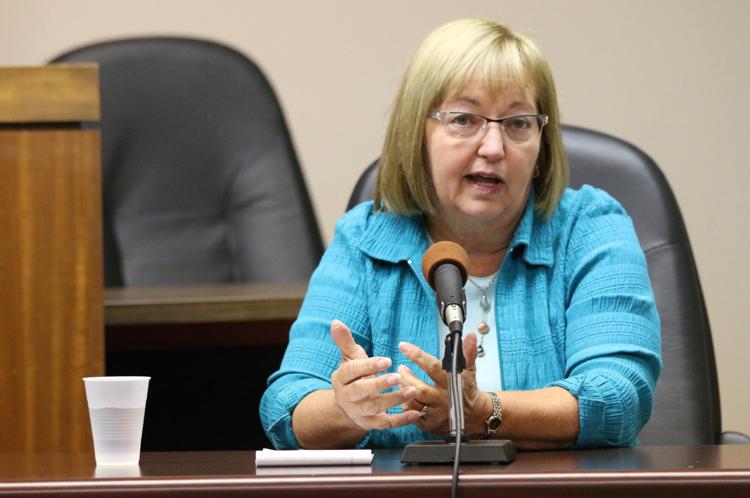 How will you support Wisconsin farmers?
Ballweg: "One of the things that ... we focused on in our suicide prevention task force this year was the stress that comes to farmers because they can't control, of course, the markets, they can't control the weather. We have had great success in Wisconsin in trying to encourage that through our prevention work, encourage that they use the farm center to reach out to make sure that they are understanding and doing appropriate planning. One of the bills that we passed this year was providing incentives for individuals going to Wisconsin technical colleges so that they can do business planning. Farming is a lifestyle, but as with anyone in a family, we need to be responsible to our family and those we're taking care of."
Anderson: "'Get big or get out.' This is what our dairy farmers have been told by the federal government. A lot of the money that has been given to the farming industry, some of it goes to the CAFO (concentrated animal feeding operation), some of it goes to the cheese markets; very little of it goes down to our dairy farmers. And they need fair pricing, they need fair markets and they need them to be, local, too so that they can provide the services that we need …These dairy farmers need support from the state and from the federal government, and they need it at the small, family farm level."
How will you help municipal governments alleviate financial burdens?
Anderson: "There's several ways it can be addressed. One of them … is that we can quit building prisons and allowing the prison system to grow and even encourage possibly a couple more juvenile centers … When we're known as the highest state in the country for people in prisons, this is something that we can turn around and we can use it more for the community, whether it's for roads, whether it's for our schools, whether it's for community services … We can also fix our roads once and fix them right the first time rather than mend them year after year after year. And we need to remember that we are a rural state. Most of Wisconsin does not need the fancy turnarounds, the roundabouts, the overpasses."
Ballweg: "Many of you that are out there will tell me that you think your property taxes are too high. You need to talk with your local entities, you need to make sure that they're being just as efficient as possible when it comes to providing services. Many of the services that they provide are mandated by the state also because constituents have wanted those kinds of services along the way. Roads is an interesting subject in that in this last budget, we did increase the cost for getting a title and for registration to try to get some additional money into funding. Unfortunately with COVID, people just weren't on the road as much so our revenue from gas tax has been going down."
Do you believe systemic racism exists in Wisconsin? What's your view on the Black Lives Matter movement?
Anderson: "I think we definitely have systemic racism in Wisconsin and if that wasn't made quite obvious in Kenosha, I don't know how else it could be actually shown. Black Lives Matter is a good organization. They've tried to educate people, they try to train people, they try to bring out the different issues that Black and Brown people have actually lived with over the years."
Ballweg: "I think it's obvious that there are some systemic issues going on. We see them around the country, we see them in our own area. I'm looking forward to the work that's going to be done by the speaker's task force that's moving forward with representatives [Jim] Steineke and [Sheila] Stubbs as the co-chairs to try to look specifically at some of these disparities."
What role should the state Legislature play in helping businesses impacted by COVID-19?
Ballweg: "We do need to help those businesses that have been mostly impacted during this shutdown. We need to make sure that we're moving forward without major shutdowns again, so hopefully people will be careful as they move forward, respectful of people, whether they want to wear masks or not able to wear masks moving forward … Just make sure that we're practicing good hygiene, protecting those that are more vulnerable and making sure that the science will help us get through this and move forward again in the not too distant future."
Anderson: "I too hope that we can go forward in a positive way. But we have businesses ... in Adams that had to shut down and applied for the small business loans and did not get them because the money did not go to them; it went to the bigger businesses. That shouldn't have happened … Our communities and hospitals, they need testing, they need PPE and it should come from our state or country, not from China, and that would provide jobs. There are just so many ways that the state and the federal government could help show support for this issue so that the impact is less negative on their lives."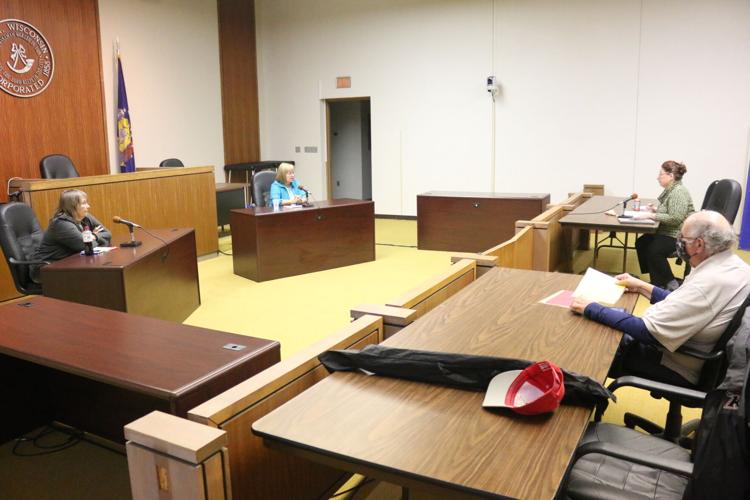 What's your view on the police bills that recently were part of a special session?
Anderson: "Well first, I agree with the bills. I think the police need the training and the education. And I think that when the session was called, the two sides should have come together and they should have had a session rather than just being gaveled in and gaveled out. It just kind of showed a disrespect for the whole situation that was going on. I would hope that if this was put to a committee that it would actually get addressed in the committee and move forward out of that committee, so that it could be taken care of and that the bills could be passed."
Ballweg: "I'm not aware of what the governor has actually done to reach out to stakeholders, either in the law enforcement community, the Black Lives Matter community, the folks that do our training and standards through our Department of Justice in preparing any of these bills as they have been put forward. So I think that there is something that is going to be done in taking a look at these proposals, that they will go to committees, they will have the opportunity for public input, which is the way that the legislature works on these things … Most bills that are introduced never do get to the point of being voted on."
What's your position on mail-in and absentee ballots?
Ballweg: "Absentee ballots? Absolutely … I think that is perfectly logical. I don't believe that mailing ballots to people and mailing them back is a reasonable option for individuals. There is questions regarding security of ballots … we have a very robust system right now in Wisconsin that you can actually register to vote on the day of the election. This is something that isn't done in most states. So I think we have a very huge interest in making sure that our elections are safe and accurate and making sure that every individual's vote is counted."
Anderson: "I support both of them. I don't think there's a lot of fraud that goes on. We have a lot of people that are very vulnerable out there that are home bound that have a difficult time getting any place to vote, much less going to the computer and requesting an absentee ballot … So we need to make this easier to vote, not more difficult ... One of the other things that I support is automatic voter registration, so if people move, their voter registration goes with them. States that actually have this have seen an increase in the votes."
Do you support a voluntary cap on spending for a political campaign if both parties agree?
Anderson: "Yes, I would. I don't think that we need thousands and thousands of dollars coming into our elections from out of state. I have a limit of $2,000 that I can accept from anybody, including myself … It isn't right, and later on when people are elected, it does affect how they vote."
Ballweg: "First of all, being currently an elected official, I would say that it does not affect how you vote. The statutory limit for contributions for individuals is $2,000, that's the same, that's the statutory limit. Having a limit between candidates is all well and good, but that has nothing to do with the amount of money that comes in that supports candidates pro and con based on organizations ... that do things on behalf of you or against you, and you have no authority over, nor can you work with. organizations to do one thing or another."