The middle school in Brandon will close next year and students in grades 6 through 8 will be going to Rosendale Intermediate School.
That's after the Rosendale-Brandon School Board voted 6-3 Monday to consolidate middle schools, which resulted in the immediate resignation of one board member.
The decision comes after two months of discussion, a more than two-hour listening session last month and nearly two hours of discussion among School Board members Monday. There are no plans to close the elementary school in Brandon, according to the school district.
Discussions about closing the middle school arose in response to falling enrollment as the district only has 978 students and district-wide enrollment is projected to continue steadily decreasing through 2025, according to a document distributed at last month's meeting.
School Board Clerk Jennifer Riedeman noted the current eighth grade class district-wide is 91 students and in three years that number will drop to 73.
After that, she said every graduating class is projected to be less than 70 students.
"We simply don't have the student population that supports two middle schools in our district," Riedeman said. "The suggestion to move kids from Rosendale to Brandon to even out the numbers isn't feasible, because the numbers just aren't there."
At Monday's meeting, the district distributed a document projecting staffing outcomes for the 2021-22 school year and the 2022-23 school year, which showed relatively even numbers of staff cuts wth both two middle schools and the consolidated model.
However, those numbers didn't take into account the projected continued enrollment declines beyond the 2022-23 school year.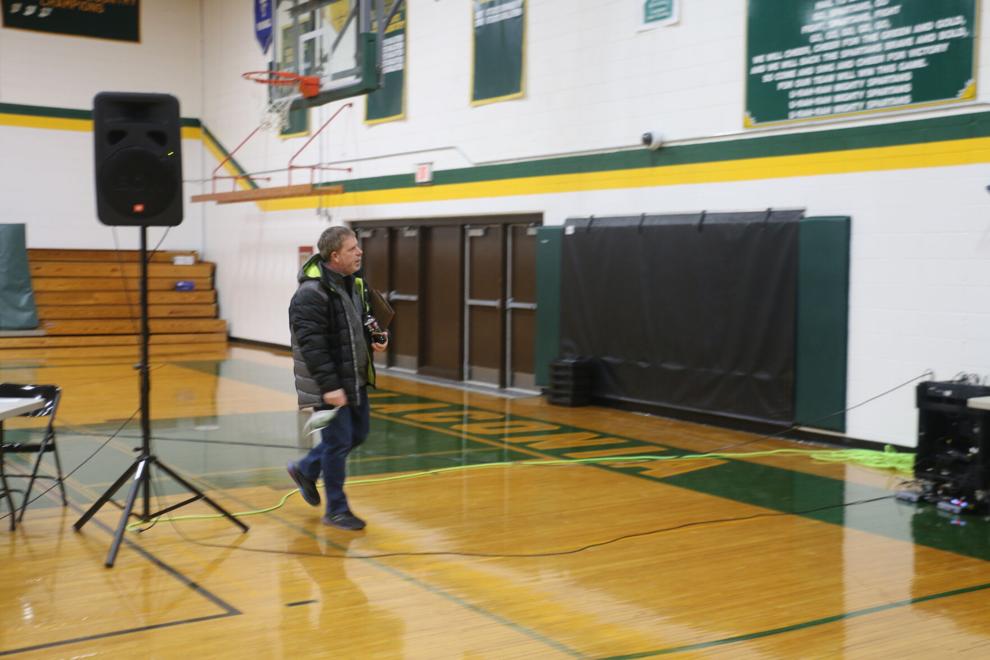 Those who voted against consolidation more so voted to postpone the decision to give families time to adjust to the idea of losing a middle school in Brandon as they feared consolidating middle schools could lose support for potential referendums from the Brandon community.
Ultimately, School Board members Beth Redeker, Logan Kinyon and Mark Kottke voted against consolidating middle schools.
"I really don't see how this doesn't happen right now or in the future," Kinyon said. "But I am concerned about the timing."
Shortly after the vote, Kottke tendered his resignation from the School Board, before abruptly leaving mid-meeting.
Earlier in the meeting, however, he said, "I agree that the big picture says that we're going to have to do something about this," in relation to the district's falling enrollment.
Brandon School Principal Leanne Greff said consolidating middle schools would allow teachers who teach "core subjects" such as math, literacy, social studies and science to focus on teaching for one specific grade-level, rather than teaching multiple subjects for multiple grade levels.
"That's ideal because you don't want a core teacher teaching a different grade every hour because there's only so much time in the day for planning activities," Greff said.
She noted the more grade levels or subjects an individual teaches, "the higher the workload."
"For example, there's one person who would teach literally a different grade [and] a different subject every hour of the day," Greff said of keeping two middle schools.
Likewise, Riedeman noted having teachers teaching specific disciplines results in better learning outcomes for students and having consolidated middle schools allows teachers to collaborate and create district-wide consistency.
"Many of our teachers have told us they want to teach in their preferred discipline, not because they aren't capable of teaching other subjects, but because the students would not get as much out of their lessons as they would from a teacher who's passionate and an expert in the subject," she said.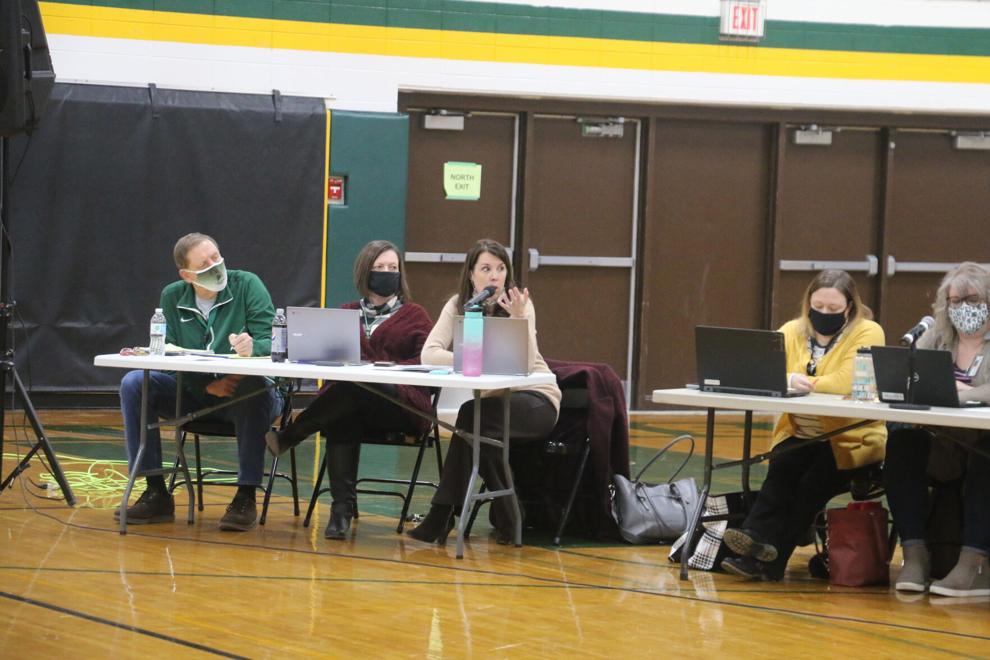 Similarly, Rosendale-Brandon School District Curriculum Director John Hokenson noted that having an increased number of part-time teachers combined with forcing teachers to teach multiple disciplines makes teaching jobs in the district less attractive.
At the same time, he said the district has increasingly struggled to find qualified teachers over the last several years.
"There's just less candidates now [and] it's been going down for awhile," Hokenson said. "... As administrators at schools, we're not sure that we can get a quality person to come, if we don't give them an attractive position that's going to be there for a long time."
During the School Board discussion, Kottke raised concerns that closing the middle school in Brandon would decrease property values by 5% after talking to one realtor in the area.
However, School Board President Dean Mulder said he spoke with multiple realtors who told him that as long as the district produces successful learning outcomes, then property values will be minimally impacted.
"Student success has a bigger impact on property values than anything else," Mulder said. "When I asked how big of an impact moving [grades] six through eight from Brandon, a few of them said 'Negligible;' none of them would give him a number, but most of them said, as long as you maintain success, it won't impact property values."
Kottke, Redeker and Kinyon also were concerned that voting to consolidate could result in a loss of trust from the Brandon community, which would make it difficult to pass referendums to address potential infrastructure needs.
Kinyon noted the Rosendale-Brandon School District is dealing with aging facilities that could require referendum funds to modernize. He feared that voting to consolidate prematurely would isolate Brandon residents and kill support for future referendums.
"If it was just about better supporting our teachers, or better positioning our teachers, it's a no brainer," Kinyon said. "... If we would just take our time to vet this further, I think it would do a lot to ease the tension."
In terms of building trust, Riedeman said the School Board already pushed the decision back a month and held a listening session.
She felt that holding off on a decision would kick the can down the road and leave the falling enrollment problem hanging over the School Board's head.
"Frankly, I don't want to spend another month, six months or a year having our character attacked and our integrity questioned; and baseless attacks on [Superintendent] Wayne Weber saying this is a master plan that he's had all along, and we're just puppets that can't think for ourselves," Riedeman said. "We think there's animosity now, [but] I don't think anybody here is going to like when the rest of the district asks, 'Why aren't you doing what's best for the kids?'"
Multiple School Board members, including those who voted against consolidation, described the criticism of Weber from the Brandon community as unfair because the decision and timing of the consolidation ultimately fall on the School Board and not the superintendent.
"This district is stuck in the 1970s in terms of facilities; we know we have shrinking enrollment, we know we have a conservative tax base and two separate communities," said Redeker, who voted against consolidation. "[Weber is] leading a district that is not easy compared to someone who had a one-town, two-school, two-administrative model."
In terms of the decision being rushed, Greff noted that if the decision was postponed, her biggest concern would be recruiting and retaining teachers at Brandon School.
"We have had, over the last couple of years, a dramatic decrease in the number of applicants for positions," she said, noting she's already received requests from multiple teachers for letters of recommendation due to fear of being laid-off or being asked to take part-time positions.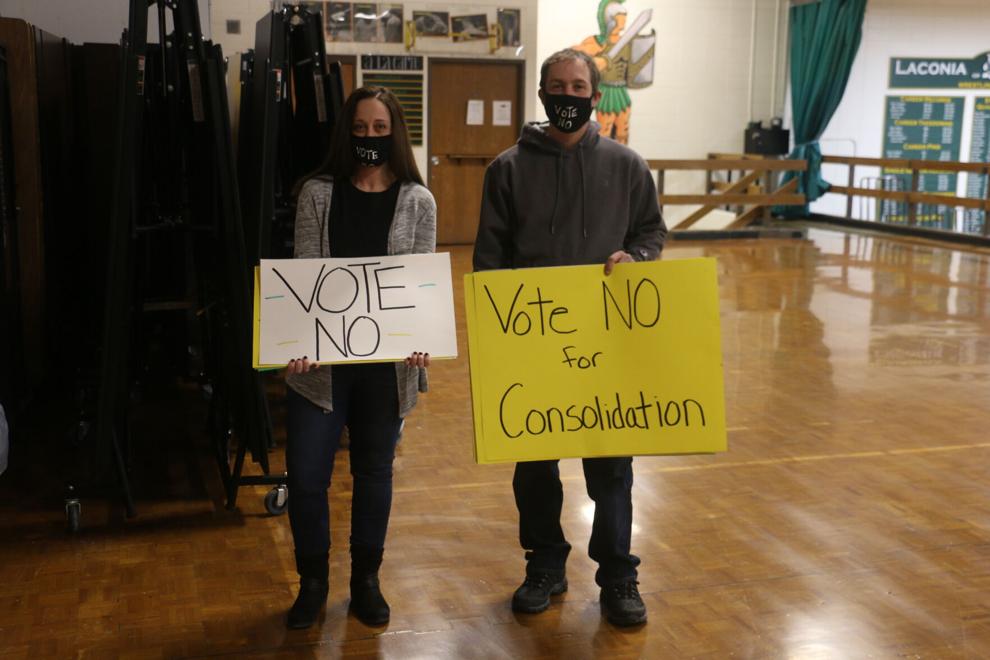 School Board Treasurer Brenda Zickert, who voted in favor of consolidation, also was concerned about teachers, who she said are what make Brandon School special.
She felt that consolidation better ensured the teachers from Brandon would have jobs and continue to support students.
"If we do this consolidation, we are ensuring that those same teachers are going to be there to take your kids through middle school," Zickert said. "In my eyes, giving children the best emotional support is by sticking with what they know, which is those teachers."
Although only six School Board members voted to consolidate middle schools, they all acknowledged that the middle school consolidation would inevitably be necessary to ensure the long-term vitality of the Rosendale-Brandon School District.
"If it's the right thing to do, then it's our duty to do it," Mulder said. "It's my opinion — and I understand it's not everybody's opinion — that consolidation is going to happen at some point in this district."