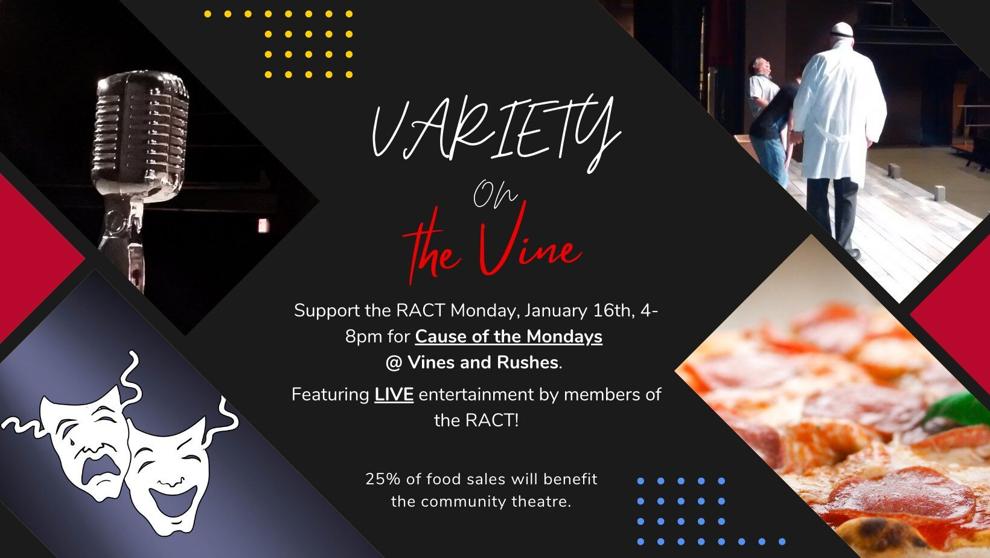 The Ripon Area Community Theatre will hold hearings for its first "Variety on the Vine," a live performance opportunity during an upcoming Cause of the Mondays fundraiser.
The hearings will be Saturday, Jan. 7 from 2 to 4 p.m. in the Fellowship Hall of the First Congregational Church of Ripon, 220 Ransom St.
Hearings are open to all ages and pieces must be appropriate for general audiences.
Performance slots will be offered based on individual's hearing performance. Routines may include music, spoken word or other performing arts.
A microphone and speaker will be available, and performers should bring any additional equipment they may need. Covers and original music are welcome; poetry, monologues or other spoken word pieces must be original works.
Sign-up in advance for a slot online at www.riponnoonkiwanis.org/RACT-hearings. Performers should sign-up for a hearing slot per performance piece, so each piece can be evaluated during the hearings.
The Variety on the Vine performance will be Monday, Jan. 16 from 4 to 8 p.m. at Vines and Rushes in Ripon as part of a Cause of the Mondays fundraiser for the Ripon Area Community Theatre.
For questions about Variety on the Vine or the performance hearings, email riponareacommunitytheatre@gmail.com.