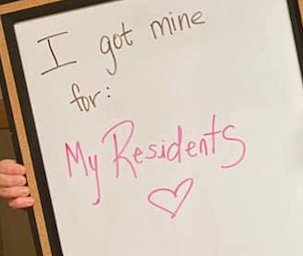 As the COVID-19 vaccine has been distributed to long-term care facilities, the director of housing and clinical services for the senior living advocacy group LeadingAge Wisconsin has witnessed an unsettling phenomenon.
According to Robin Wolzenburg, a significant portion of staff members in Wisconsin nursing homes and assisted-living facilities are refusing to take the COVID-19 vaccine, jeopardizing residents.
After talking with the head of the Pharmacy Partnership Program through the Wisconsin Department of Health Services, Wolzenburg said only about 34% of staff in long-term care facilities are taking the vaccine, while roughly 79% of residents are receiving the vaccine.
In rural areas, she noted the results have been even worse as there's "a lot more hesitancy" surrounding the vaccine, resulting from misinformation circulating on social media.
In fact, one area nursing home only had an approximately 10% vaccination rate among staff members, according to Wolzenburg.
Although she declined to comment on the record regarding specific facilities that have had low vaccination rates, Wolzenburg noted she's "talked to a couple of the administrators of a few places, and I'm going to be honest, I don't think that the encouragement is there."
"One facility, I can't really say who it was, basically said they're not going to encourage their staff because they're not going to take it," she said. "So, there's been a very, very low turnout of staff taking this vaccine."
Wolzenburg believes this is troubling as public health experts estimate that if 70% to 80% of the country is vaccinated by the end of summer, the country could return to a relative normal life by the fall.
By refusing to take the vaccine, she noted individuals are only "going to prolong the crisis."
At long-term care facilities, in particular, she added that refusing to take the vaccine could impact the quality of life for residents as visitation restrictions likely won't be eased if vaccination rates among staff don't increase.
"Public Health won't even think about opening up, taking back any visitation restrictions or PPE [personal protective equipment] requirements in long-term care facilities until we can get a herd immunity effect," Wolzenburg said.
She noted many of the fears surrounding the vaccine have been the result of misinformation.
Wolzenburg said some are hesitant to take the vaccine because of how quickly it was developed.
However, she noted the vaccine has largely been found to be safe, despite its speedy development.
In fact, according to the Mayo Clinic, "Many pharmaceutical companies invested significant resources into quickly developing a vaccine for COVID-19 because of the worldwide effects of the pandemic. The emergency situation warranted an emergency response, but that doesn't mean that companies bypassed safety protocols or performed inadequate testing."
Wolzenburg added that others have been hesitant to take the vaccine because of a fear that it could cause infertility.
However, according to the U.S. Food and Drug Administration, "There is no scientific evidence to suggest that the vaccine could cause infertility in women. In addition, infertility is not known to occur as a result of natural COVID-19 disease, further demonstrating that immune responses to the virus, whether induced by infection or a vaccine, are not a cause of infertility."
Wolzenburg said the vaccine hesitancy in staff of long-term care facilities is reflective of a much larger issue that could prevent the country from reaching herd immunity.
"If we want to open up our long-term care facilities in our community, to be able to experience some sort of normalcy, we need to all take part in getting to that herd immunity point, which is getting the vaccine; particularly, to protect our elderly and the people who work in long-term care, that that needs to be a priority," Wolzenburg said. "I think as a community, we all need to encourage each other to take the vaccine and to seek accurate information on the vaccine."
In order to reverse the trend of low vaccination rates, she recommends individuals fact check what they see on social media by checking that information with scholarly sources, such as studies from major universities, healthcare systems and other reliable sources.
Wolzenburg added that the COVID-19 pandemic is not a political issue, noting the politicization of mask wearing and vaccinations has hampered the response to the pandemic.