If all goes well, some kind of development could occur at the former Heidel House property in Green Lake by next year.
But that comes with a lot of "ifs," including whether developers can come to an agreement with the city of Green Lake on some level of financial support.
To make that happen, the Green Lake City Council met in closed session Monday for the first steps toward a possible agreement.
"In open session [following the closed session], they did approve an agreement to hire a special attorney to help with any potential financing," City Clerk Barbara Dugenske said. "The other motion made in open session was, the council is willing to work with the developers moving forward with potential financing."
Who that developer is, however, remains unclear.
"[The developer's] name was not named in open session," Dugenske said.
Mayor Ray Radis, who has signed a confidentiality agreement, also was guarded when asked after the meeting who the potential developer is.
"I've been asked by them not to mention any names or details," he said. "Hopefully in the next few weeks we have something."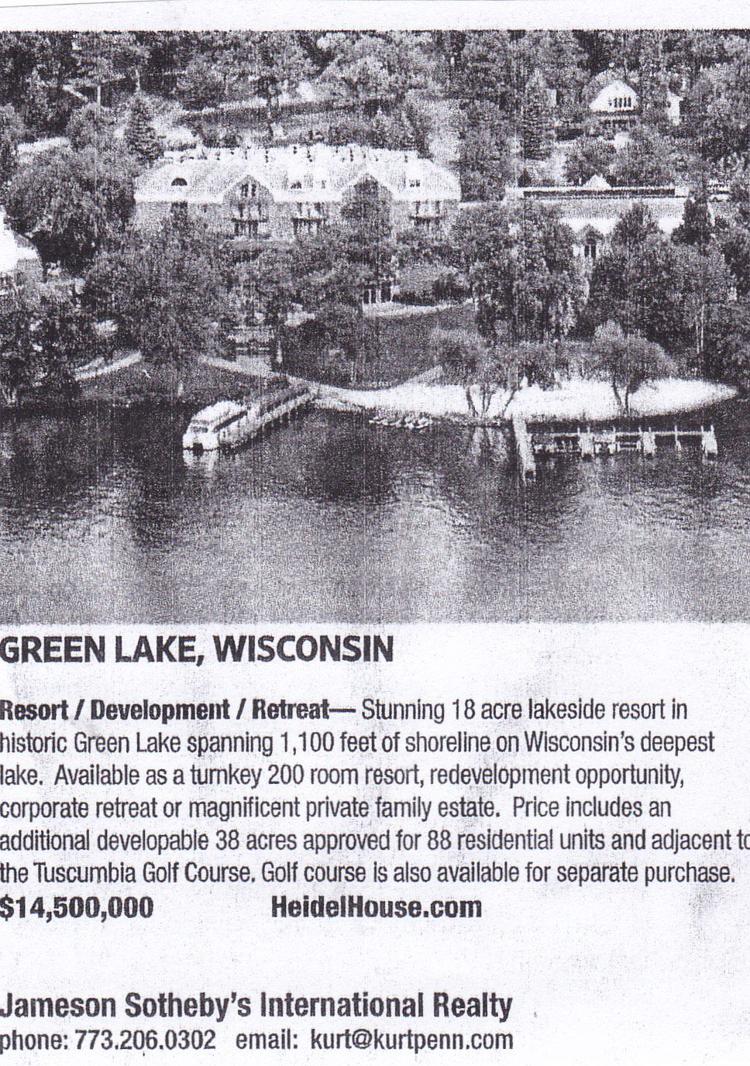 He described this developer as being "Wisconsin based and have developed other hospitality properties ... I was introduced to them by a business owner in this area who knew them from another relationship, and we've met numerous times and have done other due diligence about them."
Though he could say little about the developer, Radis noted he's optimistic about the potential such a development could have for boosting Green Lake.
"Very excited, very excited for the city of Green Lake," he said. "For everybody who lives here, the business owners, to get a resort back in this town [would be so important, because the Heidel House is] the heart of it — the heart of lakefront."
No concrete decisions on financing, though, have been reached with this potential developer.
"What we agreed in closed session to is to work with the developer to support them, but that would be based on proper financial due diligence," Radis said.
And if all goes well? The Heidel House property could be operating again, in some capacity, in the not too distant future.
"We're looking for work to start this year on it for opening in 2021," Radis said.
During a meeting of event organizers Wednesday morning, Radis also addressed the issue of the Heidel House.
At that time, he again expressed excitement at the prospect of moving quickly.
"They are ready to move quick, they have even talked about possibly opening in 2021," he said. "It's an exciting thing for the city and all of our business owners. It's always a fragile infrastructure when you're dealing with investors making offers, but I think this is a positive development."
Read the full story in the June 25, 2020 edition of the Ripon Commonwealth Press.