A few weeks ago, a series of aging trees along Watson Street, primarily in the downtown square, were cut down.
Residents might have wondered, "Why are trees being removed from this highly visible location?"
The answer? To make room for newer trees.
"Street trees have a life expectancy of 20 to 30 years and those trees were planted in the early '90s," Ripon Main Street manager Craig Tebon said, noting the trees no longer were healthy. "So those were removed, and we've been replacing them with trees that are more appropriate for an urban setting."
In their place, a dozen new trees were installed this week.
"We planted 12 trees — 11 were on the square and the 12th was a tree that the plow must have taken out over the winter in front of Farrell's [Fine Furnishings] and Dig Garden Supply," Tebon said of the 200-block businesses. "These were primarily locust and Ginko, and we also planted some Kentucky Coffee Trees on the median."
Funding for this project was done by Ripon Main Street.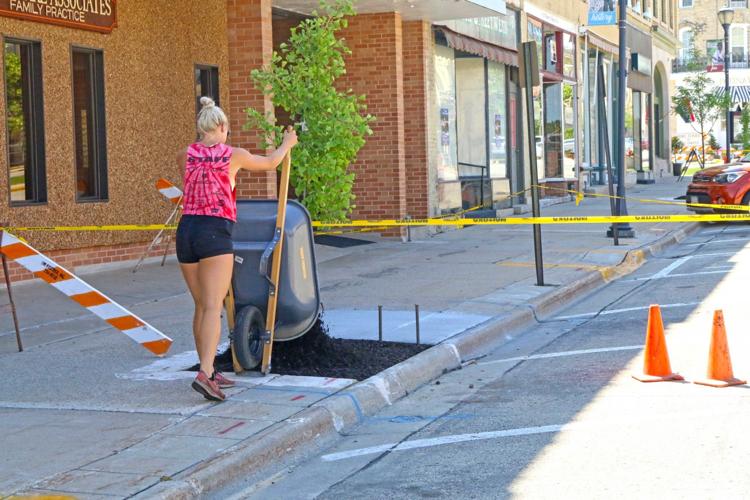 As Tebon explained last fall, dollars for the improvements have been in hand for some time.
"At this point, we have plans to carry over about $17,000 [in existing funds] to do more beautification next year, which will be primarily the square with tree plantings and beautification," Tebon said in November of this spring's work.
This is just the step in a multi-year effort to beautify downtown Ripon.
Last year, nine trees were planted along Watson Street.
"We've planted over 50 trees [so far]," Tebon said in November. "Of that, at least 24 or 25 were off Watson: Seward, Blackburn, Scott Street, East Fond du Lac, West Fond du Lac [streets]."
Now the downtown square also has been improved.
While it may seem like planting trees aren't important, Tebon explained that it can improve the shopping experience — which can help visitors choose to spend more time shopping along Watson Street.
"Trees soften the streetscape. They're small at this point, but [they'll grow]. They help the environment, they create shade," he said. "People who are either shopping or visiting the district, they don't want to be just in sunlight so it creates a better environment."
Whether the downtown beautification process extends beyond this round of tree planting remains to be seen — and, like most aspects of life this year, may be pandemic-dependent.
"We're still tidying up some things, seeing if there's a couple trees that didn't do well with the freeze earlier this spring. Just have to see what happens, maybe planting a few more trees," Tebon said. "We just have to get through COVID and see how bad this is for our budget and then we'll be able to make a determination about what we're able to do going forward."