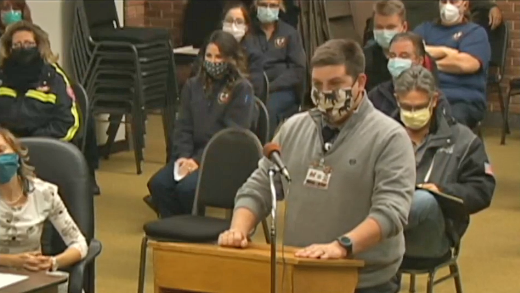 The Ripon Common Council put the decision of whether to transfer the city's dispatch center to Fond du Lac County on hold Monday night during an emotion-filled meeting.
After seven members of the Ripon Guardian Ambulance Service spoke during the public communications and comments portion about why the communication center should remain in Ripon — and why at the very least no decision should be made at the meeting — the Common Council voted to table the discussion.
The issue of whether to move the service to Fond du Lac County was brought to the council in August and was re-visited earlier this month. It was then that Police Chief Bill Wallner asked the council if it could make a decision on the matter at its next meeting so that the dispatchers who have been in limbo that past several months could have some peace of mind and so that Fond du Lac County can know whether Ripon plans on joining (see past stories above).
Right now, Ripon is the only city in Fond du Lac County that has its own dispatch center. The issue of whether or not to move to Fond du Lac County came up as Ripon will be due for some major upgrades in its communication center and Fond du Lac County is going to be upgrading its system and it would be a natural and cost-efficient time for Ripon to join.
While there was some urgency presented by Wallner at the last meeting, Ald. and Council President Al Schraeder made it clear from the start Monday he was not ready to vote.
"We are dealing with people's lives and the decision that they [the EMS members who spoke during public comments] clearly pointed out that if this dispatch center goes away, it's not coming back," Schraeder said. "So we better make dang sure we are doing it right the first time. And I understand that we need to make a decision sooner than later, but tonight is not the time. I would urge you, beg each of my colleagues, if you have questions, if you don't understand something, if you need clarification, take the time to talk with one of our chiefs, take the time to talk with one of our people, get their perspective."
He added that "in 18 years of sitting my fat rear end in this chair, I have never been contacted more than I've been contacted on this issue, and overwhelmingly people said two things: 'Make sure you're looking at this closely and it's got to make sense for the people of Ripon, no one else.'
Schrader continued by saying that if the circumstances required him to get up and leave so the council would not have a quorum and couldn't vote on the issue tonight, he would do so.
"I think we need to go in a very orderly fashion, understanding the nature of this discussion and this decision for the long term, when we're probably not sitting here in chairs," he said.
Alds. Benjamin Morrison and Howard Hansen agreed with Schraeder's take on the issue.
Morrison, who is a healthcare worker, noted that he agrees with what the EMS members said about how a switch to Fond du Lac County could cause the response time to be slower and that "minutes accounts for everything in our service" when it comes to saving lives.
He added while he had a pre-arranged idea of what was going to happen Monday, he was thankful that the council received information that Alds. Paige Kane and Jim Werch were not going to be at the meeting and he didn't think it would be fair to vote on the issue without them.
Morrison also received many phone calls and emails, as well as saw responses on social media.
"This is not something to be taken too lightly; this is not something I will vote on tonight, I can't," Morrison said. "This is a big ordeal to take on in the city. And I don't think it's fair for a council of eight to sit here and vote on something for a city. I almost think it's a better idea to let it save for another day ... I want the city in here; I want to talk to them. I want them to tell us everything because I can't sit here and justly make a decision and go home and go to sleep at night and thinking that it's OK. So I'm asking that we take our time with this, do exactly as Mr. Schraeder said, and our wonderful people in the audience tonight have said."
Hansen, who noted that he has lived in Ripon since he was 4 years old and always looked up to and held the ambulance, police and fire departments on a pedestal, cautioned the council about making a similar mistake to one it made in 2009 that it still is recovering from.
"The last time I can remember in the last 20 years that the city rushed to do something it turned out to be a fiasco and that was the Boca project; that was the reason I got on council," Hansen said. "This is something we need to take our time at. There is no timetable set in stone that we have to go through to approve this. We do need to take our time, sit down with the community."
He added that he too has received so many calls in the last two weeks and had people stopping in his store in downtown Ripon (Imagineers) and talking to him about the subject.
"There is a passion for the communication center in this community," Hansen said. "Not everybody wants to be out there on Facebook … stating it, but that's what the eight of us are for and they've been coming to us and stating what they want. Some are for moving to Fond du Lac County, some are for retaining it. But, all in all, the biggest thing that I have been asked by the constituents that have contacted me is take a step backwards, slow down and think this through. Because as Mr Schrader said, once this is gone, it's not coming back."
Ald. John Splitt agreed with what the first three aldermen and all the EMS personnel said, but noted he was ready to vote in favor of keeping the communications center in Ripon.
"It's like [Ripon Guardian Ambulance Service's] Bob [Baumgardt] said, 'If it ain't broke, why fix it?' And I don't hear any complaints really on it not running smoothly, it's not working," Split said. "The only complaint is maybe if we switch it to Fond du Lac County, we're going to save some money, and I don't believe we're going to save any money. I think it's going to end up costing the city a lot more than what we feel is going to be a savings. Worst-case scenario, if we switch it to Fond du Lac County, what happens if we lose our EMT services; then we're looking at hiring a staff, full-time staff, and like the one gentleman [Mitch Matuszeski] said, it's going to cost hundreds of thousands of dollars."
Splitt added if it was the Common Council's decision not to vote on the matter Monday that he was fine with that, but believed as it nitpicked the issue more it would find out that there wouldn't be much savings, if any, as a result of moving the communication center to Fond du Lac County.
Ald. Jolene Schatzinger spoke next in favor of moving the communication center out of Ripon. She noted that she has the "utmost respect" for the city of Ripon dispatchers and wouldn't suggest the move if she didn't know that they would be taken care of at Fond du Lac County, which said it would consider Ripon dispatchers for county positions if interested. The alderman also mentioned that it was her understanding that a move to Fond du Lac County would improve response times as it would negate the minimum of 55 seconds that Mayor Ted Grant noted at the last meeting that it takes Fond du Lac County to transfer 911 cell phone calls to Ripon as all cell phone calls currently go to the county.
In addition, she noted the county could start the paging process quicker as it has multiple employees at its dispatch center at one time, while Ripon often does not. A couple of the EMS personnel who spoke earlier in the night stated at times it takes Fond du Lac County around five minutes to send out a page.
"The response time … has nothing to do with the incredible, incredible dispatchers; it has to do with technology, It has to do with that they have more people," Schatzinger said. "... When you have more than one person in a dispatch center, that person who gets the 911 call, then another dispatcher can immediately be on the phone with the police and another one can immediately be on the phone with fire or ambulance and this is all immediately happening. What is happening now with the system to remind us is that they are then calling the Ripon dispatch center, getting our person on the line, that person then is calling out one individually, another individually. And quite frankly, I'm not saying that we don't have all the details worked out, but I don't know if any one of us can sit here and right now say the way things are right now they want to keep it. Based on what I found out, based on the response times, the data is right there, the average response time is quicker when you have more than one dispatch."
She added that it shouldn't be a question of the response time and whether or not Ripon would save money as the city has data and "why are we not better at putting data out, putting a context out?"
Schatzinger noted she understands if some council members didn't want to vote Monday, but also asked them "to do some homework" and meet with the people they need to in order to gather facts.
"Personally, I think we have a way to move forward, but if others don't feel that way, we still need to look at that," she said, before thanking the EMS personnel who spoke and noting if they feel uncomfortable that the council needs to figure that out and put those worries to rest.
Schraeder took issue with Schatzinger's request for council members "to do some homework."
"Jolene, while I respect your opinion, don't you dare insinuate that other members have not taken time to talk with others," he said. "Please, I take great offense to that. I want you to know that. You're not the only person that has gone and talked with chiefs, with employees and everything else; don't insinuate that anyone else. That's disrespectful and I take exception."
Schatzinger began to explain herself, before stopping and apologizing, which Schraeder accepted.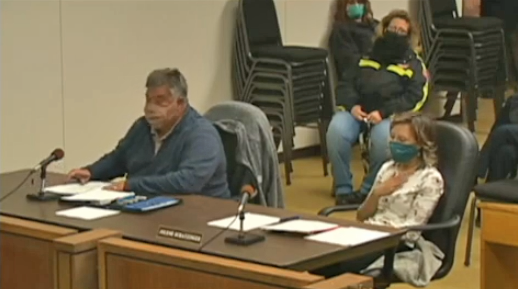 Much like Schraeder, Morrison also took offense to what Schatzinger said about other aldermen.
"I'm going to say this right now, to make backhanded comments such as tonight was disrespectful and unrespectful to the council and everybody in here," he said, before Grant cut him off as he was saying "You're not the only one." Morrison momentarily continued, saying "I'm not going to stop because I've done my darn homework and I know what the heck I'm doing," before Grant gavelled him to a stop.
Ald. David Gallops then chimed in with his opinion on whether to move the dispatch center to Fond du lac County and noted after spending a couple hours in the county facility that "it is quite amazing."
He added that one of the main problems that he sees is figuring out the schedules for the paramedics.
"What are we going to do with the schedule? You have full-time jobs and you're doing it out of love doing it," he said, referring to one of the main concerns that came up during the public comment portion of the night. "And it's not right to have something up in the air like this because you guys don't know and we don't know yet. That's something that's an unknown is how we're going to do this schedule. I see that as one weakness before we make a decision. And the other is there is too much misinformation out there. Jolene is right; from everything I've seen, it's going to be faster in Fond du Lac, but we've got to work out your guys' schedule because right now we've got nothing as far as that."
He then made a motion to table the topic of the communication center, which passed.
City Attorney Lud Wurtz then noted that the motion to table it doesn't send it anywhere and that the "administration will reach out to the Common Council and try to put some details together in terms of timing, cost and opportunities to know what the alternative is … and someone will have to bring it off the table."
"There were legitimate questions raised by everybody, including those in the audience, [on] exactly how we're going to move forward if, and when, we make a decision," Wurtz said on the issue. "Obviously, the tabling does not make a decision this evening, and I certainly would be a proponent of having all eight [council members present] as was indicated by Ben; I think that's very important that every council representative gets an opportunity to be heard on this issue before we make a final decision. But I think there are some necessities that we continue to move forward and the administration will take the lead on that."