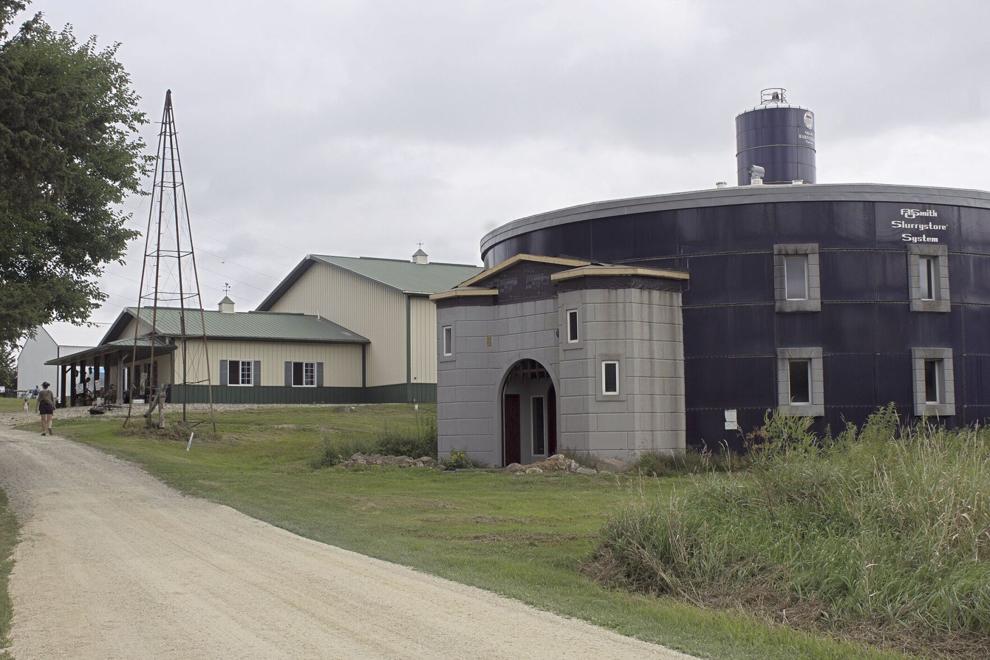 As a part of recreation and the local economy, Big Green Lake is a vital part of the community.
But with issues of phosphorus runoff, Green Lake's water quality faces serious challenges.
Phosphorus can be found in soil and since Green Lake is surrounded by farmland, farmers play a vital role in protecting the lake's water quality by keeping water runoff clean.
The annual Land and Lake Family Field Day, held on Aug. 21 this year, brings farmers and waterfront owners together to discuss ways they can protect Green Lake's water quality.
The event was sponsored by the Green Lake Association, Wisconsin Farm Bureau and Mississippi State University. It was hosted by Avalon Creek Farm.
The field day featured presentations across the farm on topics of soil health, managed grazing and water quality and how each can contribute to water and soil conservation to help both farmers and nature.
Apart from the conservation presentations, there was a book sale in the farm's famous book castle, tours of the historic schoolhouse, and games and face painting for kids.
University of Wisconsin Agriculture Extension educator and Family Field Day planning committee member Ben Jenkins said the event has grown in popularity over the years.
"It's a great way to get farmers and waterfront owners together to talk about conservation," he said.
Cover crops increase nutrients and improve water absorption
University of Wisconsin's Nutrient Specialist Jamie Patton and regional sales manager for La Crosse Seed Bryan Decker gave a talk on the use of cover crops to reduce bare soil and increase nutrients and oxygen to the soil.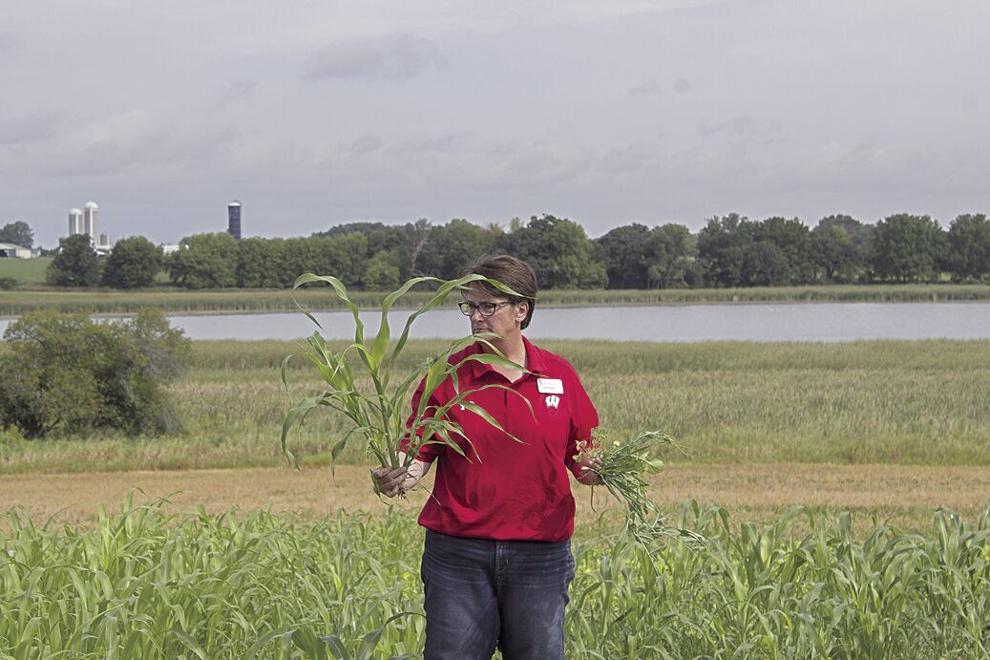 Decker said cover crops include corn, bean, clovers and radishes, and are typically planted during the offseason of normal crops.
"With cover crops, we're trying to accomplish reduction of bare soil because it's going to reduce runoff, it's going to sequester nutrients and it's going to offer some weed suppression," he said.
Decker added a diverse selection of grasses and brassicas makes for great cover crops because they put a large fibrous root system in the ground that helps with nutrient exchange.
"They're nutrient-trap crops," he said, because they'll pull up and break down the nutrients in the soil and leave it for the cash crops next season.
Cover crops are particularly important around bodies of water like Green Lake because they improve infiltration of rainwater, Patton said.
By having cover crops planted in the offseason instead of having bare soil, the crops' root systems create pore space in the soil that helps rainwater move into the soil.
"I want every drop of water to move into the soil, not only for the crop, but to also protect water quality downslope," Patton said.
A diverse root system creates channels for water to flow through instead of sliding off the soil and moving downstream, Decker said.
Crops also reduce the impact of rain, as the water will hit the leaves and then bounce to the soil much lighter than if the water hit the soil directly, Decker said.
Patton added a diverse selection of grasses and brassicas make for the best combination of cover crops because together they will fulfill a diverse number of functions.
"The grasses have this nice fibrous root system that helps build aggregation, helps build soil biology and helps take up excess nitrogen to store it over winter," she said. "The brassicas have a very similar job to the grasses, but their root systems grow in different directions, so we get a larger soil profile."
Patton said farmers want to pick a variety of plant species to ensure something is growing within all soil environments.
Another benefit of cover crops, Decker said, is that they can be used for animal grazing.
Rotational grazing mimics nature
Sauk County Conservation Technician Serge Koenig gave a talk on how returning animals to the land through rotational grazing is cost-effective for farmers and better for the environment.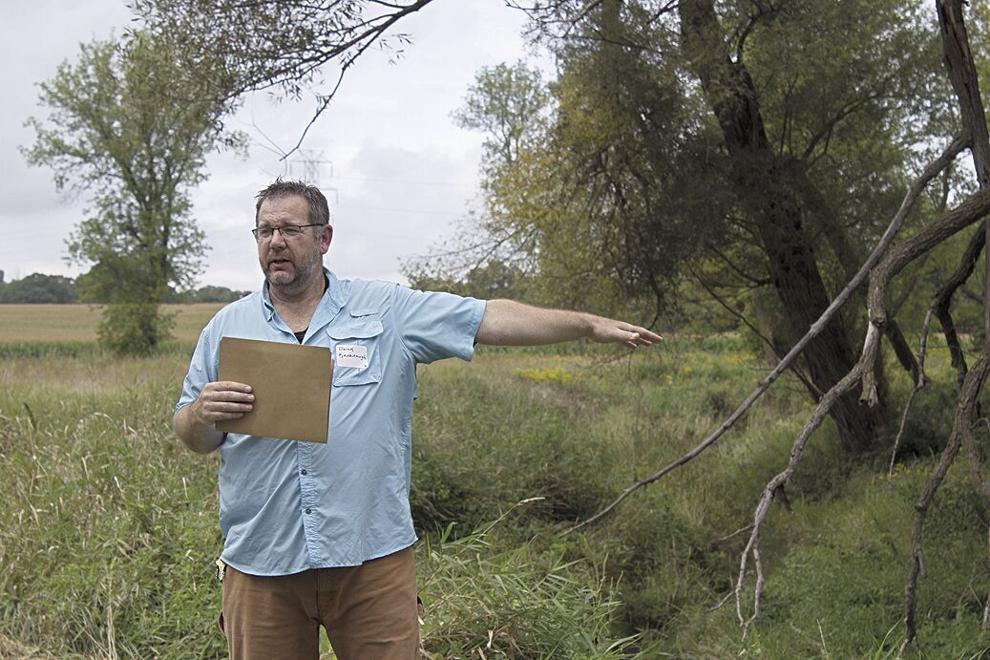 Rotational grazing is the practice of moving animals such as cattle, goats and pigs throughout portions of pastures to soil and animal health.
Koenig said it was once natural for animals to come graze on an area and then leave it to regrow for a year or two and then return.
"Obviously we're not going to go back to that time, but let's farm in a way that mimics nature," he said.
Koenig works with farmers in Sauk County to introduce rotational grazing onto their lands and said it is as easy as setting up an electric fence on an area of pasture each day.
"It's cheaper to build a fence and let animals get their own food than to invest in all the equipment, harvest food, bring it to them, clean up the manure and spread it out on the field," he said.
Koenig said a 1,000-pound animal would need about 0.8 acres of land to graze a day.
The biggest expense in raising animals is the feed, Koenig said, so the longer farmers are able to have animals graze fields, the less they will spend on feed in a year.
"The more they feed themselves, the cheaper it is on [the farmer] and the more profitable [they] are," he said.
Rotational grazing is beneficial to the animals and the crops, Koenig said, because the animals feed on cover crops during a crop's offseason and while they eat, they spread manure across the pasture, replenishing nutrients to the soil to be used for crops.
Rotational grazing eliminates the need for agricultural machinery, saving farmers a lot of money, Koenig said.
But Koenig said there is a bad stigma around rotational grazing, that it is for "hippies" and "tree huggers" because it's not as glamorous as owning high-end farming equipment.
"I think we go into farming for the lifestyle — it's calm, it's quiet, it's private," he said. "When you take all that equipment away and try rotational grazing, it becomes more peaceful and people don't go back."