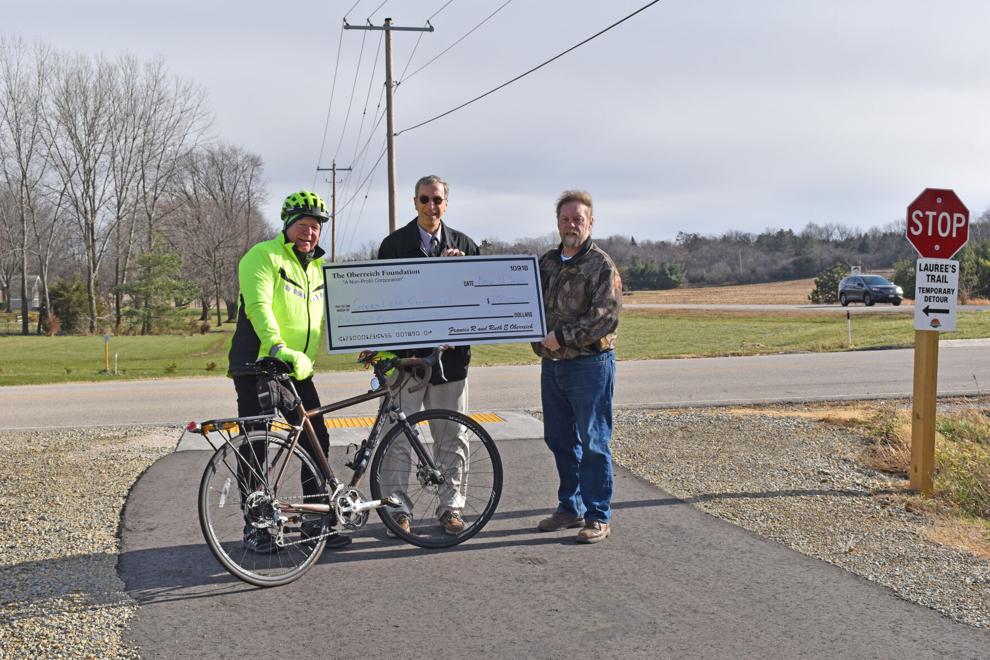 Issue:
The first phase of Lauree's Trail — a bike path connecting Ripon and Green Lake — has been completed, but more fundraising is needed before the subsequent phases of the project can move forward.
Background:
Last summer, Green Lake Greenways broke ground on and completed phase one, which has been dubbed "the bookends." It earned that name because it encompasses the Green Lake and Ripon ends of the trail.
The Green Lake bookend goes from Highway 49 to Forest Ridge Road, while the Ripon bookend goes from County Road PP to Sunnyside Road.
The second phase — also known as the "middle mile" — will connect the bookends, while the third phase will take the trail into the city of Green Lake and the fourth phase will take the trail into Ripon.
The project has been awarded a stewardship grant from the Wisconsin Department of Natural Resources (DNR) for $250,000, but it requires matching funds up to that amount.
Greenways also received a donation from the Oberreich Foundation to aid in the trail's completion. The $150,000 contribution will be disbursed in three installments of $50,000. The first was distributed last September, while the others will be distributed later this year and sometime next year.
Lauree's Trail received its name from the late Lauree Renaud, who came up with the idea for a bike path connecting Ripon and Green Lake.
"It's just nice to see Lauree's vision come to life after all the years that we've all put into it to get it moving," Green Lake Greenways President Howard Hansen said. "There's a lot of hurdles you have to jump with a project of this magnitude — not just the cost — but all the paperwork that has to be filled out and all the people that need to be contacted. It takes time."
Status:
With phase one complete, Hansen says the second phase, which costs between $400,000 and $500,000, is on hold for the time being.
Due to the pandemic, he noted Greenways has not been able to fundraise as much as it has in previous years as many of its fundraising events have been canceled.
The second phase could break ground this year, but Hansen says it depends on fundraising as the organization has raised $100,000, but needs another $150,000 for the DNR funds.
"It would be great, but it depends on if we can get enough money," he said. "COVID hurt a lot of the businesses that normally have contributed to things in the past. They weren't really giving out this year, so it really affected everybody and in many different ways."
What's next?
Greenways is hosting a Bikefest 2021 event Saturday, May 22 at Town Square in Green Lake to help raise funds for Lauree's Trail. The event will feature a variety of activities including bike trail celebration, seminars, demos and bike rides.
"We feel safe enough with COVID and the numbers [of cases] to be able to do something and it's going to be outside," Hansen said. "It will help keep the awareness out there for people and, hopefully, we can pick up a donor here or a donor there."
He added that the trail will help ensure safety of bikers traveling between communities.
"I've been out there and ridden it, and it's just so nice," Hansen said of the bookends. "There's no worries, [about] the trucks as they are zooming by and that's what it's all about. It's a safe passage for people from Green Lake and Ripon to head to opposite communities."
If and when Lauree's Trail is finished, it's possible that the trail could connect to the Mascoutin Trail to connect Ripon, Green Lake and Berlin.
Donations may be made through the Oshkosh Area Community Foundation by selecting "Green Lake Greenways Fund." Checks can also be made out to "Green Lake Greenways" and sent to P.O. Box 321, Green Lake, Wis. 54941.
Is there an issue you want us to update?
If you're wondering about something that was in the news but doesn't have a resolution, send your idea to:
Email: news@riponpress.com.
Phone: 920-748-3017
Mail: 303 Watson St., PO Box 262, Ripon, WI 54971