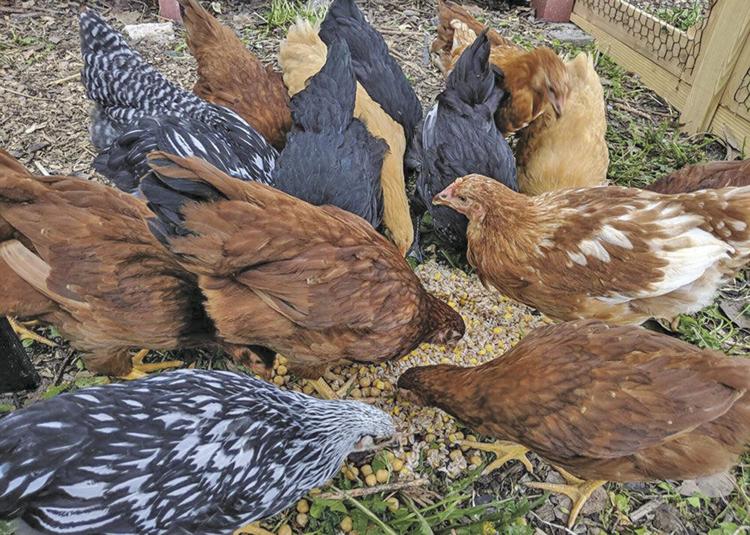 Issue:
The Ripon Common Council discussed potentially allowing backyard chickens at a meeting in June, but there hasn't been any official action and the proposal hasn't resurfaced since.
However, Ald. Jolene Schatzinger said she remains committed to bringing a new backyard chicken ordinance to the Common Council before summer.
Background:
During the June meeting, however, Ripon's aldermen were split on the potential ordinance allowing chickens within city limits.
The idea of permitting a limited number of chickens in an enclosed area in a yard is not new. In fact, it was discussed in 2011, 2012 and 2013, but failed to gain broad support on the Common Council.
June's meeting was a similar story.
Schatzinger Mayor Ted Grant proposed an ordinance that would have allowed six hens of any age, require them to be enclosed in a coop, require coops to be left 25 feet from any dwelling other than the owner's, prohibit chickens out of the coop or cage without adult supervision, require chicken enclosures to be in sanitary condition, not allow breeding, mandate owners safely store food, ban chicken slaughtering and not allow roosters.
Even so, several Alds. Jim Werch and Howard Hansen, at the June meeting, noted their constituents raised concerns about the chicken ordinance.
At the same time, Grant noted those he spoke with were mostly in favor of the chicken ordinance by 4-1.
Likewise, Schatzinger noted those she spoke with were overwhelmingly supportive of the measure.
Status:
The Common Council has not discussed the backyard chicken ordinance since June as it has been dealing with a host of other issues including the COVID-19 pandemic, the Black Lives Matter mural, the city budget and potentially moving Ripon's dispatch center to Fond du Lac County.
However, Schatzinger noted that she and Grant are still interested in bringing a new chicken ordinance to the Common Council later this year.
Schatzinger believes there's been much misinformation surrounding backyard chickens.
"Some people may say that they are afraid backyard poultry in their neighborhood could bring their property values down so I researched this concern and I could not find any documented cases or studies that would support this," she said. "For comparison sake, a small flock of four hens will produce less waste than a medium-sized house cat, and poultry waste can be composted."
Likewise, Schatzinger added concerns about concerns about high noise levels are "unfounded" as female chickens or hens do not crow, whereas male chickens, known as roosters, do.
"Roosters are not needed for hens to lay eggs," she said. "I have found that concerns people raise often come from them thinking of a barnyard-type situation, or they describe characteristics of a rooster, which is very different from what a regulated backyard chicken ordinance that only allows hens would be about."
She noted the COVID-19 pandemic has forced some to begin picking up new hobbies and that allowing backyard chickens would provide educational opportunities for area youth by allowing them to see where their food comes from.
In fact, Schatzinger has first-hand experience with poultry through her high school FFA program and agriculture classes where she hatched and raised poultry.
"I share my personal story with raising poultry through my high school and FFA experiences because this helped instill valuable life lessons," she said. "In my opinion, someone who wants to raise poultry in their backyard is fostering a hands-on educational experience that teaches responsibility, reliability and proper care-taking skills that is difficult to replicate through technology or other means."
What's next?
Schatzinger will continue working to spread information regarding backyard chickens to community members.
She hopes to bring another ordinance, with stricter guidelines than the June proposal, before the Common Council.
"Being able to raise backyard chickens is something that I have supported for a long time," Schatzinger said.
Is there an issue you want us to update?
If you're wondering about something that was in the news but doesn't have a resolution, send your idea to:
Email: news@riponpress.com.
Phone: 920-748-3017
Mail: 303 Watson St., PO Box 262, Ripon, WI 54971