How much need exists in the Ripon area?
If a half-mile line of vehicles Tuesday morning is any indication, the answer is "much."
Vehicles entering the east entrance to Ripon Middle School/High School were backed up for blocks on East Sullivan Street, even winding onto Metomen Street.
Why?
For the chance to receive a little free food.
The U.S. Department of Agriculture (USDA) teamed with Traded Treasures in Ripon and Feeding America to give away 200 30-pound boxes of food; Traded Treasures then added another grocery bag's worth for each family as well.
The giveaway was supposed to last two hours.
It likely ended much sooner.
After just 18 minutes, nearly half of the food available already was depleted, with a line of cars still waiting.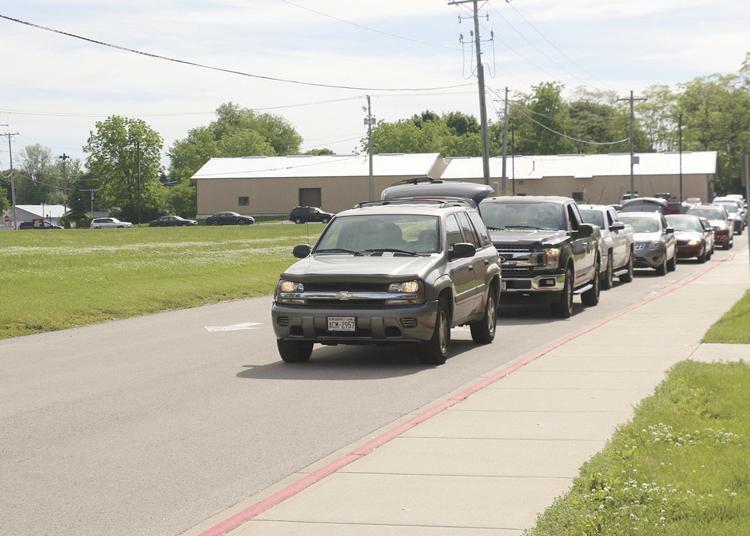 Amy Pollesch of Traded Treasures, which provided the manpower to put the boxes into trunks, was blown away by the response.
"Clearly there's a need, because the turnout is absolutely mind-blowing today," she said.
Each box included a half gallon of milk, a large bag of carrots, a sack of potatoes and other necessities.
Pollesch explained the reason for the giveaway is twofold.
"The government is trying to help out our farmers," she said of the USDA Farmers to Families  program. "The whole idea is to support the farmers with purchasing food from them and making sure that it gets directly to the families in need."
In this area, the USDA is partnering specifically with Feeding America, which — as it's done in the past — turned to Traded Treasures to help facilitate the event in Ripon.
Given the strong response Tuesday, Pollesch believes need for commodities may be greater than previously believed.
"Families are in need. That's what we're seeing [today]. We haven't seen this type of an increase in the food pantry. We've seen an increase but not to this level," she said. "And so after they grab their USDA box, they're actually also grabbing a bag of food that has the information for the food pantry on it."
The hope is that if any families were not aware of the food available at the Community Food Pantry operated by Traded Treasures, they'll know about it now.
"That will help families that are in this line find us," Pollesch said.
If any families were unable to receive a free box of food Tuesday, they're not entirely out of luck.
"We'll do it again on [June] 23," Pollesch said. "Two weeks from today."
That event, like Tuesday's, will be held at the school from 9 to 11 a.m.
Organizers will try to take lessons from Tuesday's event as they consider plans for the June 23 program.
"We have a meeting, Julie [Elliott] and I do tomorrow, and we'll evaluate after we're through with this and do the best we can to continue to bring the nutritious food to families that are struggling and in need," Pollesch said.