Luther Olsen, who stepped down last year as a member of the Wisconsin State Senate representing District 14, is the featured speaker at the League of Women Voters of the Ripon Area Annual Meeting Thursday, May 6, starting at 6 p.m.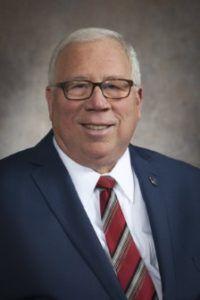 Drawing on his experience as an elected official, Olsen's virtual presentation will cover a number of topics, including
How to get things done legislatively in Madison

How to be effective in influencing policy — including at the committee level

The most effective way for the public to contact elected representatives

How to build relationships across the aisle, and finally,

What surprised Olsen the most during his tenure in the state legislature.
Olsen also served in the Wisconsin State Assembly (District 41) from 1995 to 2005. Prior to being elected to that body, Olsen was a member of the Berlin Area School Board for more than 20 years (1975 to 1997). He was its president from 1986 to 1995.
Members of the LWV of the Ripon Area and the public may register for the meeting at www.bit.ly/LWVAnnualMeeting2021 or by sending an email to lwvriponarea@gmail.com
Olsen's presentation will also be available on the Ripon YouTube channel (www.youtube.com/riponchannel) starting Saturday, May 8.
Following Olsen's presentation, the local LWV will hold its annual meeting. Ellen Sorenson, the organization's president, says that the business portion of the meeting is also open to the public although votes on several issues, including changes to its bylaws will be open only to members.
One of the bylaw additions relates to the League's statement on diversity, equity and inclusion. Sorenson says that the inclusion of a statement in the bylaws codifies the organization's desire to ensure that its efforts locally reflect the same commitment of the state and national LWV.
Additionally, the local LWV will elect its board members and officers for the coming year, which starts in June.
The League of Women Voters of the Ripon Area has members in Waushara, Green Lake, Marquette, and Fond du Lac counties.