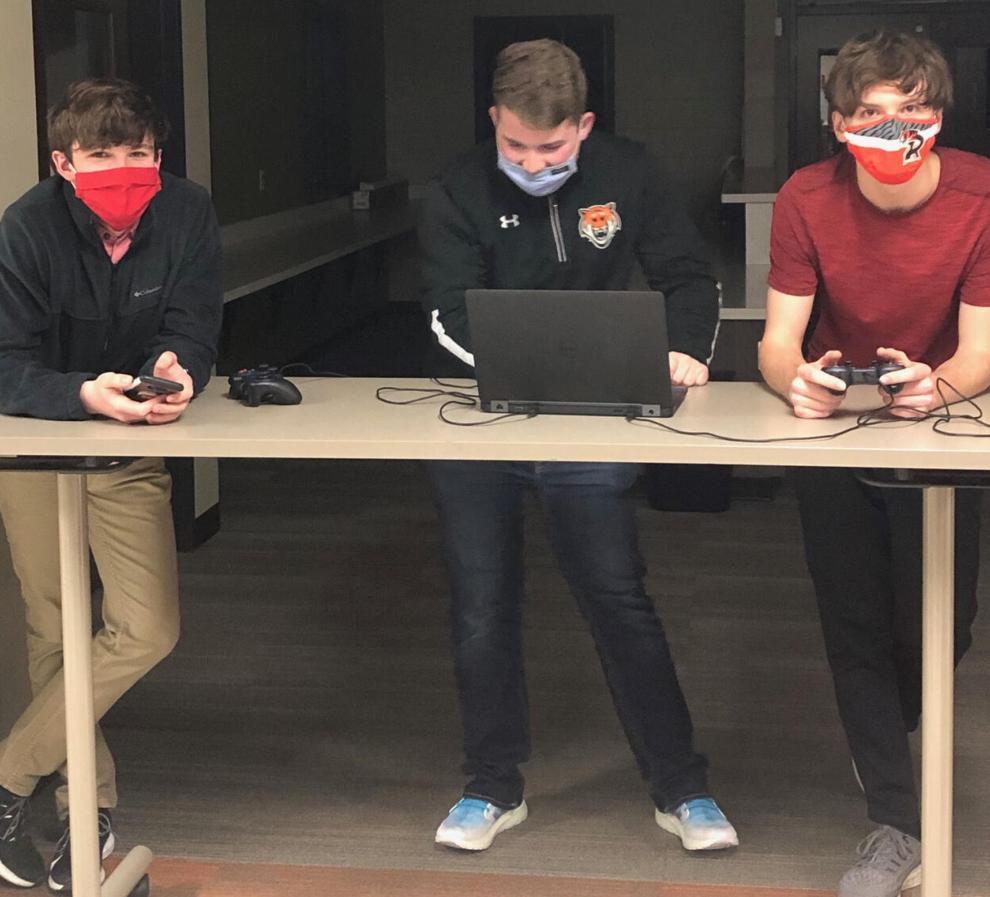 After taking a leap of faith in 2019 and starting a robotics team at Ripon High School, Alliance Laundry Systems Director of Manufacturing David Hickman, who serves as the head coach, has seen the team become one of the best in the world.
The Tigers finished sixth out of 30 teams from around the globe in the FIRST Robotics Competition Infinite Recharge at Home Challenge Nickel Group. A team from Ames, Iowa won the competition, while one from Israel placed second. Other countries represented included Turkey and Mexico.
Members of the Ripon team include Andrew Day, Garrett Mitchell, Drew Schneider, Isaac Whitrock, Sheridan Zimmerman, Daniel Zimmerman, Brandyn Beahm, Colin Rieder and Quintin Stephens.
The Ripon Commonwealth Press caught up with Hickman to find out more about the robotics team and its success this year.
Here is our conversation:
Q. What is the Ripon High School robotics team all about?
A. FIRST inspires young people to be science and technology leaders and innovators by engaging them in exciting mentor-based programs that build science, engineering and technology skills, that inspire innovation and that foster well-rounded life capabilities including self-confidence.
Q. What was the team's robot this year? How did it come about?
A. ROJO (the name of the robot) was designed to meet the challenges for this year and it was capable of picking up a 7-inch diameter dodgeball and conveying it to a shooter. The robot could pick up and stage three balls at a time (robot could hold more, but rules didn't allow it), move to different challenge locations to shoot from and then shoot the balls at a stationary target. There were two shooting challenges the team competed in, as well as a navigation challenge that consisted of four separate driving challenges. One shooting challenge was Interstellar Accuracy that consisted of shooting ... 15 balls at the target with each ball receiving either a score of one, two or three points depending on where the ball hits the target, with the highest possible score of 45 points. Ripon Robotics placed 1st in this category out of all 30 teams with a score of 45 total points being scored. The second shooting challenge was the Power Port challenge. This challenge was to score as many points as possible in a two-minute time frame with the same scoring for each spot of where the ball landed on the target. The team finished seventh out of 30 in this challenge. The navigation portion consisted of four driving challenges; barrel racing, slalom, bounce path and light speed. These were all a pre-determined courses with the objective of the combined lowest total time to complete all four courses. The team finished with a total time to navigate all four courses with a combined time of 55.5 seconds, placing fifth in this category. Overall, the team place sixth out of 30.
Q. What were the challenges for the team with the robot?
A. Designing and building a robot that was maneuverable enough for the driving challenges, but stable and accurate enough for the shooting challenges.
Q. How has the team evolved from the first year it existed at Ripon High School?
A. The first year was a learning experience for the new team members, but for me as the mentor as well. And we all learned from what we did well and what we didn't do well the first year. We used that experience to improve and it really showed this year. We still have areas to improve on, such as autonomous mode coding and the ability to design using computer-aided design before we start manufacturing the robot, but those skills will come as the team evolves.
Q. How did the pandemic this year change how the team worked?
A. As with most everyone, the team had to follow the protocols related to the pandemic, but for the most part it didn't affect the team's ability to meet or design and create a robot for the challenge, other than some of those that helped mentor before were unable to help this year.
Q. What does it mean to finish sixth out of 30 teams from around the world?
A. It was hard this season as the competition wasn't in person and that is the best part of being part of the team, but I believe the team is proud of what they accomplished. I'm glad to see the team grow and learn, and I'm proud of what they accomplished this season. I'm confident that if they would have had an opportunity to compete in person this season, I believe they could have finished even higher in the original challenge.
Q. Was there anything the team could have done better to finish even higher?
A. Understand the challenges better and develop a strategy specifically around the challenge. The lowest finish in the Power Port challenge, we worried too much about accuracy and should have concentrated more on traveling less and shooting faster and we would have finished higher. The other thing that we could have improved on is time management. This season seemed to come and go quickly, and as a team we had lofty goals, but ended up running out of time as other school activities sometimes impeded progress. Another opportunity would have been to work on autonomous mode and compete in those challenges as the first- and second-place finishers competed in those two challenges and finished first and second, respectively in those. As a team, we focused most of our attention in the shooting and driving challenges, but to continue to get better and place higher, we will have to focus on writing code and understanding the autonomous part better.
Q. How does this experience/being part of the robotics team help students?
A. I think it helps them learn about the many different aspects of how to work as a team to engage in design concepts, innovation and taking those ideas to a final build, then checking and adjusting based on the results. They are learning about different designs and concepts,
Q. What are your hopes for the future of the team? Where can it go from here?
A. I'd like to be able to recruit more mentors as well as increase the number of student involvement. This season I was the only full-time mentor, with Will Konen helping when he could on the coding side, so it was a challenge. I'd like to double the size of the team at a minimum, and get four or five more mentors, so we can be more competitive and structure the content so the students can learn and develop more skills.
Q. Is there anything else you would like to add?
A. I'd like to thank the team for their effort this year, as well as Ripon High School for allowing us the use of the facilities to be able to meet and use the equipment. I'd also like to thank Will Konen for his time he donated to help mentor the team.