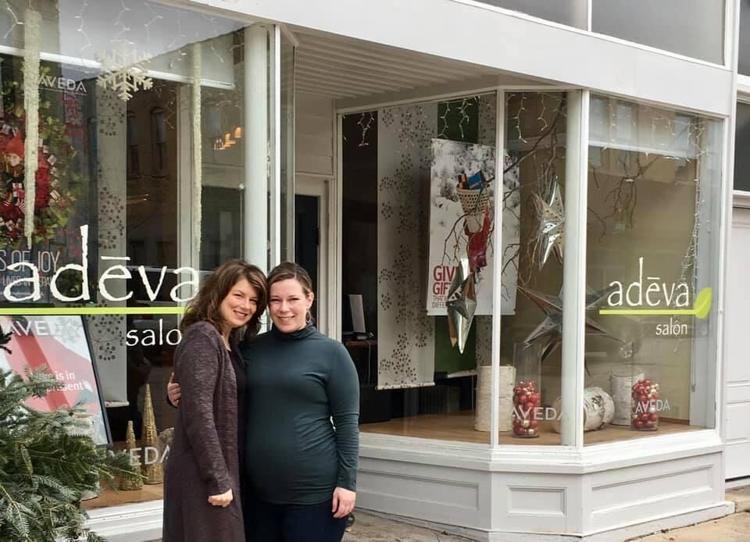 Last month, Adeva Salon was purchased by employee Ashley Mauch, who has been a hair stylist for more than 10 years.
In a Facebook post explaining the change, former owner Cassie Rosenmeier said she and Mauch are simply switching roles.
The Commonwealth recently caught up with Mauch for a Q&A to discuss her journey to becoming a new business owner in Ripon.
Here's the conversation:
Q. You have been a stylist for about 10 years. How did you get into the field? How did you know it was the right field?
A. After a few years of college and working a job I was extremely unhappy in, I decided I needed a change. I had always quietly been interested in doing hair, but never considered what that meant as far as a career. After visiting many schools, I found one that resonated, and decided to leap! On the first day of cosmetology school, I was extremely nervous — nervous that I had made a huge mistake. I had thrown away a solid career path in exchange for a big unknown. After the first week was over, I felt more settled and more confident that perhaps I had made the right choice. It takes time for that feeling to develop! Slowly but surely, I found my groove ... and I never looked back.
Q. When did you start at Adeva and what have the past 10 years been like?
A. I began as a receptionist at Adeva Salon when I was still in cosmetology school in May of 2010. I was so excited to be spending time in a salon, learning the ins and outs of the front desk, and getting to observe stylists with years of valuable experience. From there, I graduated and started taking Aveda-specific education. Over time, and with the help and guidance of Cassie and Ann, I began taking clients on my own. It has been a wonderful journey filled with hard work and growth. I have been so lucky to have the support of the Adeva team. The backbone of my work exists because of my steadfast and loyal clients. Without the support of both my peers and my clients, the last 10 years would not have been possible. I am grateful.
Q. What was your relationship like with the previous owner, Cassie Rosenmeier?
A. Cassie and I have always had a very special bond. She took a chance on me 10 years ago when I was still in school. I was new, young and green. Over the years, she has helped guide me into the stylist I am today. Perhaps the most unique thing about Cassie is that she never once hesitated to let me forge my own path, giving me the creative space I needed to remain encouraged, motivated, and growing. We have a deeply respectful working relationship, as well as a loving sisterhood. That bond is rare and hard to find.
Q. What lessons did you learn from her?
A. Beyond her talent as a stylist, Cassie puts love into her work. She always ensures to ask each client how their cut and color was the previous time, and then makes a conscious effort to adjust to a client's most current needs. As a stylist, you have to keep growing and evolving. She does this consistently, and I admire her work tremendously.
Q. What's your favorite part of being a hairstylist?
A. I really enjoy being able to work on hair while creating a bond with my clients. It pairs my love for creativity and getting to know people. Two of my favorite things!
Q. You purchased Adeva last month with your husband Jeff; why was now the right time to purchase a salon?
A. When a unique opportunity presents itself, you have to jump on it. I felt ready to take the next step in my career, and luckily I have a husband who supports and encourages my goals. We are very excited about this new journey. With every big decision comes an element of fear, but with the support of my husband, salon, and clients, I feel equipped to take the ride.
Q. What are you looking forward to the most as a new business owner?
A. I love my clients and being behind the chair, but I'm thrilled about the new challenges and opportunities that come along with being an owner.
Q. How has the pandemic impacted your industry and what are your staff doing to keep customers safe?
A. To explain how the pandemic has impacted our industry is a tall order. Like other businesses who serve the public, we have had to adjust the ways in which we provide services to our clients. I think this is the most challenging obstacle our industry will face, but I'm confident in the procedures we have put in place to keep us all safe. Health and safety is our biggest priority. We appreciate our clients, and their willingness to be flexible and compliant with our new practices. Due to our formidable team and loyal clientele, I believe we will come out the other side stronger than ever.
Q. Do you have any final thoughts or anything else you'd like to share?
A. I look forward to being the new leader of a very special place. I hope 2021 is a fresh start ... and the beginning of an eye-opening, valuable and adventurous new chapter in my life.