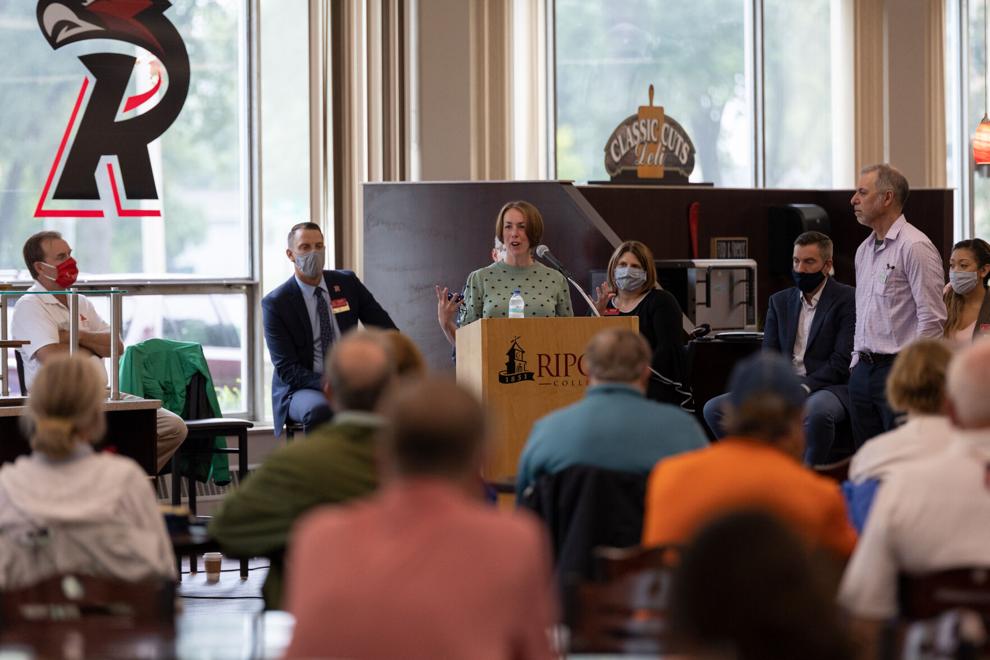 In 2022, Ripon College will have a new president, on an interim basis.
Andrea Young was named the interim president of Ripon College Sept. 27. She will step into the role beginning in January.
She will be the first woman to lead Ripon College in its 170-year history and will replace President Zach Messitte.
"I am honored to have the opportunity to serve Ripon College as the interim president," Young said in a press release last week. "I have seen firsthand the transformative potential of a Ripon College education, and I am deeply committed to promoting our student-centered approach to living and learning."
The Commonwealth caught up with Young for a Q&A to learn more about her priorities as interim president.
Here's the discussion:
Q. What were your initial thoughts when you found out that you would be stepping in to fill the role of president? Do you feel any pressure in following in President Zach Messitte's footsteps?
A. I am excited, honored, humbled, and yes, even a bit nervous, about stepping into the interim president role. Ripon College is an amazing institution that has benefited from strong leadership and dedication by President Messitte and the cabinet, the board of trustees, the faculty and staff, and the students and alumni that call/have called Ripon home. A presidential transition provides the opportunity for the campus community to reflect on who we are, where we are headed, and who should lead us there. That is a productive process for campuses, but particularly given the COVID-disruption in higher education, it is timely for Ripon to spend time thoughtfully discussing these questions.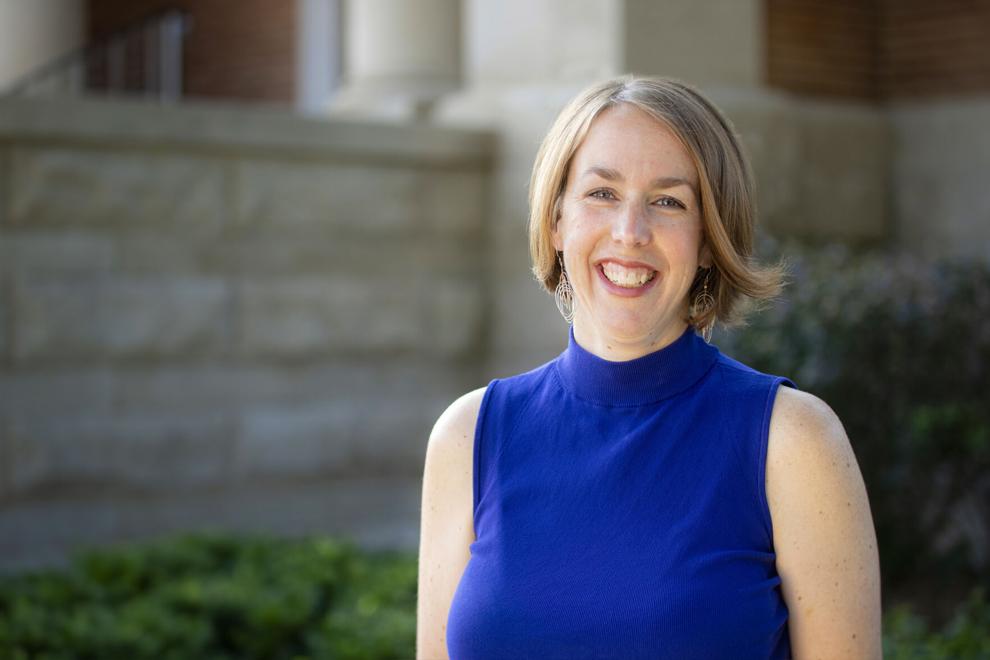 But sure, I feel pressure filling Zach's shoes in the interim capacity. He is an incredible fundraiser, transformed the campus by building the Willmore Center — the list could go on and on. I hope I can keep the momentum going during the interim period.
Q. What are your goals as interim president?
A. As interim president, I will report directly to the board of trustees, so we will set goals jointly for the long-term health of the college. Stay tuned for more specifics. But broadly speaking, my goals are to keep the college moving forward, make sure our infrastructure is sound, explore ongoing strategic initiatives, meet benchmark goals, support our faculty and staff and the teaching and learning of our students.
Q. What did the interview process look like?
A. Typically for an interim position like this, there is not a traditional interview process. However, I have had unique opportunities in my 10-plus years at Ripon. First and foremost, I am a Ripon College professor. I taught in the mathematical sciences department for six and a half years and love working with students. In 2018, I had the chance to work with President Messitte and the then VP and Dean of the Faculty Ed Wingenbach as the special assistant to the president and the liaison to the board of trustees. I thought I would serve in the administration for a year and then go back to the faculty and teach. But I found that I really liked using my experience and understanding as a member of the faculty to help achieve goals for the college. When Zach was on a sabbatical for a semester in the spring of 2019, I had the chance to serve as the acting VP and dean of faculty, and in July 2019 became the vice president for finance. I love Ripon College, and I have been lucky to get to see how it runs from multiple perspectives.
Q. You are the first woman to lead Ripon College in its 170-year history. Why is it important for young people to see women in positions of authority?
A. I firmly believe that representation matters. Interacting with a leader who is a woman or a person of color or differently abled, etc., demonstrates that such paths are accessible for people of different backgrounds. My son is at Barlow Park Charter School, and I have really enjoyed working closely with Ripon Area School District Superintendent Mary Whitrock on a number of projects. I think it is important that young people see women leading these two institutions in our community.
Q. What does it mean to you to be the first female president of Ripon College?
A. I hope that asking a woman to serve as interim president of Ripon College allows the college to continue on the path of actively seeking and cultivating administrators, faculty, staff and students from diverse backgrounds. I will certainly approach the work differently than anyone who came before me based on my lived experience. Being a woman, a mathematician, a tenured Ripon College faculty member, a mom — all of these experiences will shape my leadership style and how I interact with campus and the community.
Q. How will your current role as vice president for finance and director of strategic initiatives inform your work as the interim president?
A. As VP for finance and director of strategic initiatives, I have been involved in many of the ongoing campus projects or have had a lens into them. It is becoming increasingly important for leaders of small colleges to deeply understand college finances and resource allocation to inform decision-making, so my VP work will be quite helpful in shaping projects during the transition period.
Q. You also are spearheading Ripon College's exploration of a partnership with Marian University in Fond du Lac. What does that involve?
A. Ripon College and Marian University are both dedicated to providing top-notch educational opportunities for our students in an increasingly challenging marketplace. Over the past nine months, we have been working closely with colleagues at Marian to explore how collaboration in certain areas may benefit both institutions. Collaboration between higher education institutions is not new; indeed, there are many long-standing consortia (five Colleges in Massachussets, Claremont schools in California). It is exciting for Ripon to be in conversation with another institution to examine how we might provide new educational opportunities for students in our region.
But there is still much to be determined, and any partnership opportunities will need to go through our shared governance process, which includes approval by both faculties and boards and full transparency with other constituencies.
Q. In the press release announcing your role as interim president, you mentioned the "transformative" power of an education at Ripon College. Could you expand upon that?
A. At Ripon College, we serve a high proportion of students who are the first in their families to go to college or have limited ability to pay for college. By providing our students with an affordable and excellent education, we give them access to careers and life-trajectories that simply would not be possible without a college degree.
I am continually struck by the alumni I meet who are devoted to this place. They talk about the faculty they studied with, the friends they made and the coaches they played for. They love the place and they give back with their time, talents and resources. Their lives were changed by being part of the Ripon College community. We do that for our students — every single person on this campus is committed to making a difference in their lives.
Q. Can you describe the unique relationship between Ripon College and the Ripon community and how both support each other?
A. Ripon College and the Ripon community have a long tradition of mutual respect and support. The town's success is the college's success and vice versa. Our students and employees live in this community, frequent local businesses and participate in local events. Ripon community members work out at the Willmore Center, attend arts events and support our athletic teams, to name a few. That spirit of community was so evident this past summer with neighbors helping neighbors clean up after the storm. I love the physical beauty of the Ripon area and love to walk on the Ceresco Prairie, ride my bike on the country roads and swim in Green Lake. Given the close-knit community, we are fortunate to have strong "town-gown" relationships, and I look forward to continuing to find ways for the community and the college to interact.