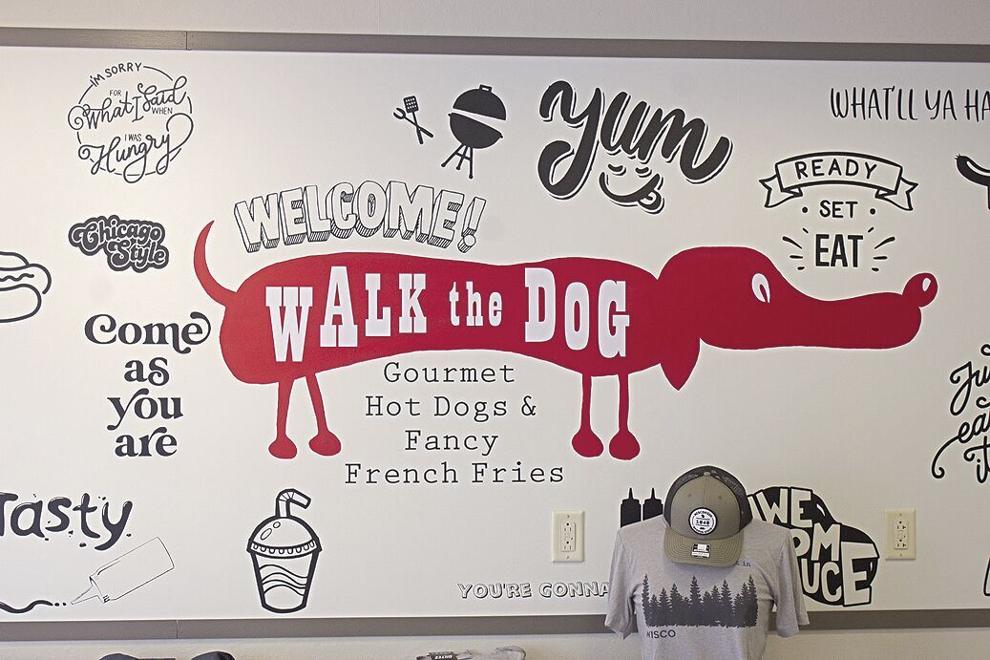 Walk the Dog, a gourmet hot dog and fancy French fry shop in Green Lake opened its doors at the start of August with no announcement to the public other than an "open" sign in its window.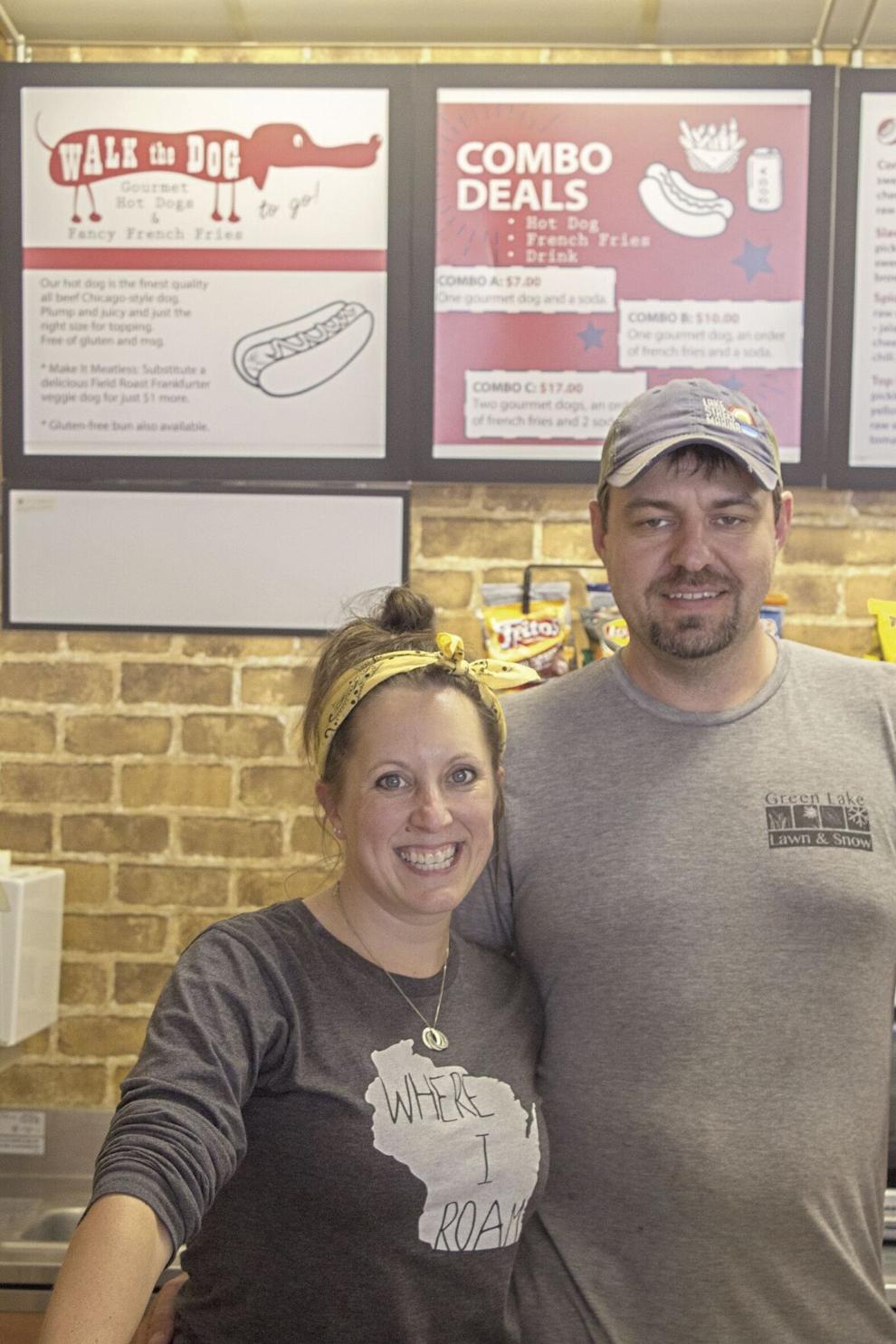 Without telling anyone the shop was open for business, customers came flying in through the doors to try out Green Lake's newest food joint.
Every day since then, business has been booming as the community has come out to support the new downtown business.
In between her busy schedule of running the shop, Walk the Dog co-owner Angela Zodrow, sat down to talk about her business venture and plans for the shop.
Here's the conversation:
Q. How did Walk the Dog get started?
A. We opened Walk the Dog in Princeton in 2015. It was opened there originally because we felt that people were leaving downtown because downtowns come and go. The food part of Princeton was decreasing, so we thought we should do something to fix it. We thought we could set up a little hot dog stand because ... "how hard could it be to set up a hot dog cart?"
Well, it turns out those little buggers are expensive, and we never did get a cart because we had a little shop in Princeton that has a little side building that it's just its own little building.
We tried to figure out how much it would cost to throw up a wall and make this building food-safe and pass inspection. We found out we could do it for a fraction of the cost. We could turn our building into a hot dog stand cheaper than we would do a hot dog cart. We jumped into it and it was just a walk-up window and had picnic tables out there for people to take their food and sit outside, and we ran it until 2018. We ended up closing that shop and not knowing what the future of Walk the Dog was until the Subway building came for sale. We were like "Huh, that's pretty much a setup for a bigger version of Walk the Dog. We could probably do the hot dog stand again."
We thought about it for a while and sat down here watching the people, and we thought "Yeah, this could work." The building came with all the stuff when we bought it like the seating and the kitchen, so we thought it would be perfect. It's Walk the Dog: come, sit, stay. ... But when you buy a building in October of 2019 with plans to open it in the spring of 2020, it doesn't work out that way. So, we did not keep the come, sit, stay part and we put all the seating in storage and seriously considered whether or not we were being told by a higher force not to be doing this.
Luckily, the whole world kind of understood that struggle and we put the loan on interest-only and rode out the worst parts of it.
We thought about all our options, came down here and talked about, went home and talked about, and eventually, we were like "all right, we'll open up and make the best of the time." We figured we can do it with no seating inside and hopefully we won't have to close down because things with COVID-19 get worse. It wasn't a fast process, but we made it. We got here [and] finally opened on Aug. 1 and it's been awesome.
Q. How did you create your menu of gourmet hot dogs and fancy French fries?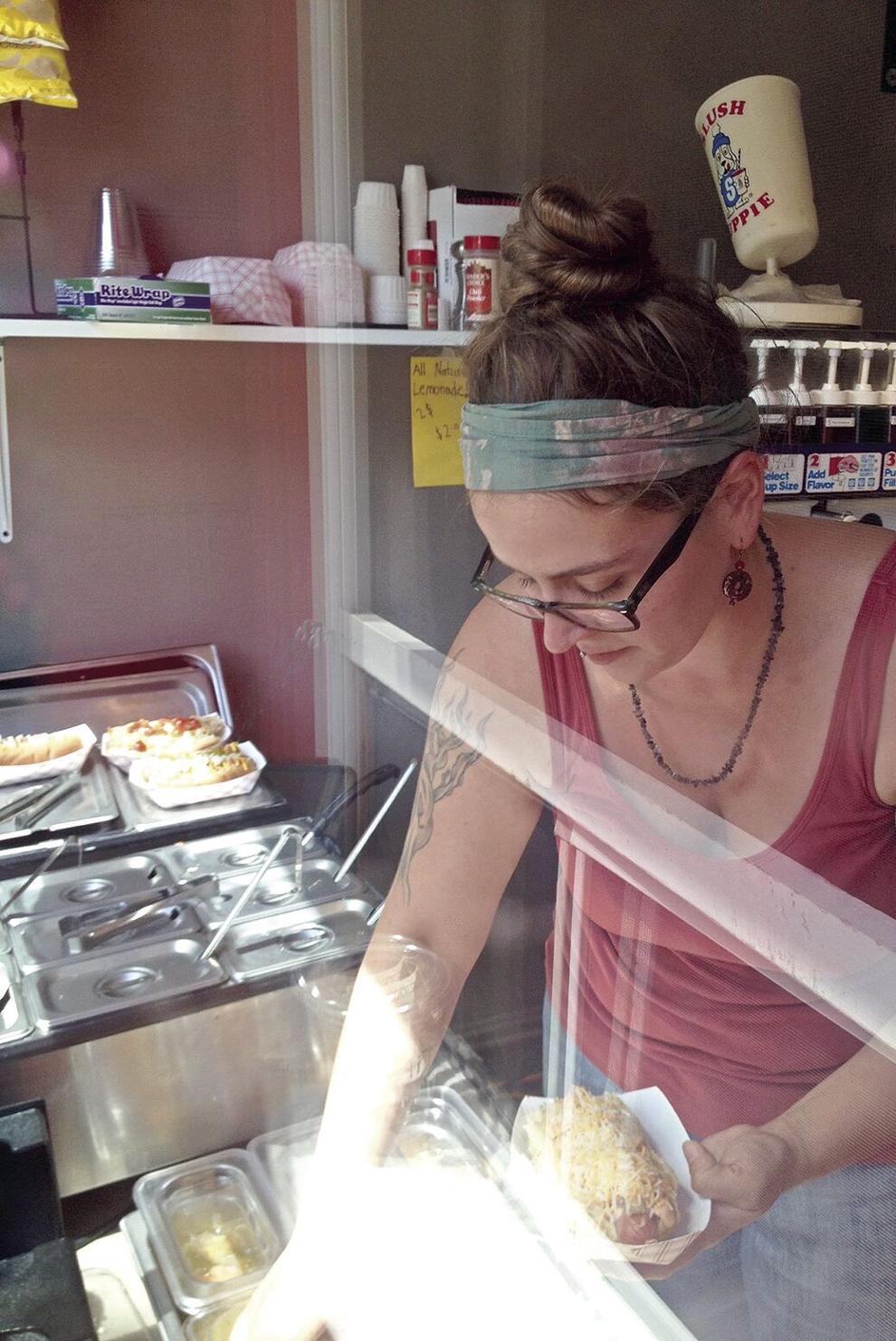 A. I can't even tell you why we decided to do more than just a hot dog stand in the end and why I thought we should have 40 different toppings. I'm a vegetarian, so this whole hot dog thing was a little out of my element and felt like a wonky puzzle piece. When I was thinking about how this would work, I was like, "Well, we're going to have vegetarian options with a veggie dog," so we started there.
I thought we should have something fun, but I didn't want to do a Chicago Dog. So, I started looking at what would be some fun things to put on a hot dog and think about what to eat with hot dogs.
We decided on adding French fries to the menu for the people who come for a day trip to Green Lake and want to walk around with some fresh French fries.
I thought, "Well, you eat a hot dog at a picnic," so I added a "picnic dog," where everything from the picnic is on the hot dog. And then because I didn't want to do a Chicago Dog, I thought we should do a Wisco Dog. We messed around with how many topics we can create without overdoing the small space we have to prep food.
We can't do fried onions, but we can boil them in beer. We wanted to do cheese curds, but we only have a tiny little fryer in this tiny little room, but we can do fresh cheese curds, so we put them on there. But we thought that wasn't enough cheese, so we put shredded cheese on it. And what else makes it uniquely Wisconsin? Well, something German. So, we put brown mustard on it. And who doesn't love bacon? So, there you go, now you have the Wisco Dog.
But people still wanted the Chicago Dogs, so that ended up getting on the menu in the end. We also have the standard dog and we wanted to let people pick out their own toppings, so we have 40 different toppings to choose from. Some dogs have come and gone, but we landed on 24 recipe gourmet dogs and 40 toppings.
Q. What is "It's a Wisconsin Thing" that you have featured in the shop?
A. It's a Wisconsin Thing is a brand that we have in our TWiGS Fine Goods store in Princeton that we brought here to fill the store. We noticed that everyone has a Wisconsin home shirt that has a picture of the state and says "Home" on it. We wanted to do something that was like that and print our own home shirts, but make them a little more unique to our area. I buy shirts and clothes in bulk and print designs on them that have different ways of featuring that feel on the Wisconsin home.
Q. How has the town's reception been to the opening of Walk the Dog?
A. Better than we ever could have imagined. Green Lake has been so good to us. I mean that in the sense of the people that have been coming through the door and how helpful and patient and kind and supportive everyone has been. It was just my husband John, myself and our two kids for the first two weeks and we didn't even say we were open because we weren't ready[and] we didn't even have enough staff. People just came flying in and we had to make people wait in long lines, but everyone was so good and kind to us even if they had to wait 20 minutes for their hot dogs. We're only open three hours a day, but we've served more hot dogs than we ever expected.
Q. Will the shop remain open all year or is it just a summer thing?
A. We are open from 11 a.m. to 2 p.m. every day and we're going to stay that way ... We're going to try the first winter and try a student special because I think the Green Lake students would love to come over here for a lunch break. We're just going to see if there are enough people that need lunch during the winter to stay open and then we'll see what comes next. Once we get to next summer, we'll see where we're at and go from there.