Ripon's congressman, Rep. Glenn Grothman, R-Glenbeulah, was back in Wisconsin's 6th Congressional District for Easter break and made a stop in Ripon last week Thursday.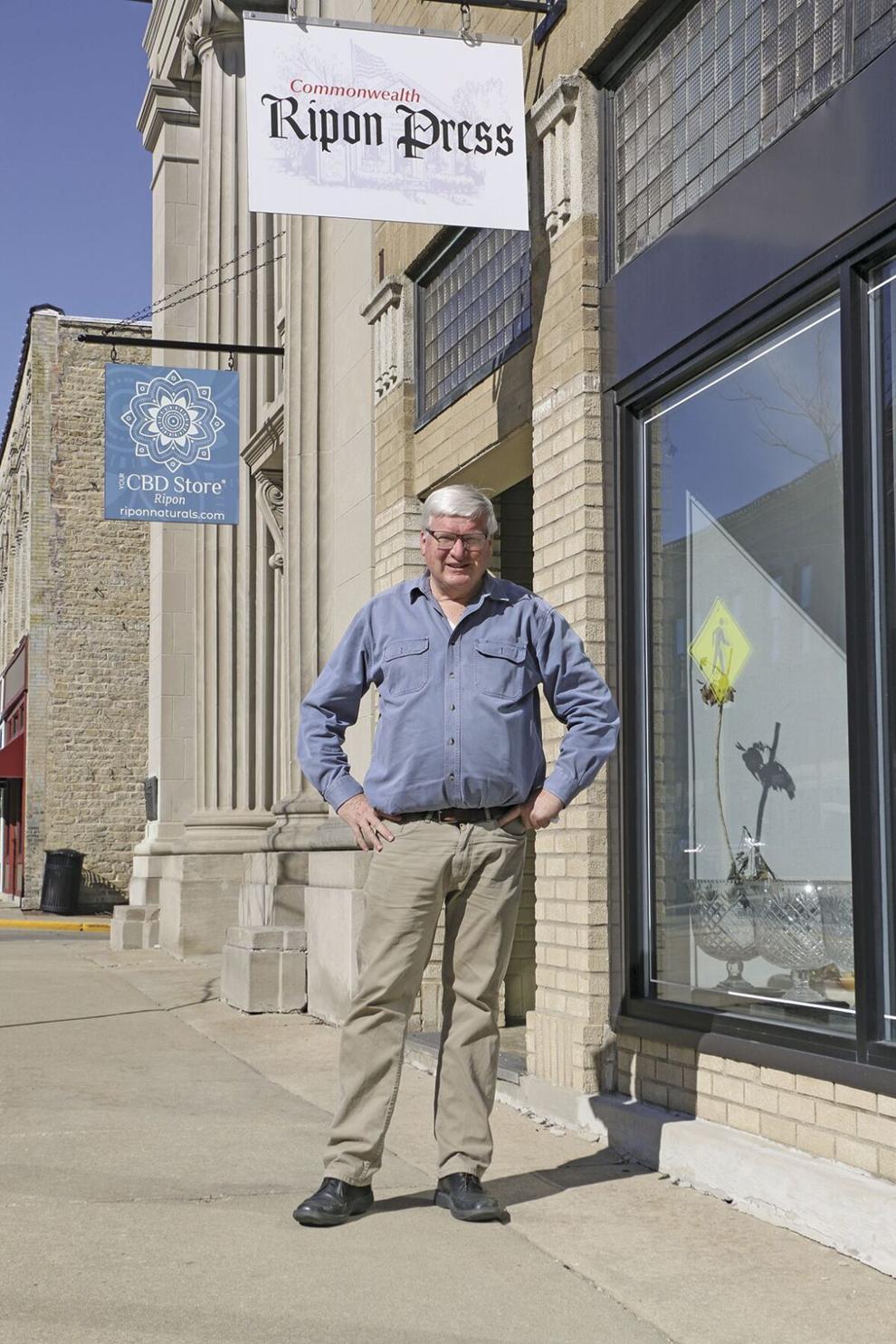 During the trip, he visited a local restaurant and stopped by local media outlets, including the Ripon Commonwealth Press.
Grothman says he's been working on a host of issues in Washington, including crossing party lines to promote vitamin D, legalize a cheaper substitute for insulin, rein in high interest rates at payday loan companies and make it easier to refinance student loan debt.
He added that he's working with members of his own party to highlight the situation at the southern border.
"I'm perfectly willing to work with Democrats when I find common ground and perfectly willing to fight them when I think they are taking damaging positions," he said.
In a wide-ranging interview, Grothman touted vitamin D as a way to prevent severe COVID-19 complications, defended his comments on Black Lives Matter, criticized mail-in voting and pledged to push for investigations into the 2020 election.
VITAMIN D AND COVID-19
During his time in Ripon, Grothman said many Americans do not get enough vitamin D and criticized the "public health establishment" for not doing more to promote it.
"There are people who think the number of [COVID-19] fatalities could have been reduced by 50% if everybody had enough vitamin D," Grothman told the Commonwealth. "Forty percent of Americans do not have enough vitamin D ... I think they should be giving more vitamin D tests to people over 65 at their annual checkups so that they can be educated that they need more vitamin D."
A recent study at the University of Chicago Medicine found that having high vitamin D levels could lower the risk of COVID-19 infection, but two studies conducted in Europe found a lack of evidence to form a direct link between vitamin D deficiency and COVID-19 outcomes.
Although Grothman said he wears a mask in public when going to the gas station or grocery store, he believes more could have been done to discuss the importance of air circulation and vitamin D.
"I don't disagree with the people who want people to wear a mask," Grothman said. "My only frustration is there are other things they could have done that could have reduced the amounts [of hospitalizations and deaths]; that's why I push vitamin D [and] I push the idea of air circulating."
BLACK LIVES MATTER
Grothman came under fire last month when he said on the floor of the U.S. House of Representatives that Black Lives Matter was "a group that doesn't like the old-fashioned family."
"I bring it up because I know the strength that Black Lives Matter had in this last election," Grothman said at the time. "I know it's a group that doesn't like the old-fashioned family."
Those comments drew criticism from Democrat Stacey Plaskett, a delegate representing the Virgin Islands.
"How dare you say that Black Lives Matter, Black people do not understand old-fashioned families despite some of the issues, some of the things that you have put forward, that I've heard out of your mouth in the Oversight Committee, in your own district," Plaskett said on the House Floor. "We have been able to keep our families alive for over 400 years, and the assault on our families to not have Black lives or not even have Black families."
While in Ripon, Grothman stood by his comments, saying he was referring to the Black Lives Matter organization, rather than the movement.
"The founders of Black Lives Matter say they're Marxists; they've since taken it down on their website, [but] they expressed hostility towards the traditional family," he told the Commonwealth. "It's not helpful for a potentially powerful group to be opposed to the nuclear family."
When asked if he could see how those comments could be negatively perceived as being about the movement and African Americans in general, Grothman said, "There are people who put up signs for Black Lives Matter or march in Black Lives Matter protests who don't know what the founders believed, but the public ought to know what the founders believed."
He went on to criticize Democrats for what he described as "fanning the flames of racial discord."
"I don't think racism is a huge problem in this country," Grothman said. "... I disagree with them on their claim that we have a horrible racist country. I don't think we have a horrible racist country at all."
However, a 2019 survey by the non-partisan Pew Research Center found that most U.S. adults believe the legacy of slavery continues to impact the status of Black people in America.
"More than 8-in-10 Black adults say the legacy of slavery affects the position of Black people in America today, including 59% who say it affects it a great deal," researchers wrote. "About 8-in-10 Blacks (78%) say the country hasn't gone far enough when it comes to giving Black people equal rights with whites, and fully half say it's unlikely that the country will eventually achieve racial equality."
MAIL IN VOTING AND THE 2020 ELECTION
During his stop in Ripon, Grothman also criticized absentee voting and called for an investigation into the November 2020 general election.
Grothman said voting by mail takes away the privacy of casting a ballot, noting that it was done in special circumstances caused by the pandemic in 2020 but he doesn't want it to become the norm.
"It's better if people vote in-person in the sense that when you vote in-person, it is a private vote; your spouse does not know how you're voting, your college roommate doesn't know how you're voting, your pushy boyfriend [or] girlfriend does not know how you're voting," Grothman said. "When you vote by mail, you never know for sure if that person filled out the ballot and you don't know if that person was being coached."
When asked about long lines to vote in bigger cities such as Milwaukee, Grothman said, "If people see that happening, they ought to hire a few more people, but I don't think the answer is having people vote by mail."
However, according to the non-partisan Brennan Center for Justice, "Studies show that the level of malfeasance related to mail balloting is infinitesimally small. Numerous analyses show it remains less likely than being struck by lightning."
"Despite the dramatic increase in mail ballot use over time, fraud rates have remained infinitesimally small," the Brennan Center said. "None of the five states that, prior to 2020, have held their elections primarily by mail has had any scandals since making that change."
On the topic of bills introduced in Wisconsin and other states — such as the one passed in Georgia — that seek to restrict absentee voting, Grothman said, "I have never had a problem voting in my entire life."
Despite voting in January not to reject electoral votes from Arizona and Pennsylvania, Grothman said he has been working "behind the scenes" to push Congress to investigate claims of voter fraud in the November 2020 general election.
"I have strongly encouraged [House Minority Leader] Kevin McCarthy to — if Congress will not look into voter fraud — collectively have the Republican Party do it on its own," he said. "I think I have been as vocal behind the scenes as any Republican congressman in asking the Republican Party to look into this."
In the same election, Grothman was re-elected to Congress, collecting 59.2% of the vote as the incumbent in a race against Democrat Jessica King.
When asked if former President Donald Trump's claims of widespread voter fraud undermine confidence in American democracy, Grothman said, "When we don't have an independent investigation, obviously, it breeds suspicion."
According to Reuters, however, "Courts dismissed more than 50 lawsuits of alleged electoral fraud and irregularities presented by Trump and allies. U.S. election security officials have said the election was 'the most secure in American history.'"
On the question of whether he believes Joe Biden and Kamala Harris truly won the November election, Grothman paused before he said, "I haven't gone through every individual state, [but] — as you know — I voted to uphold the Electoral College."