Accompanying one man at his resting place is his combat infantry badge, an umpire remote, a fresh shot of whiskey, a bucket of rusted bottle caps and several coins scattered on his gravestone.
Located at the Woodlawn Cemetery in Ripon lies one man who died while serving his country in Shaibah, Iraq.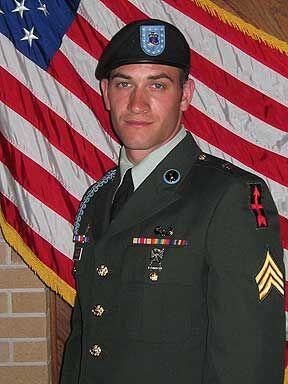 Fifteen years ago last week Saturday, Ripon native Sgt. Andrew Wallace and his troopmate, Spc. Michael Wendling, lost their lives when an improvised explosive device detonated near their humvee while providing security to convoy trucks traveling from Kuwait to Iraq.
Wallace was 25 years old. Wendling was 20.
"Andrew was a son, a husband, a teacher and a coach," Wallace's stepfather Joel Brockman said. "He loved being in the garden; I think he would be [there] today if it wasn't for his misfortune."
Wallace was a Ripon High School and University of Wisconsin-Oshkosh alumnus. He also was a physical education teacher at Emmeline Cook Elementary School in Oshkosh and an adaptive phy-ed teacher at Oshkosh North High School before being deployed in August 2005.
After Wallace left for his deployment, his students at Emmeline Cook Elementary School put their footprints on his gymnasium wall with the quote, "Where you go we will follow, Mr. Wallace."
"Everybody knows where we were on Sept. 11, 2001," said 1st Sgt. Steve Fritz, who organizes a memorial ride for Wallace and Wendling every year on the anniversary of their passing. "We also have Sept. 26, 2005. We know where we were at when we found out that their vehicle was hit."
Janie Brockman, Wallace's mother, was at work when she was told that her son passed during his deployment. Fifteen years later, she said the support and remembrance of her son is still strong.
"These guys are amazing; he'd be humbled," Janie said. "He never liked a lot of attention."
The memorial ride was established in 2012, when Fritz was making the drive between Mayville and Ripon himself to visit the resting places of Wendling and Wallace.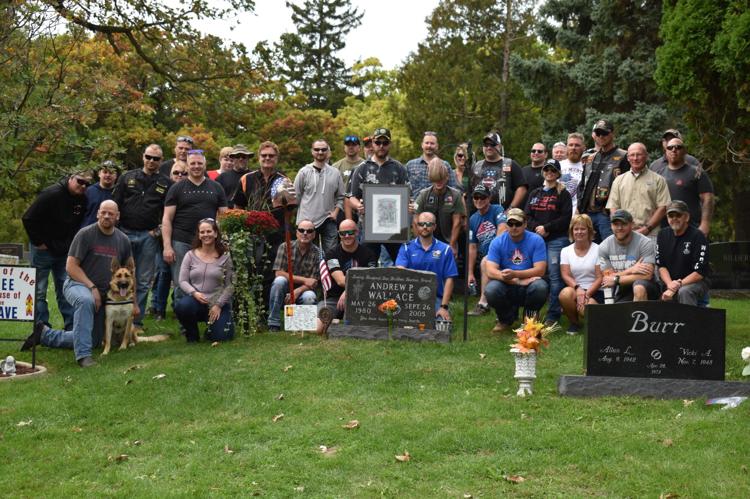 Every year since then, a group of friends, family and troopmates make that journey to respect and remember Wallace and Wendling on the anniversary of their deaths.
"It's kind of a pilgrimage when they come up here," Wallace's troopmate and Ripon resident Dan Kelm said. "Many people come up here throughout the year when they're in town."
However, this year was the largest attendance yet with about 40 people.
The bucket of rusted over bottle caps is for when people come to toast Wallace and remember his service and his sacrifice. One of his troopmates left him a shot of whiskey, and several others left a coin.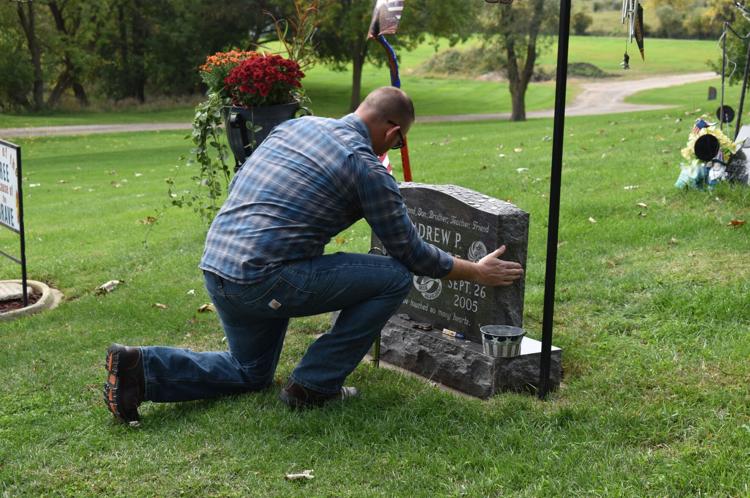 Staff Sgt. Randy Oliphant explained that the higher value of a coin left on the grave, the closer you were with the soldier: a penny was for visiting their resting place, a nickel for if they trained in bootcamp with them, a dime for serving with them, and a quarter if they were at the site where the soldier was killed in action.
Fritz said that no matter what mood or condition he was in, Wallace always lightened the room and helped others.
"He was a high-octane guy, full of life," Fritz said. "You give him a task, and he would jump on it; you could always count on him to complete that task. He always had a smile, and even when he was dog-tired and under duress, he always had a way of lightening the moment and diffusing that stress. He had an infectious smile."
Fritz added that Wallace was an inspiration to him and likely many others.
"He's going to push forward to accomplish, represent … and he's not going to quit until it's done. I need to live my life in such a way to honor [Wallace and Wendling's] sacrifice."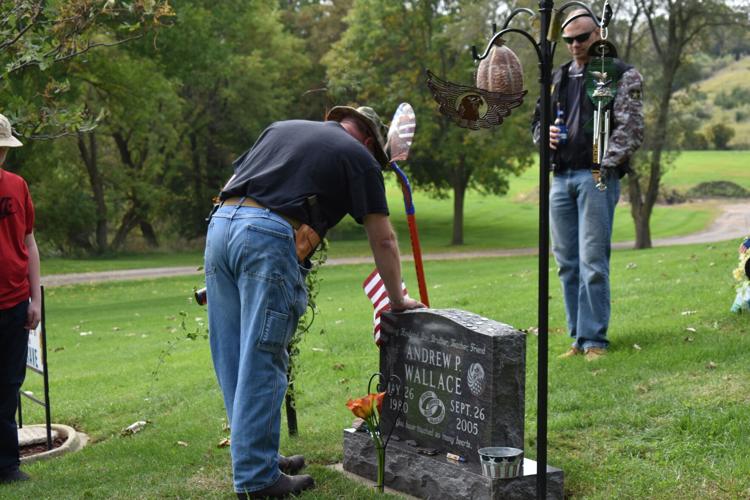 Joel said that Wallace's footprint on the community impacted many people back then and even still today.
"He made us so proud because he reached out to so many different areas in life," Joel Brockman said.
There now are two scholarships in Wallace's name: one in Ripon and one in Oshkosh. Those who are chosen to receive the scholarship exemplify that they are looking to follow in Wallace's footsteps to inspire, help and teach others.
Looking back, Joel said he'll never forget, nor lose the time, he spent with Wallace.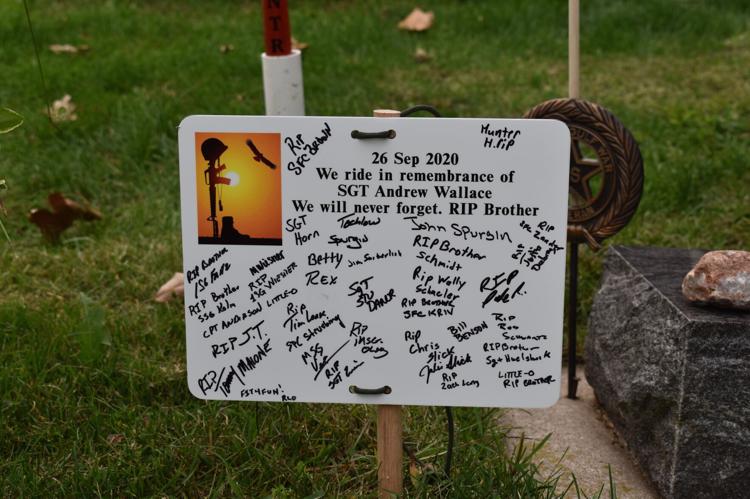 "I miss him every day. He and my son, James, were part of my football crew; we officiated football games," Joel said. "On a Friday night, both of your boys with you, was a cool thing to have. One thing I'll never get taken away from me is that time."
He also expressed gratitude for everything the group has done to remember Wallace for the last 15 years.
"Through the whole experience, from the time Andrew passed to today, we've had tremendous support from our community, our church and the guys that served with him," Joel said. "And if it wouldn't be for that, my wife and I would still be hurting. After 15 years, they keep coming back, and that's really special."