The driver from last week's high-speed chase in Ripon has been charged.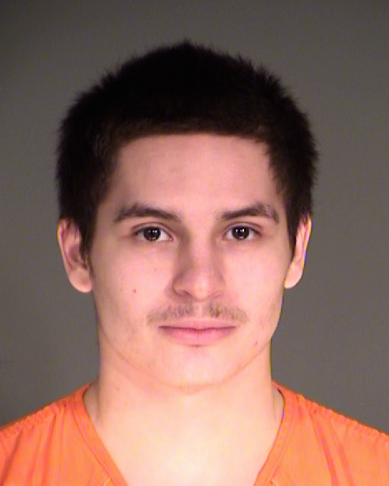 Diego Rodriguez of Green Bay has been charged with attempting to flee or elude an officer (a class I felony) for a chase that began on highway 44 and ended with a parked truck being hit near the intersection of Scott and Stanton streets.
According to a criminal complaint filed March 31, town of Ripon Police Capt. Howard Stibb was in his squad car, monitoring traffic on Highway 44 around 10:55 a.m. last week Monday when he witnessed a small car traveling southwest at 89 mph before slowing to 71 mph. Highway 44 has a speed limit of 55 mph.
Court papers noted Stibb then entered the roadway and activated his emergency lights and siren. He observed the car turn south on Douglas Street "in a reckless manner," the complaint said. The car then allegedly turned west onto Jackson Street, before turning south on Wall Street and then east on Scott Street.
When Stibb got to the intersection of Scott and Stanton streets, court documents said he saw the car "parked with the rear axle on the terrace" in front of a home on Stanton Street with "heavy damage to the front of the vehicle."
"There was also a pickup truck parked in the driveway ... with heavy damage to the right side panel of the truck box," the criminal complaint stated. "The truck was located in the driveway and had damage consistent with being in a motor vehicle accident."
Stibb then exited his vehicle and asked both people in the car he was pursuing to exit their vehicles and to put their hands on the roof, court documents say.
Rodriguez could not produce a driver's license, and allegedly told Stibb that he did not stop "because of items he had in the car," per the criminal complaint.
Shortly after, the complaint says city of Ripon Police Officer Tim Grenier and Chief Bill Wallner arrived on scene.
Grenier allegedly detected "a strong odor of marijuana coming from the vehicle" and asked Rodriguez if there was anything in the vehicle, to which Rodriguez allegedly replied that there was marijuana in the car.
Rodriguez was then arrested and searched, while the female occupant of the vehicle admitted to having marijuana on her, according to the criminal complaint. Police allegedly found the marijuana "inside her undergarments."
According to CCAP, Rodriguez has been previously found guilty of possession of THC in 2017 and found guilty of reckless driving in 2018.
He has signed a bond agreement, paying $1,500. As part of the agreement, Rodriguez is not to use or possess controlled substances without a valid prescription. He also is not to possess drug paraphernalia, including needles and syringes.
If convicted, Rodriguez faces up to $10,000 in fines, along with up to three years and six months in prison. His driving privileges also could be revoked for six months.