Emergency medical services (EMS) in Green Lake County are facing new pressures as the pool of young volunteers continues to shrink, creating a shortage of EMS talent in the coming years.
That's according to the final draft of an EMS study by Strategic Management & Consulting LLC (SMC), an outside agency tasked by the county to review its current EMS system and offer recommendations for improvement.
After evaluating the county's EMS infrastructure, SMC recommended establishing a countywide, municipal-based EMS system to ensure full-time EMS staffing throughout the county for years to come.
The report proposed four options for a countywide EMS service of varying size and cost that would "create a more stable and efficient ambulance model."
Three of the options have the potential to merge Berlin EMS and Southern Green Lake County Ambulance (SGLCA), while the other would create a countywide system and leave SGLCA as is.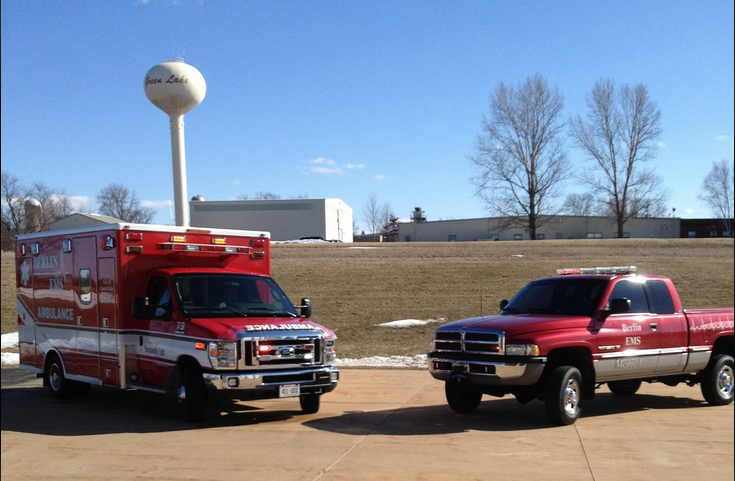 FINDINGS
Currently, Berlin EMS covers roughly 75% of Green Lake County, including Green Lake, Berlin and Princeton, while SGLCA operates out of Markesan and covers Marquette, Dalton and Kingston as well, according to the report.
Without a more comprehensive EMS plan, the report noted it would be "shortsighted to assume" Berlin EMS will continue covering 75% of the county as it faces financial and staffing pressures.
"The cost of providing EMS services are continuing to grow as the true volunteer systems are no longer to attract people," the study said. "It is no secret that combining resources has the potential to significantly reduce costs and, in many cases, increase services."
To address the issue, the Green Lake County Board of Supervisors on Nov. 10 voted to form a committee consisting of seven members from the northern and southern regions of the county — including members of Berlin EMS and SGLCA — to recommend a resolution to the County Board.
CHANGING DEMOGRAPHICS
While it remains to be seen what actions will be taken, SMC's report found current EMS service in Green Lake County to be generally "high quality," but identified issues that could interfere with service in the coming years.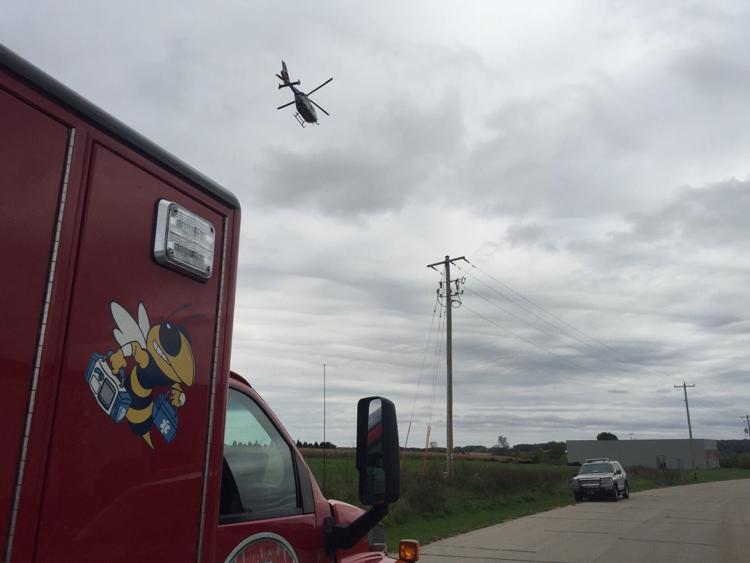 Specifically, SMC found that local EMS providers either already are struggling with staffing or soon will be. That hasn't always been the case, however, as volunteer ambulance services thrived in rural communities decades ago.
But as the years progressed and especially after the 2008 recession, SMC noted families began relying on two incomes, leaving less time for volunteerism.
"The days when a small business owner, such as a local mechanic, could be on-call and place a 'closed for emergency' sign in the window are all but gone," the report said.
As a result, the demographics of rural EMS providers have typically skewed older, ranging between 45 and 65 years old, according to the study.
HOW DID WE GET HERE?
"In the past as one age group on a service aged out, there was always another group of younger EMTs to come in and replace them," the report said. "As was witnessed by Princeton EMS for several years, individuals aged out, however, the next wave was not there and consequently was not replaced."
When Princeton EMS faced staffing problems years ago, it approached Berlin EMS to discuss potentially sharing ambulance services, according to SMC.
By 2010 and 2011, other municipalities had asked Berlin to expand further into the county.
Soon after, the report noted Berlin EMS became a "paramedic-level" program and was then approached by CHN Hospital, which was then Berlin's largest employer, who offered to subsidize the service expansion into rural communities across the county.
In 2012, Princeton and Berlin EMS merged. When the hospital changed hands, becoming ThedaCare in 2017, the study explained that it drastically cut funding to Berlin EMS, which had to be absorbed by Berlin EMS and the communities it services.
LOCAL STAFFING
As the EMS provider looks to the future, staffing is its "No. 1 concern," according to a letter to the Green Lake County Board from Berlin City Administrator Jodie Olson.
"There have been issues finding enough volunteers to staff all three stations 24 hours a day as well as back-up rigs," Olson said. "Relying on a few dedicated volunteers to give thousands of hours to services each year is neither a fair nor a sustainable option."
Berlin EMS has four to six volunteers, who help out on a regular basis, and six full-time crew members staffing ambulances, Berlin EMS Director Evan Vandenlangenberg said at the Nov. 10 Green Lake County Board meeting.
"Those six people allow us to staff one ambulance full-time, 24/7, 365 days a year; we normally try to staff three ambulances," he said. "When I started at Berlin EMS five years ago, that's something that was done a lot more than it is now … sometimes we're down to one ambulance."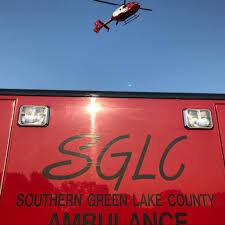 Meanwhile, SGLCA has a "higher-than-normal complement of volunteer personnel" and doesn't currently have issues filling the staff schedule, according to the EMS report.
However, the study indicated that SGLCA is "on the verge of having to add some full-time staffing next year" to maintain a full-staffing schedule, a situation that may "only get worse in the coming years."
For months, SGLCA has taken to social media to dispute the study's findings, noting on Oct. 30 that its staffing "is solid for at least three years."
"If we need to hire a [full-time] person or two we have planned for that," SGLCA said on its Facebook account. "We are not at that point yet."
PARAMEDIC RIGS
Beyond staffing, SMC found that "significant issues" exist between Berlin EMS and SGLCA because Berlin EMS is "certified at the paramedic level," meaning Berlin is called when a medical need arises that requires a "paramedic intercept."
However, the report noted that the two agencies are currently in a dispute over an outstanding invoice for services provided by Berlin to SGLCA.
As a result, Berlin EMS is not being called for paramedic intercepts and the Berlin City Council will not allow it to respond until the dispute is settled, according to SMC.
SGLCA said on its Facebook page Nov. 1 that assigning Berlin EMS to paramedic intercepts, "took an ambulance from Green Lake out of service, [and] 90% of the time the medic was sent to one of our calls for something that we had the skills to handle."
"I believe heart attack and stroke victims would differ from that opinion when they are in the back of an ambulance," Olson's letter to the County Board said. "Besides, even if Berlin EMS was not at a paramedic level, relying on volunteers, whether EMT or paramedic, would still create a staffing issue."
Even so, Vandenlangenberg says Berlin EMS has "a good working relationship" with SGLCA.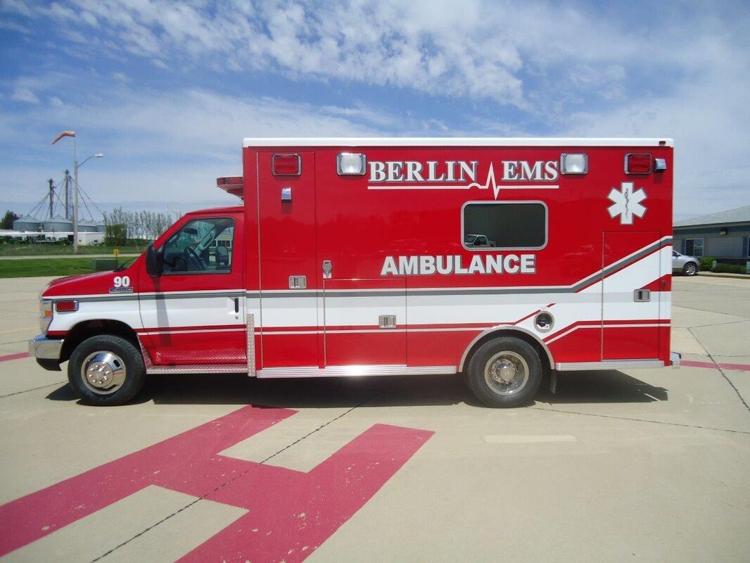 MOVING FORWARD
At the Nov. 10 Green Lake County Board meeting, SMC President Dan Williams noted his organization hopes to continue to help the county establish a sustainable EMS system that works for Green Lake County.
"We're here looking out for your best interests; we're not here trying to push anything that's not practical," Williams said. "We're here to try to walk you through this process and give you the best possible system."
In terms of developing a plan specific to Green Lake County, Supervisor Brian Floeter noted there are things that can be improved in the county's EMS infrastructure and that the County Board would debate both sides to come to a decision that best meets the needs of patients.
"We are doing an excellent job in the north and we are doing an excellent job of providing patient care in the south; I think there are a lot of rumors on both sides of where this has gone," Floeter said. "There is a lot of respectful debate that should happen as part of this process and it's going to lead to the best solution."
The Green Lake County Board's Nov. 10 vote to establish a committee to evaluate the study and determine steps forward aims to create a solution that works for everyone by talking to people on each side of the issue.
"Most of our townships have voted for the county to take this on, so I think it's our obligation to follow their wishes and to do so," County Board Supervisor William Boutwell said.