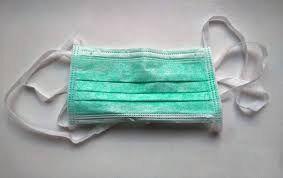 Perhaps one of the most hotly debated topics of the COVID-19 pandemic has been whether one should wear a mask or cloth face covering as a means to prevent the spread of COVID-19.
The topic has been clouded by conflicting messaging during the course of the pandemic and a deep division between political party lines here in Wisconsin.
However, if individuals weed through all of the misinformation and rhetoric around the topic, the Green Lake County Health Department believes the science is clear: Face masks are one of the most important tools in fighting COVID-19 and returning to normal life.
To understand the importance of mask wearing, Green Lake County Health Educator Julia McCarroll said it's necessary to understand how COVID-19 spreads.
The virus is spread primarily through respiratory droplets that are generated when people cough, sneeze, talk or breathe, she said, adding that someone who has been infected with the coronavirus can be contagious to others two days before they start showing symptoms.
Additionally, some people with COVID-19 may never develop any symptoms, but still can pass along the virus to others through these respiratory droplets.
"Universal use of cloth face coverings or masks helps block the release of virus-laden respiratory droplets into the air and any droplets not stopped completely by the mask will not be able to travel as far," McCarroll said. "This concept is called 'source control' and primarily benefits those around the person wearing a mask."
In addition to source control, she noted masks or cloth face coverings also do provide some, but not as much, individual protection to the person wearing a mask.
"Individual protection from wearing a mask increases as more people in the community use masks consistently and correctly," she said. "By that regard, mask wearing can be viewed as a civic duty or social responsibility that we all have to protect those around us who are scared and at risk for severe illness due to COVID-19."
In order to properly wear a mask, McCarroll said individuals should choose a mask with two or more layers of breathable fabric that fits snugly against the side of your face without any large gaps and to make sure it covers both the mouth and nose.
"Be sure to avoid touching your mask while wearing it and always wash your hands before and after you use your mask," she said. "Reusable masks should be washed regularly and can be included in your regular laundry cycle."
Although wearing a mask does help reduce the spread of COVID-19, McCarroll added it's not a replacement for other prevention measures such as physical distancing, hand-washing or quarantining after a COVID-19 exposure.