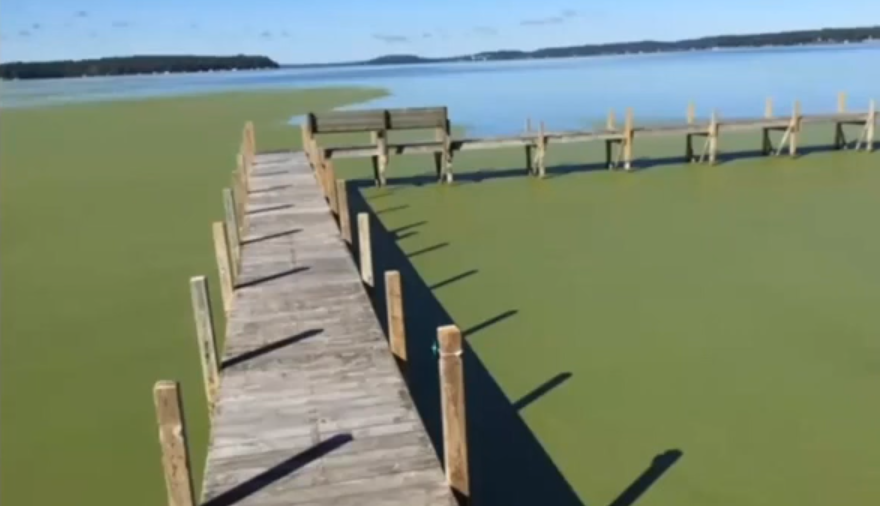 The water quality of Big Green Lake is declining, which is putting the area's future in jeopardy.
For most of its history, Green Lake has been a oligotrophic — or healthy — lake, but due to human impacts such as phosphorus pollution and the introduction of invasive species, it has become a mesotrophic — or less healthy — lake, according to the Green Lake Association (GLA).
In fact, GLA Executive Director Stephanie Prellwitz described the lake's health as "pre-diabetic" as it isn't in horrible shape yet, but there are "a lot of warning signs that are concerning" such as high phosphorus and a low dissolved oxygen "dead zone."
Additionally, the Wisconsin Department of Natural Resources classified Green Lake as an "impaired" body of water, meaning its water quality is not where it should be.
If the lake continues to deteriorate and becomes an eutrophic lake with poor water quality, it could have disastrous impacts on the watershed and the local economy, which relies on Big Green Lake to attract tourists and homeowners.
Although efforts are underway to restore the lake, more needs to be done as those actions are "not enough to make a measurable mark on Green Lake's water quality," Prellwitz noted.
PHOSPHORUS CREATES DEAD ZONE
One of the driving forces in the deterioration of Big Green Lake is phosphorus. Prellwitz said there's high phosphorus levels at the lake's surface.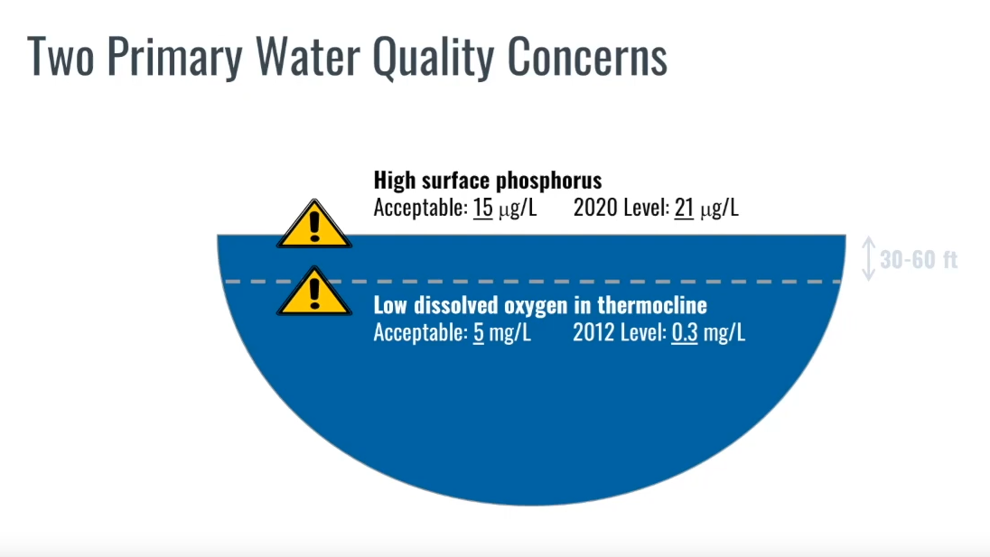 She explained that an acceptable level of phosphorus is 15 micrograms per liter, while Green Lake had 21 micrograms per liter in 2020.
As a result of the high phosphorus levels, there's a low dissolved oxygen "dead zone" about 30 to 60 feet below Green Lake's surface.
Prellwitz said fish need at least 5 milligrams per liter of oxygen, but Big Green can get as low as 0.3 milligrams per liter as it did in 2012.
"We're very consistently falling below that 5 milligram per liter mark," she said. "What we know is the cause of that is phosphorus loading."
Prellwitz said the more phosphorus entering Green Lake results in more weeds and algae with less dissolved oxygen.
She explained that a pound of phosphorus can produce 500 pounds of weeds and algae; as weeds and algae decompose, they "suck up oxygen."
"If we want more oxygen or if we want fewer weeds, we need less phosphorus," Prellwitz said.
LAKE HEALTH TIED TO ECONOMIC HEALTH
Beyond phosphorus and the "dead zone" it has created, the GLA is monitoring other threats to Big Green Lake such as duckweed on the east side of the lake near Silver Creek, swimmer's itch, E. Coli beach advisories, blue-green algae blooms, invasive zebra mussels and filamentous algae.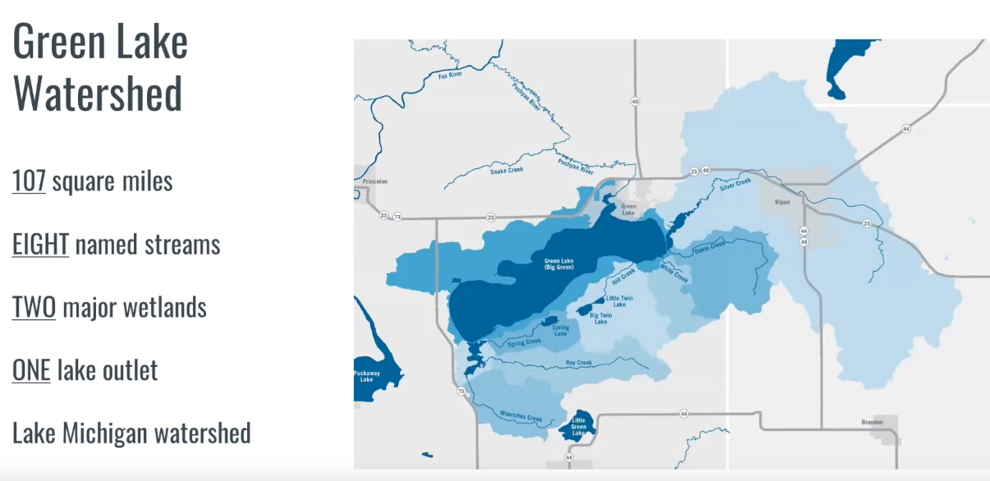 Prellwitz noted many of those threats to Big Green Lake — such as duckweed, swimmer's itch, blue-green algae and E. Coli beach advisories — were quite rare in past years, but have become more common in recent years.
These items aren't only a threat to the health of the lake as well as the health of humans and pets, they're also directly tied to the health of Green Lake's economy.
According to Prellwitz, 49% of Green Lake County's property valuation comes from the "immediate perimeter around Green Lake" and studies show that property values are tied to lake health.
"What happens if our lake goes downhill? Our property values are affected, tourism is affected and that then begins to dip into our tax base," she said. "So then what happens to our schools or what happens to our infrastructure? This is really all connected."
FIGHTING FOR A CLEANER GREEN LAKE
To combat the deterioration of Big Green Lake and to try to reverse it, Prellwitz said the GLA and its partners are "doing the right things" by focusing on best management practices.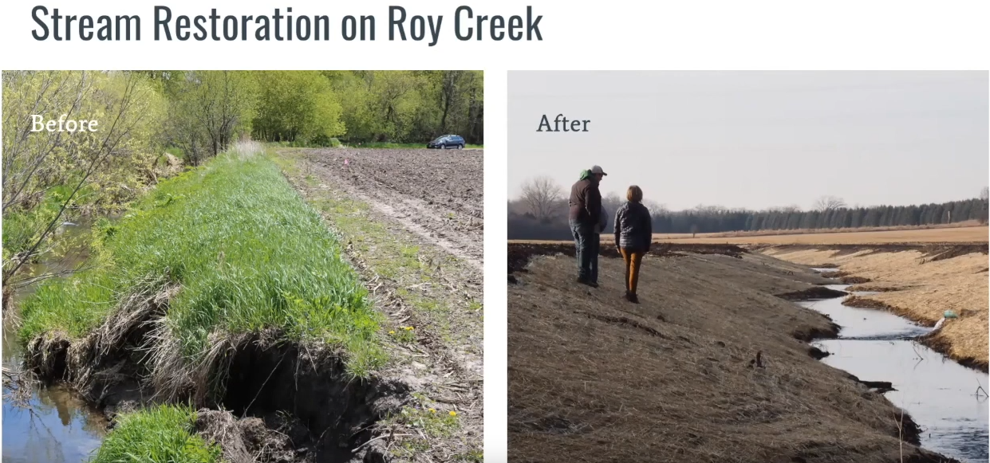 One of those practices is known as "stream restoration," which can reduce phosphorus loading.
For example, Roy Creek lies next to a farm field and the banks of the stream were crumbling into the creek, bringing phosphorus into the watershed.
The GLA and its partners were able to fundraise to shave the banks back to prevent the stream from eroding itself, Prellwitz said.
Another stream restoration project occurred on Dakin Creek, in which trees were removed and a culvert was replaced to reduce erosion.
The GLA also is working with farmers to help them reduce their agricultural impacts on Big Green Lake by sponsoring demonstration farms and hosting conservation field days to teach sustainable practices.
In fact, the GLA and its many partners — at the local, state and federal level — have installed over 150 best management practices in the watershed with a total cost of more than $2 million dollars since 2012, Prellwitz noted.
Additionally, there have been more than $200,000 in grants approved for future lake management projects and another $1 million in grant submissions for more lake projects.
MORE NEEDED TO SAVE BIG GREEN LAKE
Despite those efforts, however, the GLA hasn't put a dent in Big Green Lake's phosphorus loading.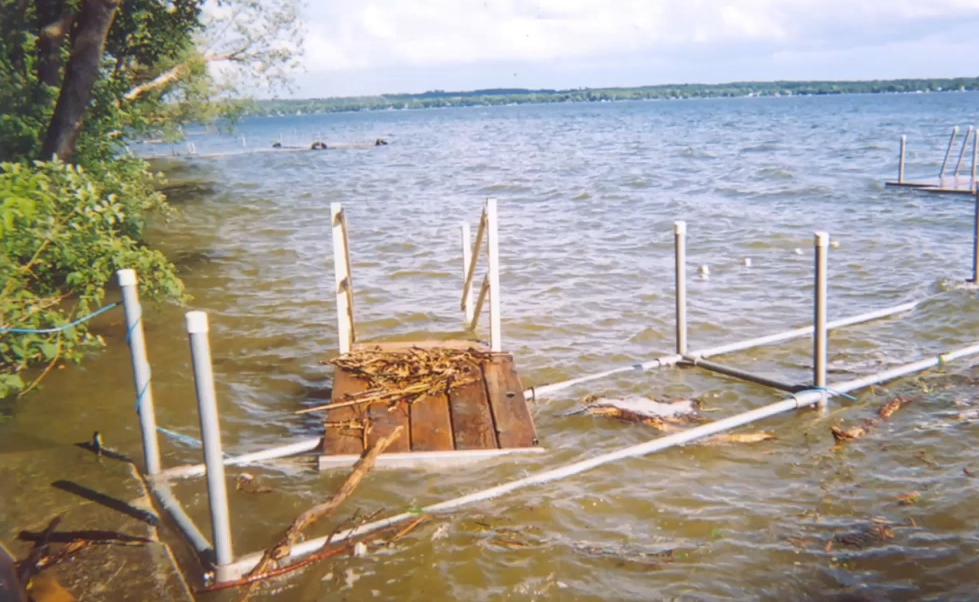 "That's why we're concerned," Prellwitz said. "We're struggling to keep up and we're struggling to make an impact. The time to act for Green Lake's water quality is now."
Beyond human-made threats to the lake, Prellwitz noted the GLA is also working against Mother Nature to preserve Big Green Lake.
For example, there was a flood in 2008 described as a "flood that is so large that it should happen once in 500 years," Prellwitz said.
That flood's impacts are continued to be felt today as one drop of water remains in the lake for roughly 20 years; the flood brought phosphorus pollution into Green Lake, Prellwitz noted.
In March 2019, Green Lake suffered a flash of hot weather after a major snow storm, causing further flooding that contained pollution.
"We are seeing more intense, more frequent rain events in the Green Lake watershed and throughout the state," Prellwitz said. "The problem with those rain events is that this carries a lot of unexpected pollution to Green Lake."
To combat man-made pollution and Mother Nature-driven pollution, Prellwitz says stakeholders in Green Lake must substantially scale-up their impact.
"We need to either substantially scale-up our impact, or we need to accept this mediocre lake water quality that we have and understand that water quality is going to get worse over time," she said. "That's not the reality that I want to live in. It's not the reality that you want to live in either; we want a cleaner, healthier lake."
To preserve Green Lake, she says the phosphorus entering Green Lake each year needs to be cut by nearly 50%, from 20,000 pounds entering the lake each year to 12,000 pounds of phosphorus per year.
"We all have a role to play in achieving this because imagine if you learned that you have to cut your calories in half or you're going to have serious health issues, that is what Green Lake is facing," Prellwitz said. "It is up to us, our community and our generation to take action now, and this isn't just for the lake itself, but it's really for all of the people who love and use Green Lake."