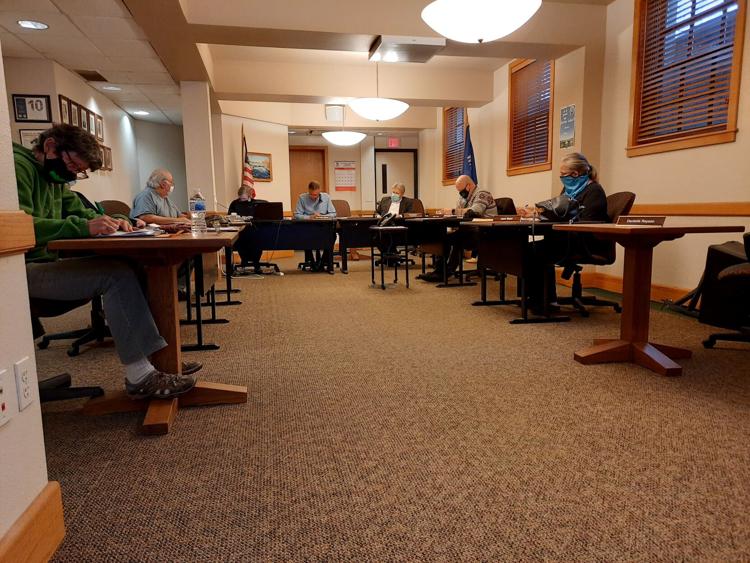 After last week's special Green Lake Common Council meeting, Mayor Ray Radis and the city's department heads will work to cut $8,918 from the 2021 budget to keep Green Lake's tax levy within state limits.
During last week Tuesday's meeting, the Common Council approved the city's preliminary 2021 budget, after making several changes to cut expenses and better estimate revenues in an attempt to keep the tax levy within state limits.
"We try to manage the city budget to allow for inflation and manage spending to cover the increases in the costs that come every year," Radis said in a written statement to The Commonwealth. "No one likes to see their taxes go up so we are very diligent on our spending, but want to remain progressive with our services to the city residents."
Even so, City Clerk Barb Dugenske noted the changes made during the meeting only brought the 2021 mill rate down one cent, from $5.55 to $5.54, both a roughly 2% increase from last year.
This means a homeowner with a $100,000 property value would pay roughly $11 more in property taxes.
Additionally, Dugenske noted the city's expenditures showed a 9.1% increase from the previous year at roughly $2.2 million, while the property tax levy rose by 0.87% at roughly $1.33 million.
She explained that the maximum tax levy the city can allow is $1,319,248, while the preliminary 2021 tax levy, as of last week Tuesday, was $1,328,166.
Rather than continue to deliberate the budget last week Tuesday, the Common Council moved to allow the mayor and department heads to work to make cuts needed to remain under the state limit.
At the meeting, Radis noted a revised budget could be ready by the next Committee of the Whole meeting, ahead of the public hearing regarding the budget, which is scheduled for Monday, Nov. 9.
"I will meet with each department head to review trailing years' budgets versus actual spending," Radis told The Commonwealth. "We will review each line item and see if we can reduce without affecting public safety and service."
Several changes were made to the preliminary budget during the meeting as aldermen asked for clarification on specific line items.
One item of note that was removed is a $47,000 expense for a new fire truck for the Green Lake/Brooklyn Fire Department.
"We're going to have to borrow for it when the time comes," Radis said. "I participated in a few meetings and there are some tangible reasons why we need a new fire truck."
Meanwhile, a similar expense was discussed regarding the Green Lake Police Department, when Ald. George King inquired about a law enforcement capital expenditure of $56,000.
Police Chief Jason Reysen noted the expense was for a new squad car. He explained the car he's been using was built in 2014 and has more than 90,000 miles on it.
"We bought a new squad car last year because of damage that was done in 2017," Reysen said. "If we buy a new squad car, nothing from our current squad cars would fit in it."
Reysen added the department could purchase a demonstration vehicle from Mike Havey for a bit cheaper and that he's open to either option.
Ultimately, more changes will be made in the coming weeks as the city works to finalize its 2021 budget.
IN OTHER NEWS
In other news from last week Tuesday's special Green Lake Common Council Meeting:
Green Lake will form an eight-person ad hoc committee on short-term rentals, comprised of renters and residents. Notable members to the committee include former mayor Jon McConnell, who will serve as chair, and Goose Blind owner Mary Rowley. Short-term rentals have been a point of contention at recent Common Council meetings as year-round residents have raised objections to noisy parties, while rental owners have raised concerns about regulation.
The City Hall Gymnasium will be closed to all sports and rental groups, and will allow only municipal use until further notice. The Green Lake Common Council voted 5 to 1 to close the gym, with Ald. Jim Jahnke voting against the proposal. "I think we should leave it open," he said. "We should leave it up to the people if they want to use it." Ald. Liane Walsh, meanwhile, was adamantly opposed to keeping the gym open. "To keep as many people out of [City Hall] as possible, I think, is the best way to go," she said.
The Common Council voted unanimously to apply for a community development investment grant through the Wisconsin Economic Development Corp. to help fund the Heidel House redevelopment.