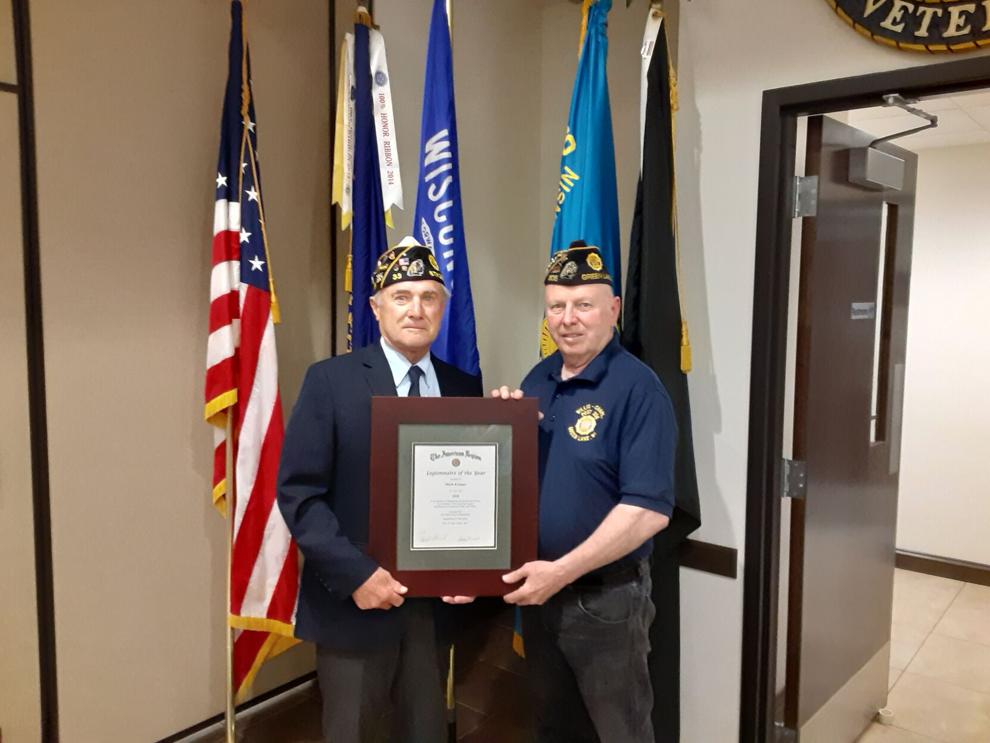 Green Lake's Mark Kramer was named Legionnaire of the Year for American Legion Post No. 306 and for Wisconsin's Sixth District May 13.
Posts throughout Wisconsin's Sixth District, which comprises six counties, were asked to nominate a member who has been outstanding in promoting the American Legion, performing community service activities and participating in patriotic activities. Nominations were judged by vice commanders at the Department of Wisconsin Midyear Conference.
Kramer served as post commander for 12 years. He led Post 306 to increase membership and maintain standing as a 100% Post in 11 of those years. He has taken over the role of public relations officer and historian, keeping local newspapers informed of  activities and accomplishments.
During his two-year term as county commander, he created a weekly column in the county-wide newspaper, highlighting the events and accomplishments of every post. He is in frequent contact with posts to gather information about meetings and events for the column, which has grown from half a page to a full page and now includes many of the surrounding Legion posts outside of our county and some VFW information. He also maintains a social media presence.
Kramer led a multi-year effort to replace the Green Lake American Legion building, helping to raise $1,240,000, which was paid in full within three years. As commander, he served on committees from fund-raising to design. The hours to attend meetings and make phone calls and emails were immeasurable. He also led an effort to have all county Legion posts donate to the Gulf War Tribute at the High Ground Memorial Park.
County Youth Government Day always has been a priority for Kramer. He leads by example and encourages the students to stay actively engaged in their community as they mature. He visits veterans in care facilities after Memorial Day and Veterans Day events, often taking them a meal or flowers and sharing his time with them.
He volunteers his time bartending for events when community members rent the Legion building, which is offered free of charge to youth-related and non-profit organizations. He continually seeks opportunities to raise funds for the post and has sold more raffle tickets and raffle squares than any other member.
Kramer has volunteered at Badger Boys State in many capacities, including serving as the American Legion liaison, as county counselor and as the aide to the national commander. He has spent the week at Badger Boys State for the past five years (when Badger Boys State was in session), doing whatever he was asked to do. During those years, he actively recruited other Legion members to help with traffic control, as well as perform the rifle salute and Taps at the start of the week. In 2019, he organized a meet-and-greet event for the national commander during Badgers Boys State. The event was held at Post 306 and county and Sixth District Legion members as well as those attending Badger Boys State were invited. He recently helped ensure a quorum at the Sixth District meeting, which was postponed last year due to COVID.
Kramer provides the use of his home and garage to collect and sell items to benefit the post during Green Lake's city-wide garage sale. He coordinates the planting, placing and watering of red geraniums and American flags on all veteran graves in three cemeteries prior to Memorial Day, working with the Boy Scout and Girl Scout troops and other volunteers. When the Legion baseball team needed someone to run the concession stand at their games, he organized, purchased, cooked, sold and cleaned up at every home game.
He is passionate about supporting deployed troops — always looking for names, addresses and items to be sent. He lends a hand when packing boxes and transports them to the post office. He honors  deceased comrades by serving on the rifle squad at their funerals. He serves needy comrades by transporting them to medical appointments at various VA facilities.
During the COVID pandemic, Kramer was a member of a task force created to help guide the city of Green Lake through the unknown. His leadership provided an anchor during a time of fear and uncertainty. He continually encourages younger veterans to join the American Legion and participate in meetings, outreach efforts and leadership positions.
Mark Kramer's post-service employment began as a high school industrial arts teacher. He gives of his talent as a woodworker by donating his projects to other community groups to use in their fund-raising efforts, including donating cornhole boards and Adirondack chairs to be used as raffle prizes for the Old Glory Honor Flight. He has participated in the Honor Flight program as a chaperone to a World War II Veteran, as an honoree on a yellow ribbon flight during EAA's AirVenture, and as an inspiration to other veterans to apply to take part in the honor flight program.
Kramer has been a long-time instructor of snowmobile and ATV safety courses. He has served his church for more than 40 years as a lector, religious education instructor and confirmation mentor. He has served the community on the fire department board of directors. He is a Paid-Up-For-Life member of the American Legion, a Life Member of the VFW and a member of Rotary International. He is also a life-long blood donor and invited the American Red Cross to hold community blood drives at Green Lake's Legion Post.
Kramer earned his membership in the American Legion through his service in the U.S. Army in Vietnam and his day-to-day activities have earned him the right to receive this award. A recent audit of Green Lake's post volunteer sign-up log revealed his attendance at post events was nearly double that of the next closest member.
"He is the first to arrive and almost always the last to leave," a press release said. "He is the volunteer when there are no volunteers. He always has a smile and warm greeting. His sense of humor helps to keep the mood light and the attitudes positive at events. He is the embodiment of the American Legion mission."