Will Gerstein always has been something of an entrepreneur, from spending the last five summers selling ice cream to starting an online graphic design company two years ago.
At 18 years old, the California native's most recent venture is Bucket Wings, a chicken wing restaurant in the heart of Green Lake.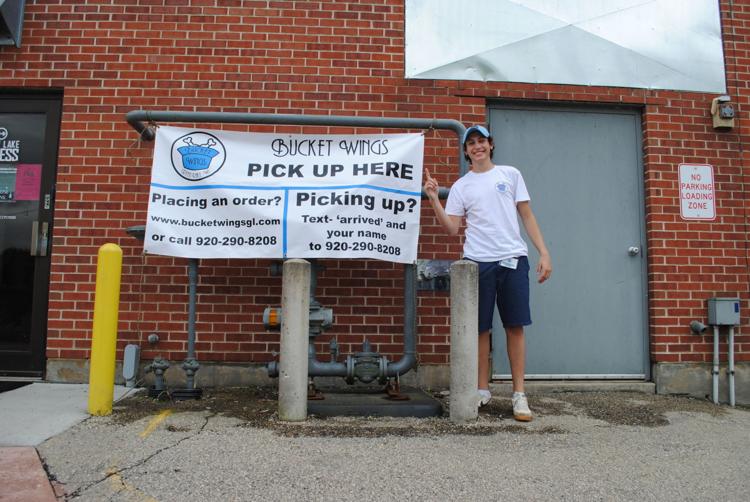 "I've always felt that Green Lake needed a chicken wing restaurant because it's such good lake food," Gerstein said. "For me, when I think of lake food, I think of some chicken wings."
Bucket Wings opened Friday, June 5, offering up to 10 flavors of air-fried chicken wings and freshly baked cookies.
The eatery will be open Fridays, Saturdays and Sundays from 11:30 a.m. to 2:30 p.m., with a break before reopening from 5 to 8:30 p.m. Gerstein noted hours are subject to change as he assesses business.
Customers may order online at www.bucketwingsgl.com or call 920-290-8208. Orders can be picked up either next to Town Square Tap or delivered to the Dartford Marina. Orders to the marina must be completed over the phone.
Bucket Wings has partnered with Town Square Tap to offer dine-in service, as customers can order wings from the taproom.
"It's not something I planned for, but it's something I'm really excited about," Gerstein said. "Our ideas really line up, we're going to make a great partnership and we're going to benefit each other mutually."
The idea for Bucket Wings originated in March, when Gerstein was looking at food options in the area and found a chicken wing void.
Read the full story, which includes information on a partnership with Town Square Tap, in the June 11, 2020 edition of the Ripon Commonwealth Press.