Green Lake Class of 2020 Graduation
"You are a non-traditional class for a non-traditional year."
That is how Green Lake School Superintendent and former 7 to 12 Principal Mary Allen described the class of 2020 during its graduation ceremony last week Saturday.
The class had its senior year of in-school learning cut short due to the COVID-19 pandemic and lost out on activities such as its final sports season, awards night and had to wait around two extra months for its graduation.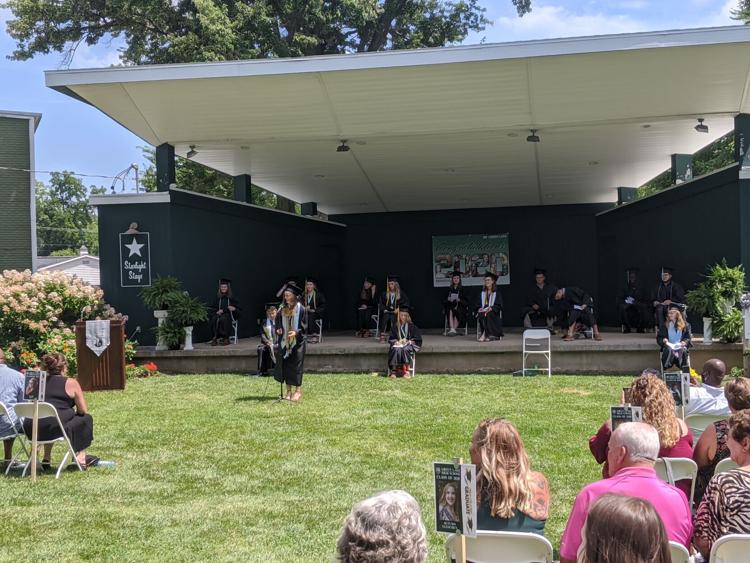 The ceremony last weekend also was different as it took place at Deacon Mills Park instead of the Green Lake Conference Center's Vesper Circle, which has been a Green Lake High School tradition for at least the past 30 years.
The 15 graduates were socially distanced on, and in front of the Starlight Stage. Each was able to only have up to four family members inside the roped-off area, although other friends and family set up camp outside the perimeter.
"I know it was tough, and even though it felt like a loss, you were given a wonderful opportunity," Mary Allen said of the challenges of COVID-19. "You gained something that classes before you have not. You became a part of history; you are notorious. Forever people will remember you, the class of 2020, as a very special group of students who faced a great challenge. As you finished the last quarter of your senior year online, you witnessed firsthand a worldwide pandemic and a national protest for racial injustice."
She added that throughout the events, the class of 2020 found "the ability to adapt, persevere under challenging circumstances and graduate from high school."
"I believe the opportunity you had to experience the changing dynamics of society will give you the resilience and the desire to make this world a better place," Mary Allen said. "All 15 of you are unique; not just because we're graduating in the year of COVID-19. I was so impressed with you even before the pandemic. You take learning to a deeper level, you have strong opinions about what you think is right and you advocate for others. You're sensitive, stubborn, creative, intelligent and strong willed."
Read the full story in the July 30, 2020 edition of the Ripon Commonwealth Press.