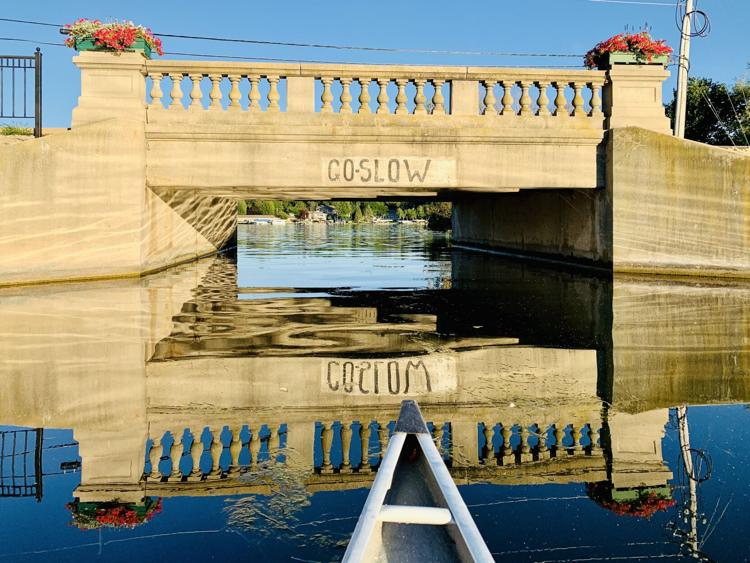 The Green Lake Common Council is having early discussions related to creating three new city ordinances that will impact the community.
During the Committee of the Whole meeting Monday, the Common Council talked about crafting ordinances to regulate speeds for recreational motor vehicles on the Dartford Mill Pond, to regulate online vacation home rental companies and to expand outdoor service options for restaurants.
Each of the proposed ordinances were in the early planning stages Tuesday and are on the agenda to be discussed further at the Common Council's Sept. 14 meeting.
Mill Pond speeds
The first of the three possible ordinances was brought to the Common Council's attention during the public appearances portion of the meeting, when Jo Ellen Madden and Dan Hutter discussed issues they've noticed at the Dartford Mill Pond.
Madden discussed the possibility of the council crafting an ordinance to reduce speeds for motor vehicles in the mill pond.
Even though the Mill Street bridge does have a sign reminding motorists to slow down, she described people on boats and jet skis creating a safety hazard by driving too fast and too close to folks using the mill pond for canoeing, paddle boarding and kayaking.
"I just want public safety because all of these non-motorized vehicles in there have [to deal with] all of these jet skis that go around like it's a playpen in there, running around in circles and getting awfully close to kayakers," Madden said. "It's dangerous because they're not staying that 100 feet from the other vehicle."
Even so, Madden isn't sure whether it's locals or tourists who are causing the disturbance.
Hutter echoed many of Madden's concerns, adding that the behavior in the mill pond has the potential to negatively impact the environment nearby as well as humans.
"In my opinion, that's no place for motorcraft to be turning up water in such a shallow system," Hutter said. "It's not good for the lake."
In response, Green Lake Mayor Ray Radis noted the city has the power to pass an ordinance to control speeds in the Dartford Mill Pond, but it would need additional approval from the Wisconsin Department of Natural Resources.
"We're going to put that on the agenda for the next council meeting, and we'll discuss it further," Radis said of the proposal.
Airbnbs
The second possible ordinance discussed would put regulations on online vacation rental homes — or Airbnb's — that would essentially allow the city to know which properties are being used for online rentals and which are residential homes.
"There's a new trend out there right now, where people are buying homes just to use them as an AirBnB," Radis said. "... What I'm advocating for is talking about setting some reasonable restrictions, where their neighbors retain a right to control the type of neighborhood they live in."
During her time as the executive director at the Green Lake Area Chamber of Commerce, Ald. Liane Walsh witnessed this trend firsthand as out-of-state residents flocked to the area, purchasing homes that were intended to be used solely as vacation rentals.
"A year and a half ago, multiple homes sold in the city, especially on Hill Street and Lake Street, and those are all now Airbnbs," she said. "Those are not second homes, the owners don't even live in the city."
As a result, Ald. George King noted the share of residential housing in the city of Green Lake has been shrinking for years.
"There has been a loss of residential homes in the city because of [houses] being sold as a second home or as rental homes," King said. "Last I heard, 52% of the homes in the city were second homes and it's presumably higher than that now."
Meanwhile, Radis noted other communities in the area, including Ripon and Berlin, have established regulations on Airbnbs that require renters to acquire a permit, so the city can distinguish between what properties are online rentals and which are not.
The city does collect room tax dollars from Airbnb companies, but it has no way of knowing which specific properties are generating that tax.
"In taking a look at what we have on file, it's woefully outdated," Radis said, noting the ordinance covering vacation rentals only applies to traditional lodging facilities. "We have no regulation of Airbnbs in the city whatsoever, so I want to recommend that we draft an ordinance. Everybody's done it already, we're just coming to grips with it right now."
Outdoor drinking
The third potential ordinance centered around outdoor dining services offered at local restaurants, specifically the inability to serve alcoholic beverages when customers are eating outdoors.
Anne Murphy, a manager of Chops Fine Dining, spoke to the Common Council on the issue of outdoor dining.
She explained that the restaurant's customers have expressed interest in outdoor seating, and that the restaurant would like to close three parking stalls to erect a wooden deck, similar to the one at Knuth Brewing Co. in Ripon.
But unlike Ripon, Green Lake doesn't have an ordinance allowing for the consumption of alcohol outside of a restaurant.
"Our city ordinance does not allow for outside consumption of an open container of alcohol on any public street, public sidewalk or public way, except for during Common Council-authorized events, such as Harvest Fest," Green Lake Police Chief Jason Reysen said.
A few weeks ago, Adam's Rib offered seating outside for customers to a mixed response, according to Manager Rachel Nitz.
She noted the outdoor dining would likely have been more popular if customers were allowed to drink alcohol outside as they ate their food.
"We just closed the road and we put tables up there, but I didn't have a whole lot of people that wanted to sit there because they couldn't drink there," Nitz said. "So that caused a little bit of an issue. If it was for an event like Harvest Fest, for people just to eat outside would be great and if they could actually sit and have a cocktail at the table, it would be even better. "
City officials appeared sympathetic to the businesses as a few aldermen even suggested temporarily waiving the rules without a formal ordinance in place.
However, City Attorney Daniel Sondalle suggested against such action, noting it would be unlikely that he could get an entire ordinance related to outdoor dining and drinking crafted by next Monday's council meeting.
"I just don't know if I can get the ordinance done by next Monday's meeting, seeing as it's already Tuesday," Sondalle said. "Ripon already has this, so we can look at their ordinance and adopt some of the provisions that they have to make sure it's done right."
Even so, Radis noted the city will work to support its local eateries as best it can, and requested that Chops present a detailed plan for its outdoor deck idea by the end of the week, which will be reviewed by the Common Council at its next meeting.
IN OTHER NEWS
In other news from the Committee of the Whole meeting:
The city of Green Lake is looking to spend roughly $9,850 of a $16,000 Routes to Recovery COVID-19 relief grant from the state on an audio/video system that will make it easier for the community and Common Council to attend meetings remotely.
The Common Council also reviewed the public works department's seven-year street improvement plan.
Reysen provided a COVID-19 situation update, in which he said there were 17 cases within the Green Lake School District area as of Sunday. Additionally, Berlin's 39 confirmed cases and Markesan's 43 cases are driving the county's confirmed cases up. "It's in the area, and it's not going away," Reysen said.