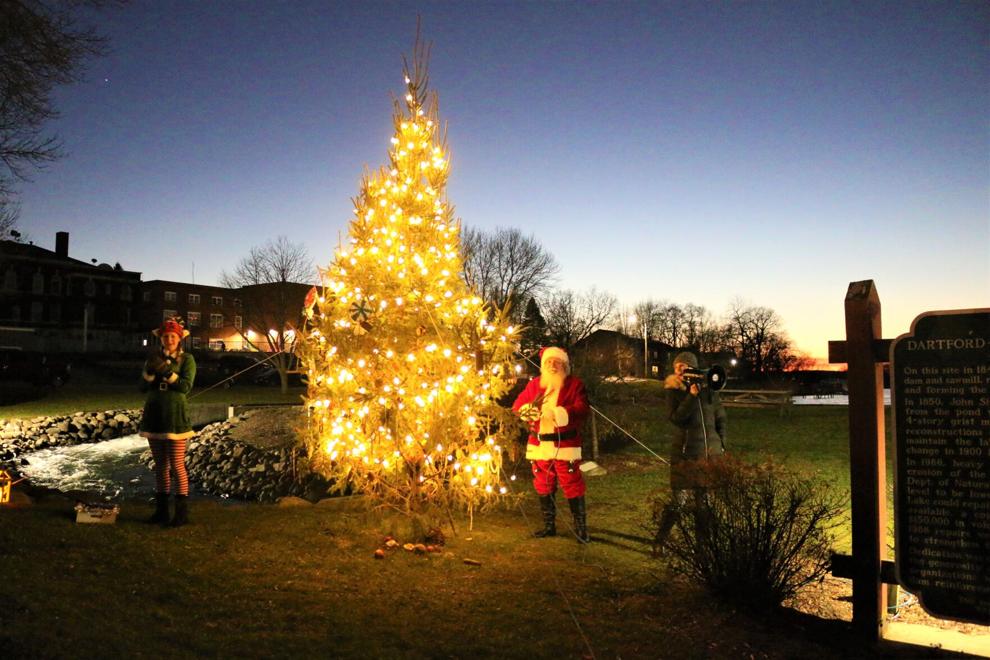 The Green Lake Area Chamber of Commerce invites everyone to visit the Green Lake area this holiday season, noting that there are many fun events happening Friday through Sunday that the whole family will enjoy.
The chamber will kick off Keep the Cheer Here Friday, Nov. 26 with hot chocolate and cookies at the Green Lake Area Chamber of Commerce office.
A Santa Row In then will take place at 5 p.m. on the Mill Pond, followed by Santa lighting up the Rotary Christmas Trees lined up in Playground Park at 5:30.
Santa then will be available for family photos from 5:30 to 6:30 p.m. at the Green Lake Area Chamber of Commerce lawn. Kids are reminded not to forget their letters to Santa as they can drop them in his mailbox.
On Saturday, Nov. 27, kids of all ages may enjoy a pancake breakfast with Santa from 9 to 11 a.m. at the American Legion, Willis Chapel Post 306.
New this year, enjoy a cookie walk through downtown Green Lake from 11 a.m. to 2 p.m.
Individuals may pre-purchase their tin for $5 at the Green Lake Area Chamber of Commerce office. Attendees will be able to walk around town with their family and friends and receive a cookie at each of the participating businesses, filling their tins to the top.
Cookie decorating and crafts will be held at Town Square from noon until 3 p.m. The fun isn't only for children as adults may enjoy a cold brew at Town Square's holiday Hofbräuhaus — a German-style beer hall — from 1 to 5 p.m.
Bundle up for a wagon ride around town from 3 to 5 p.m at the chamber office. Cozy up by the fire after the ride and enjoy some s'mores and goodies.
Looking to take a nice family photo for your Christmas Card?
Thrasher Opera House has got you covered! On Saturday, Nov. 27 from 4 to 5 p.m., visit Thrasher for a holiday family photo. Following the photos, enjoy the holiday movie "Elf" starting at 5 p.m.
Then get ready for an elf'n good time at Town Square's Ugly Sweater Bingo. The bingo game, which is part of Town Square's day-long Holiday Faire and Hofbräuhaus. Doors and concessions open at 5 p.m., card sales begin at 5:30 p.m. and games start at 6:30 p.m.
Heidel House will host an Evening with Santa & his Reindeer Sunday, Nov. 28 from 4 to 7 p.m. Activities include face painting, a coloring contest, cookie decorating, drinking hot cocoa, and seeing live reindeer.
"You don't have to go far to kick of the holidays, we welcome you and your family to visit us in Green Lake," the Green Lake Area Chamber of Commerce said. "We cannot wait to see you!"
For more information about "Keep the Cheer Here" please visit our Facebook page, www.visitgreenlake.com or call the Green Lake Area Chamber of Commerce at 920-294-3231.