After an at times heated discussion on whether to censure board member Mary Cyrier for alleged violations of board policies, Green Lake School Board President Andy Gryske announced he was quitting effective immediately.
The announcement during last week Wednesday's meeting came moments before the board voted 3-3-1 on a resolution to censure Cyrier, which meant the motion failed.
Cyrier, Tim Lyke and Matt Bond voted against the censure, while Sue Sorensen, Mike Pulice and Gryske voted in favor of it. Michelle Grimes abstained.
"We're absolutely a fractured board," Gryske said at the meeting. "A year ago, remember how we were operating? That's not where we're operating anymore. Now, I am going to take blame for this because all of this happened on my watch. I've been the president for just about two years and we have dealt with some stuff. … But we are fractured. I do not know if it's fixable. I really don't. And I am up for election next month, but I'm quitting effectively tonight and if I'm elected, I'm not going to accept the seat. I'm broken with this. We've gone from, we were working together, to we are arguing about we were told not to do something [and] it continued to happen. And we're not doing the school any good. We're not doing the kids any good. We're not doing this community any good."
He proceeded to thank the large crowd that showed up for the meeting, which were largely pro-Cyrier based on reactions several times during the meeting, for hanging in there with the board through the long meeting.
The investigation into Cyrier's conduct was launched after Gryske received a complaint on Jan. 27, according to Ryan Heiden of von Briesen & Roper, s.c. Heiden also noted that "it was filed after receiving a number of complaints.
The complaint identified violations of board policies focusing on:
Misuse of email and violations of the open meeting laws;

Mistreatment of district employees;

And, unauthorized representation to the public.
Heiden noted that Cyrier was offered an opportunity to meet with Gryske and an attorney from von Briesen & Roper on Feb. 6 to hear her side of the story and incorporate it into the report prior to it being presented at the Feb. 15 board meeting, but that Cyrier said that the only time she had available was the night of the meeting.
At the Feb. 15 School Board meeting, Jim Macy of von Briesen and Roper presented the report's findings to the board, which were unfinalized as he did not have time to work in Cyrier's response from a couple hours earlier.
After a motion was made by Gryske to censure Cyrier, which was one of four options presented to the board by Macy, Cyrier then offered a response to the allegations before a discussion among the board took place.
Ultimately, the board decided to table the issue to its March meeting so that it could have time to look at the finalized report and hoped the public would have the opportunity as well. Despite indications at the Feb. 15 meeting that the report was largely finalized, it was not emailed to the board for review until March 1.
The report wasn't made public until last week Friday morning, two days after the meeting, as a result of a state statute that requires any subject of the record to be provided five business days upon receipt of certified mail to provide an augmentation, which is a written response. It wasn't sent via certified mail until March 8.
Four of the five people mentioned in the report, which includes board members Gryske, Sorensen, Lyke and Superintendent Gina Baxter, signed release forms.
Cyrier, who provided an eight-page response to the allegations to board members and the public last week Wednesday, didn't sign the release form or provide the augmentation prior to the meeting so that the report could be released to the public. She noted she was out of the country from March 4 to March 11 and didn't have time.
"I actually would have gotten it done had I received it in enough time prior to being out of the country," she said. "I didn't have access when I was out of the country. ... I think it would have been right that you all have received it ahead of time, so they could have thought about it. I just didn't receive it. I asked for it. I didn't receive it in time to give me adequate time to respond, so I apologize for that."

Report
Heiden noted the investigation concluded there were violations of board policy for misuse of email and violations of the open meeting laws, and mistreatment of district employees, but not unauthorized representation to the public.
The report stated that "issues regarding the use of emails in violation of board policy began shortly after board member Mary Cyrier was elected to the board." It went on to provide 10 exhibits, many of which noted Cyrier replied all to emails despite being asked repeatedly not to as policy states that "board members are strongly discouraged from communicating regarding board business with other board members via email."
It also said that "many of board member Mary Cyrier's emails could be interpreted as a meeting of a governmental body without proper notice." That included a string of emails from Jan. 23 to 25, where "Cyrier petitioned the full board to create a subcommittee of the board for the purpose of revising the current superintendent evaluation process" and "did so without posting proper notice or without allowing public access to the exchange."
As a result, the report noted that "a reasonable argument exists that board member Cyrier's use of email has violated the open meetings law and potentially exposed other board members to similar legal liability." It added that "Cyrier's email correspondence would also violate the board policy 0144.2 (Ethics), insofar as she did not endeavor to make policy decisions only after full discussion at publicly held board meetings."
Finally, in terms of violations of open meeting laws, the report alleged that her motion at the Feb. 15 meeting to add a second public comment section "further emphasized her disregard for the open meetings law and board policy." Cyrier's motion initially was seconded by Lyke, but Lyke later withdrew the second after Macy's advice.
As far as mistreatment of district employees is concerned, the report noted that "the complaint alleges that board member Cyrier has repeatedly overburdened the board secretary [Donna Waterworth] with information requests" and "as a result the board secretary has resigned from her position in the district."
The report said that "requests from board members for information from a district employee are required to be directed to the superintendent, per board policy 0143.2" and "despite this policy, board member Mary Cyrier made repeated and continued requests directly to the board secretary." It went on to state that Waterworth "served a number of duties for the district," in addition to her responsibilities as the board secretary.
Furthermore, the report stated "information requested by board member Cyrier was described as nonsensical and irrelevant to the duties of a board member, and the board secretary was bombarded with such requests. Further, when information was unavailable, board member Cyrier would make it into a much larger issue."
The report proceeded to provide an example from a January 2023 board meeting, noting that "Cyrier was critical of the board secretary and called her work inadequate for the position she held." The criticism was with regards to the minutes taken from a previous meeting, according to the report, and Cryrier's conduct was described as "unprofessional."
It said that "administrative staff is unable to protect the board secretary from undue treatment by board members as the board serves as the superintendent's direct supervisor and is comprised of elected officials."
Waterworth resigned from her position effective Feb. 3. The report noted that "according to information gained in interviews, the basis for the resignation is board member conduct, specifically the conduct of board member Cyrier."
In her resignation letter to Baxter, Waterworth wrote: "With the behavior and bullying of one board member in particular, I just can't continue. My family has brought it to my attention numerous times that the stress this is causing me is affecting not just me, but my family as well."
The report stated "some staff describe the current status of the board as dysfunctional based on the conduct of board member Cyrier. Board member Cyrier engages in bullying, demeaning and humiliating behavior towards others."
It added that "in meeting with board member Cyrier, she believed she had only made a couple of requests to administration" and "she again indicated she was unaware of violating Green Lake board policies." Furthermore, the report noted "she believed she has never been demeaning to staff" and that "a review of the relevant emails from board member Cyrier demonstrates board member Cyrier's statement was entirely inaccurate."
Sixteen exhibits of email communications, which the report called "a sampling of board member Cyrier's information requests" followed in the document.
The section of the report on the mistreatment of district employees concluded by noting that "based upon the facts presented, board member Cyrier violated board policy 0143.2 by repeatedly and knowingly requesting information directly from a district employee, rather than submitting such requests through the superintendent for approval."
"She made substantially more than 'a couple' of requests," the report read. "In doing so, she took away valuable time from staff to do research, provide documents and even respond to routine information she could have easily found on the district website."
The report also noted that "Cyrier violated the general expectation of board members set forth in board policy 0144.5 by: (1) not conducting herself with integrity, honesty; (2) not conducting herself in a manner that reflects positively on the board and on the district; and (3) not treating others with respect and dignity at all times."
Finally, it stated "board policy 0144.5 further requires that board members, at all times, conduct themselves in the best interest of the school district, including avoiding implicating the district in unlawful activity or supporting or encouraging efforts to harm the reputation or legal standing of the district, or to bring other material harm to the interests of the district or the board."
In terms of unauthorized representation to the public, the report noted that "the complaint alleges that board member Cyrier gave false and misleading information to the board, and public, at the Dec. 21, 2022 meeting. Heiden told the board last week Wednesday that "there was no violation there. And so that was a non-issue."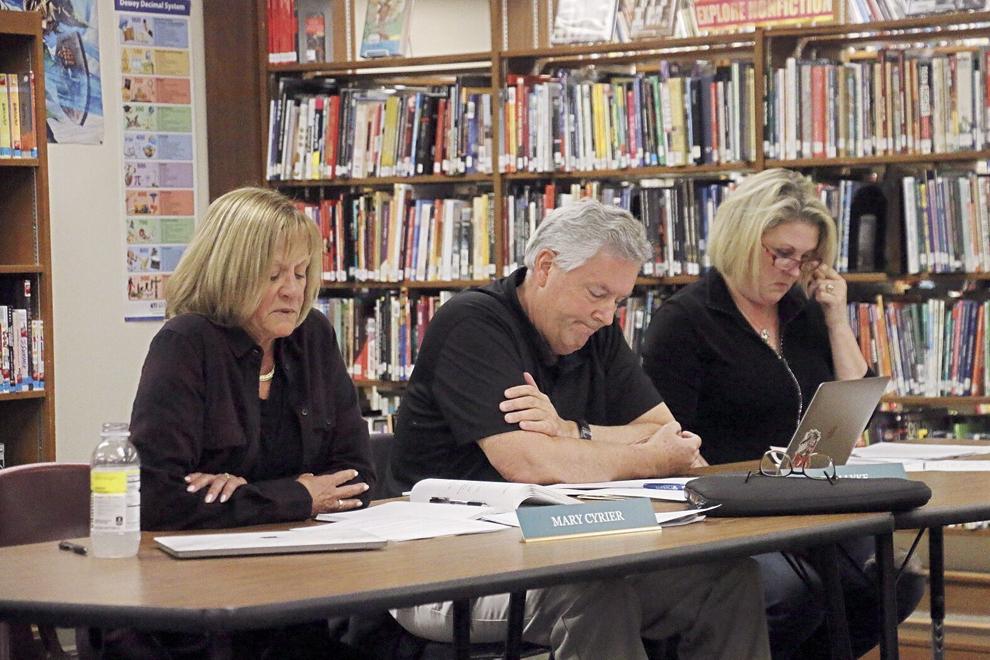 Cyrier's response
Cyrier responded to the allegations in the report last week Wednesday as she went through an eight-page typed response that she handed out to board members, administration, Heiden and those who were in attendance.
Cyrier started by noting she "has been honored to be part of the Green Lake School District" and that "service in the community is extremely important to me and I have a passion for K-12 education and children." Furthermore, she noted because her husband grew up in the area, they are committed to the community and its success. She also said her parents taught her "the importance of service to the community and I have tried to serve in as many areas as possible."
The board member, who was elected to her position last year, noted she "is confused and surprised by these allegations" and that "I have always attempted to do any job to the best of my ability."
"I try to do what is right, be prepared for meetings by making sure I have educated myself and ask questions to assure I understand the issues," Cyrier said. "This has been my approach and goal as a Green Lake School Board member. I want to do the work that focuses on students and creates the best environment for their success."
She claimed that she "asked for the full report after the Feb. 15 meeting since it was stated to be complete that night and ready for a board vote" and that she didn't receive the 136-page report until March 2. Cyrier also stated that "there is a resolution for tonight already presented that finds me guilty on all allegations before my response has even been heard or considered."
Cyrier proceeded to address the three topics that had been stated as allegations, providing parts of exhibits from the report that she believed backed up her arguments and showed she didn't violate the policies of which she's being accused.
She noted in terms of misuse of email and alleged violations of open meeting laws, the "exhibits provided are requests for information or processes associated with various issues. These requests do not constitute a violation of open meetings law or a misuse of email."
Cyrier said "policy 167.5 allows for requests in emails that are not for 'deliberating or rendering decisions.'"
She added "these requests were only my attempts to fully understand the issues, prepare myself for meetings and to make sure that I had the correct materials in order to make an informed vote."
Cyrier went on to note that policy 167.5 Use of Electronic Email states "If a board member does utilize electronic mail, it may be used only for purposes of communicating: A. Messages between a board member and employee(s) which do not involve deliberating or rendering a decision on matters pending before the board; and D. Times, dates and place of regular or special board meetings."
She also said that policy 143.2 Board Member Information Requests states "when a board member would like the administration to compile information, which will require lengthy research and investigation, the request should be submitted to the district administrator." Cyrier maintained her requests to Waterworth did not rise to that level.
In terms of mistreatment of district employees, Cyrier noted "the report states my requests for information were 'nonsensical and irrelevant to the duties of a board member,'" but that "as you can see below, my requests were quite simple and asked for meeting agenda, items and other materials that would be helpful for me to learn as a new board member."
She added that "the exhibits provided as support include 20 instances of email topics between May 27, 2022 and January 12, 2023. This is a rate of three email topics per month. I would agree these are not all emails I sent during this time, but I am simply responding to the evidence provided to support these allegations. This is clearly not 'burdensome' and the requests, as you will see, were quite simple."
Cyrier also noted that "Donna is the board secretary. This means she is directly responsible for the board meetings, minutes, reports, attachment, policies, etc."
She said "at no time in any of these emails was I disrespectful."
As far as mistreatment of staff is concerned, Cyrier wrote "it would never be my intent to embarrass someone in public. I believe in talking one-on-one with employees about issues. However, the work done by the School Board is in public. In my effort to be sure I have accurate information for meetings, I have pointed out things that were incorrect or inaccurate in materials and presentations and asked for correct materials prior to meetings. If Donna was responsible for generating these materials, I could see how she could be embarrassed or uncomfortable."
In terms of her direct communication style, she said "I am direct, yet professional in my communication. I take my role as an elected official very seriously. Also, the work we do on the School Board impacts the community, staff, teachers and children. I try to do all that I can to be sure that I have prepared myself and ask questions that help me make good decisions about issues. I will always ask questions, ask for data, challenge, debate and ask for budget impact. I am passionate about education, teachers, children and success."
Cyrier noted an example of her "passion for doing things right" came on May 18, 2022, when she "sent a very strongly worded email in response to what I considered to be an inappropriate video card that was distributed by Gina to the entire staff. It included language that I found to be inappropriate in a K-12 setting or in any work setting. The video included song lyrics sung by two board members in the video, including 'Looking for your girl, she on my jock,' 'half-black, half-white: domino,' and 'I'm runnin' through these hoes like Drano.'"
She said that she takes "the role of a board member to educate and prepare myself very seriously. I read every attachment, Wisconsin statute and policy. I have been frustrated and vocal about board materials not being provided prior to meetings. There have been repeated instances where materials are handed out at board meetings for a vote that night. Personally, I am unable to vote on something I have not reviewed prior to a meeting. I want to do a good job for the district and make informed decisions, and I can't do that without adequate time to review the materials."
Cyrier added "it is time to focus on the real work of the board, which is education and success of our kids. Rather than fighting among ourselves and spending hard-earned taxpayer money on investigating board members, we should be focusing on the children and their success."
She noted that Green Lake has work to do as in the most recent state report card 75% of 6-12 students and 49% of K-5 students are below proficient in math, while 62% of 6-12 students and 49% of K-5 students are below proficient in English language arts.
"I am not blaming anyone for these numbers," Cyrier said. "Parents, staff, teachers and students have had unprecedented challenges in the last few years. What I am saying is this should be our focus and where we spend our time and money. We spend $6 million a year of hard-earned taxpayer money. It should be directed at students, teachers and staff."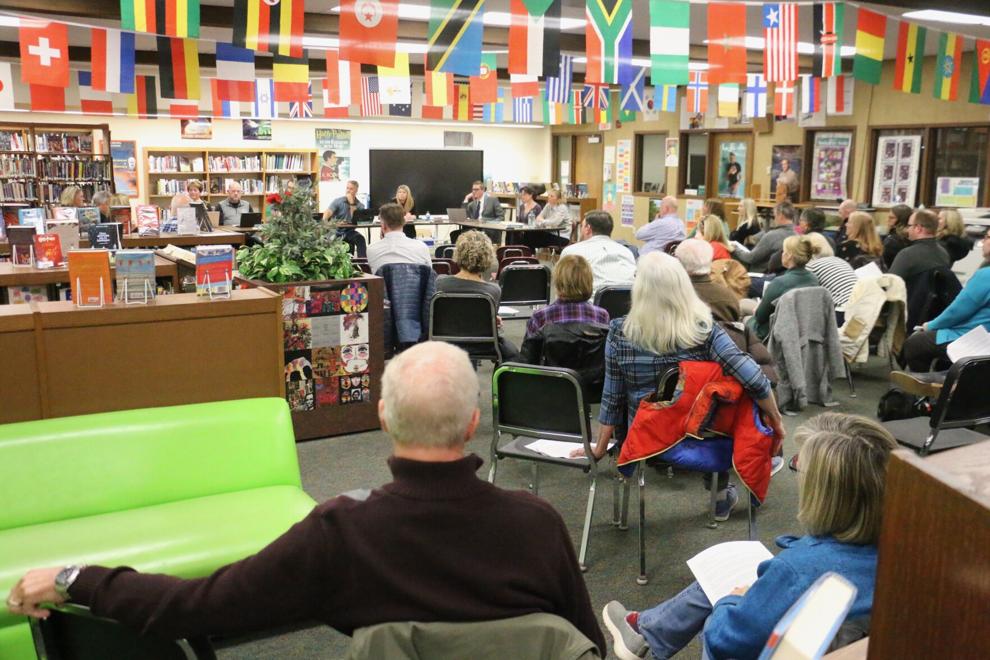 Discussion
Gryske kicked off the discussion by claiming Cyrier "did cherry pick some of the information" in her exhibits, saying in the email string from Jan. 23 to 25 that she "left out the part in the email where I said 'we just received Mrs. Waterworth's resignation that night, let's give it a little bit of time to make sure the school is going to function and we'll bring that up at a later date'" and "the part you left out was a clear violation … of an open meeting violation."
Lyke pointed out if that is a clear violation, then he also is in violation as he said "I'm happy to serve on that task force unless somebody else would like to and then I will step aside." Furthermore, Lyke said Gryske would be in violation as well as he furthered the conversation, so if anyone should be censured it should be all three of them.
He added that Gryske also violated open meetings law when he came up to Lyke and Cyrier following the December meeting where the board was split 3-3 on hiring a strategic planning facilitator and said, "You know what? Bring it up again. I know why it's failing. It failed because the administration was not on board."
Both Lyke and Gryske acknowledged they were wrong and would be fine being censured, but Cyrier never said she was sorry or should be censured, only noting later in the meeting "I did overstep by recommending a committee."
Gryske also noted that "the mistreatment of employees, it was a cumulative effect" and that Cyrier at the Feb. 15 board meeting said that she "went back and only saw two instances where since December that you asked for information." Gryske said the morning of Jan. 9 alone, Cyrier had four requests that were sent in.
Cyrier responded by noting she prefaced her statement last month with "I'm not sure I have this all right, but I think in my quick review, here's what I have" as she didn't meet with the attorneys until 3 p.m. the day of the meeting.
Gryske told Cyrier that the other issue is "being all of these instances where you point out, I copied the board so they could have the information" despite being told "do not reply all" in the previous email sent to everyone.
Lyke chimed in that Cyrier "can reply all if it's not a matter of substance," to which Gryske responded "we were all instructed do not reply all" and that Cyrier was "asked not to do it and then continued to do it."
Gryske also said that Cyrier has stated several times that she's here because she wants to do what's best for the kids, but that he read through the report and saw "many references that you wanted to discuss Mrs. Baxter's review, policies and board items being paperwork, minutes, things like that, but that I have yet to see a single email that references students, kids, pupils or anybody, or mental health of our teachers or anybody else that works in this building that has struggled, especially coming out of COVID."
Sorensen noted her concern is that many of Cyrier's exhibits "relate to asking Donna questions" and that she was "strictly instructed we are not responsible for the staff" and the requests should "go to either the president or superintendent." Cyrier responded that she asked the board secretary for the agenda or wording of a motion.
Sorensen said that it was the amount of requests and that Waterworth is more than just the board clerk, to which Cyrier acknowledged "there are certain days where there are more than others," but she also goes "weeks with no requests."
Lyke said "it's unusual to be in a school district where you funnel everything through the administrator rather than to the staff." He also noted that last year Gryske requested that all requests get sent to him to distribute and that's not the policy either. Gryske said that was the advice he got from the school's legal representative since district staff was overloaded, to which Lyke said, "I don't care if it's legally OK. … It's not practical."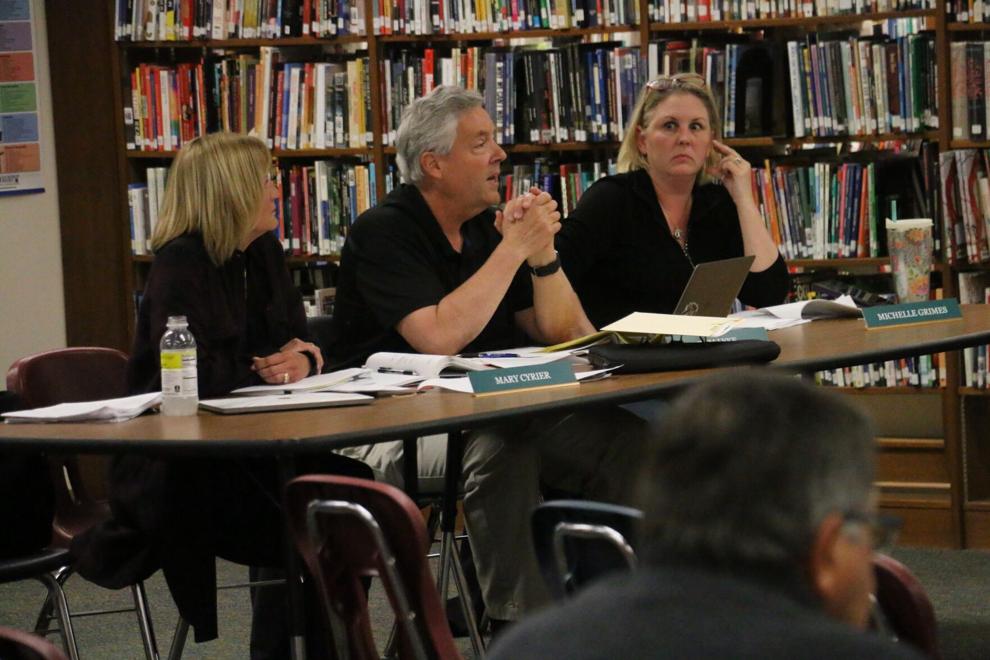 Lyke also claimed that there were times they made requests to Gryske and "they're sort of like ignored" or "dismissed."
In addition, Lyke took offense to the statement in the report that "some staff describe the current status of the board as dysfunctional based on the conduct of board member Cyrier." He said that Green Lake has no onboarding process, that he had to ask twice to have Baxter better brief the board via a memo, board meetings have been kept short and scheduled at times so board members can get to their children's games; committee meetings frequently are canceled or postponed, the superintendent evaluation process has issues, and that Gryske had a predetermined agenda at the last meeting by already having a censure document in his pocket that was probably written by an attorney.
Gryske acknowledged that he was handed the resolution by the attorney when he presented his overview of the report, to which Lyke said "if we're going to punish one of our own; let's write the censure; let's write the punishment."
The School Board president responded, "That's a legal document. ... I'm not qualified to write a legal document like that."
Lyke also asked who initiated the complaint, to which Gryske responded "I'm not going to tell you that." Lyke said Cyrier "has a right to know her accuser." Gryske replied "if I tell you who the four people that brought the complaint to me, that makes them a target for retribution. You want a target? Make me the target … I'm the one that had to send it in."
Gryske added "people still have to work in this building … and I'm not going to put a target on those people's backs."
After a few more grievances from Lyke, which included the board being ready to censure Cyrier in February before reading an unfinished report and requiring a motion before Cyrier could refute Macy's presentation, Bond noted that "this is becoming a bit of a mudslinging campaign that's really not doing anybody any good."
"We all work very hard to do the best that we all can," Bond said. "If we want to start tearing the building down, collectively, we can make that happen by tearing and picking apart all of these little things. But for me, the most important thing that we need to consider here is it really has to do with whether or not you're admitting that some of the things that you did were in violation of the policy. And are you able to make any reconciliation and changes in order to follow the policies that we're all supposed to do, whether we're all at fault of violating policies or not?"
While Cyrier didn't apologize, she noted she "will try to do better" and that "she's really committed to this."
Bond also mentioned that "we need to have a funnel collectively" and "that funnel would provide us the organizational ability to do that and be efficient." Cyrier agreed, saying "then let's put that in policy so we can all follow it."
As a board member who will be gone after the upcoming election, Bond also added, "I think that we as a board, you as a board, whoever's here in a month or two, really needs to evaluate the communication channels and how to work as a team of seven because your opinion does not matter by yourself and neither does mine."