Bill Kinziger doesn't have a dog who is going to be the spokesperson for Ripon High School.
"I'm going to take a different route," he said during a meet-and-greet for principal finalists last week Wednesday. "Randy [Hatlen] is his own person. I am not a TikToker. I do have a dog; nowhere near the patience for what Coach has."
But what the Ripon High School assistant principal/athletic director does have is familiarity and a strong reputation.
Those traits were among the ones that made him the unanimous recommendation by a 16-member selection committee to replace Hatlen, who announced he is retiring at the end of the school year. 
The Ripon Area School District announced Bill Kinziger as the recommended candidate for the principal position at Ripon High School beginning July 1.
The recommendation was approved by the Ripon Area School District Board of Education Monday night. Kinziger's first day in the new position will be July 1.
Kinziger, who was the only internal candidate to apply, was selected over three other finalists. They were New London High School physical education teacher Kurt Schommer, Randolph High School athletic/activities director and teacher Vincent Propson and Manitowoc Public School District Director of Teaching, Learning and Assessment Jason Bull. 
The four finalists for the Ripon High School principal position met with members of the community last week Wednesday and Thursday as they introduced themselves and fielded questions during meet-and-greet sessions at the school.
Two hour-long sessions took place each day, with Schommer and Kinziger meeting with the community last week Wednesday afternoon, and Propson and Bull doing so last week Thursday afternoon. Each finalist had roughly 30 minutes to introduce themselves, field questions from those in attendance and then provide closing remarks. 
The crowd primarily was made up of Ripon High School teachers and staff, along with a few community members.
Kinziger grew up in Clintonville, Wis., as the son of a physical education teacher. He noted that he always thought he wanted to follow in his dad's footsteps, but instead went to St. Norbert College to get an undergraduate degree in broadfield social studies. He followed that up by obtaining a master of education degree from Saint Mary's University.
He then went to the Twin Cities with his wife, Linda, and was a social studies teacher at Howard Lake Waverly Winsted High School for five years before deciding to move back closer to home. After applying to a couple different districts, Kinziger was offered the job as a government and history teacher at Ripon High School and has been there ever since.
During his time at Ripon, Kinziger was part of creating Ripon Exploration and Application Charter High (REACH) in 2006 and Crossroads Academy around the same time, as well as Lumen Charter School in 2011. He noted that REACH, which focused on students who were at risk of not graduating, was the vision of former Superintendent Richard Zimman.
With Lumen, Kinziger said that he — along with his wife and a couple of teachers — were able to create their own project-based learning school and that is what he is most proud of during his time at Ripon High School. The charter school's contract ended in 2019, with 2019-2020 being the last year the Lumen operated as a program.
"The most difficult part of creating Lumen — or being a part of Lumen — is we had to unschool our students because students are schooled so to speak," said Kinziger, who had both of his own children go through it. "We took the emphasis off of being school, playing the game school, doing what you're supposed to do and we put it on learning. And we focused on writing. The biggest thing is we focused on learning and just a totally different mindset for our kids that were in Lumen."
Kinziger also coached football and baseball at Ripon High School, in addition to coaching football at Ripon College.
Kinziger said he didn't know that he wanted to be the principal a year ago and was "kind of vocal about 'I don't think I want this job.'" He noted that mindset began to change this year when Hatlen started talking more about retiring.
"I started prioritizing myself and reprioritizing my life," Kinziger said. "And I said, 'Yep, I want this job. This is part of my priority.' And that's why I applied for it. … That's why I want to be the next principal at Ripon High School. It is my natural progression."
It is that progression and the eight years he has spent in his current role at Ripon High School that he believes sets him apart from other candidates. He noted during a question-and-answer session at his meet-and-greet last week Wednesday that the average person spends four years in administration or at a place and then moves on.
"I am Ripon; I bleed Ripon," Kinziger said. "I have a great rapport with our staff. I believe I've built trust with our staff. I certainly trust our staff. …. And this is it for me. This is Ripon. I love the idea of bringing somebody within. There's a time that we don't need to bring somebody within, but I still think we carry that aspect of bringing an insider into this position."
He also pointed out in an answer to another question that one advantage he thinks he has over other candidates is that he already knows a lot of people in the community. He acknowledged that he could go out to more businesses and create those relationships, which could benefit both the school and students. 
"Randy's great at that. … and I'd have to learn from him," Kinziger said. "He's great at getting money, too."
Kinziger also was asked what the biggest issues facing Ripon students were and what he brought to the table to help address those. He noted Ripon has seen a demographic switch since he's been there and that students in poverty are having a difficult time advocating for themselves, so improving equitability is an area for improvement. The assistant principal said Ripon is the only school in its conference that pays for AP exams for all students and CAPP tuition.
Another area he pointed to as being a concern is mental health. He believes Ripon already is doing a good job with that.
"We're putting a ton of resources into mental health," he said. "I don't have the magic wand … on that one, other than I love what we're doing. I have someone across from me I would say more than 50% of the time while school is going on; a counselor or therapist or whatever it may be meeting with our students, so students don't have to leave the building."
Here's what the other finalists had to say about themselves and how they answered some of the questions:
Schommer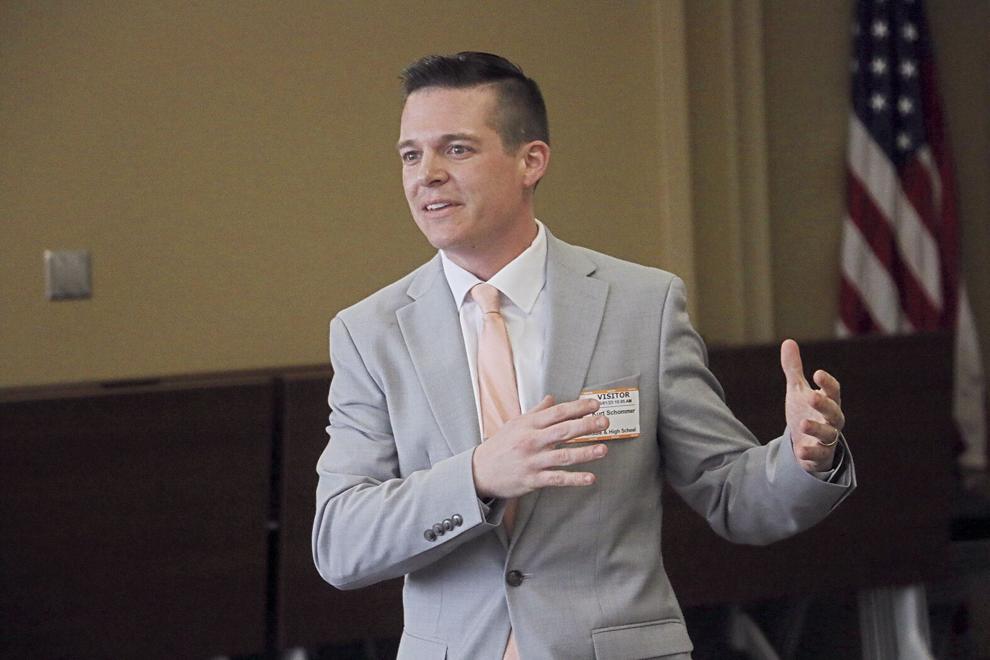 Schommer grew up in Little Chute, Wis., and has been in education the past nine years. 
He spent two years teaching K-4 and then the past seven years at New London High School. During his time at New London, Schommer coached boys' basketball for six years, as well as spent time coaching football and golf. 
He said during the meet-and-greet that he thought he would be a coach for his entire life, but that about two years ago his mindset changed from being a teacher to a teacher-leader. 
As a result, the Little Chute native pursued a master's degree from Viterbo University, which he said that he just finished. 
"I really like what I do now," Schommer said. "I'm comfortable. It's convenient. I'm really good at what I teach, but I want more and I'm not impacting as many students as I feel like I can or as many teachers that I feel like I can."
Among the positive traits he mentioned include being a hard worker, which he traced back to his time cleaning the floor of his father's garage company's large warehouse in Little Chute; a positive person; energetic; and passionate.
"If you talk to anybody that knows me, they would say that I'm a glass half full-type of person," Schommer said. "I believe in the power of a positive mindset. I think  that can change our days and it can change our students' days. … and I believe in the power of positivity and how that can be infectious in people around you."
He noted one of his weaknesses is that he has no administrative experience.
"I look at this in a couple of ways: One, I am an energetic, very moldable, very passionate educator that is going to lead a school someday," Schommer said. "I don't know what school is going to be … but I know I'm going to do that someday. Or you can just say, 'Oh, zero experience. Let's just toss out his resume, not even give him a chance.'"
Schommer is married and has three children, ages 5, 3 and 1. 
His wife, Jacqueline, also is a high school teacher in the New London School District and started her teaching career in 2013 at Murray Park Elementary School.
Why do you want to be Ripon High School's next principal?
"My wife was here in Ripon and she explained all the amazing things that Ripon had to offer. … I love the idea of innovation. I love your commitment to education. The referendum that you guys just passed, it just says everybody in this community is on board. … And people here have been nothing but talking about excellence."
How do you connect with students?
"Over the last year at my high school, I have anchored myself at the front door greeting kids every single day.  … Every time you do that, it's almost like you're putting some pennies in a little piggy bank. And so you keep doing that day after day and now let's just say there's an issue with the student, hopefully you put enough pennies and coins into that bank so you have some validity and some communication and a ground to stand on with that student so we can either correct behaviors, we can modify something in their schedule or we can work together." 
How would you go about developing partnerships within the community?
"First off, I would take a look at what we're doing right now. … What are the partnerships that we have? Where are there areas of needs for growth? I am not afraid to call up a gas station and say we have a couple of students that are looking to work at Kwik Trip because that's where they think that they're going to go after school. Making those cold calls are things I enjoy doing."
What's the biggest issue students are facing and how can you help address that?
"My No. 1 concern about anything is safety … and that's something that I pride myself on. That's why I like to be at the front of the doors. That's why I like to work on safety protocols. That's why I like to meet with teachers and see how they feel about our safety protocols. … I think that a lot of the issues that are in Ripon, there's similar issues in New London, whether it is attendance or engagement or vaping and things like that. And I have had different strategies for all of those."
Propson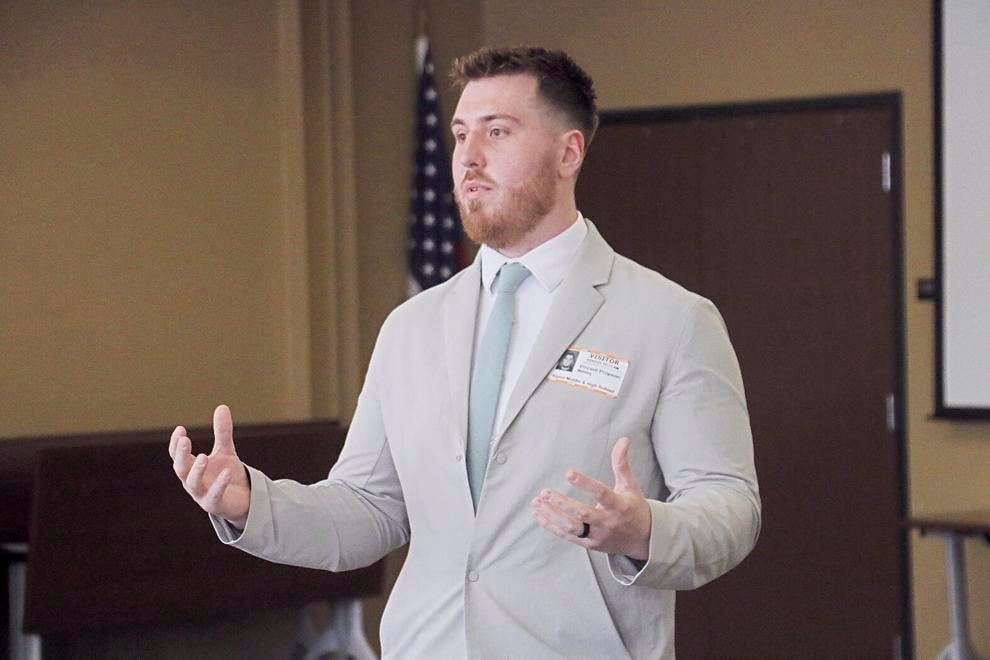 Propson grew up in Chilton, Wis., and resides in Randolph, Wis., where he has been the athletic/activities director and health teacher at Randolph High School since 2000. Prior to that, he spent a year as the White Lake School District athletic director. 
Propson graduated from Northern Michigan University in 2019 with a bachelor's of science degree in secondary education for physical and health education and has taught children from pre-kindergarten to 12th grade. He also obtained a director of instruction licensure and a principal licensure from Cardinal Stritch University.
During his time as the athletic/activities director at Randolph, Propson has grown the number of varsity athletics from 10 to 16, while also starting up theater and forensics programs to get students more connected to school.
Since beginning the theater program two years ago, he noted that the school has put on three plays and hosted multiple choir concerts on a stage at the school that had not been used for a long time. Meanwhile, the forensics program has grown from one student left in the program to 25 and just won a conference championship. 
"We know that if they're connected to the school, they're going to be held accountable more," Propson said of students. "They're going to do better in the classroom. They're going to start to feel that sense of belonging, not just walking in and they have a couple of friends. They're going to feel like they belong to this place."
He added that while sports typically receive the headlines, he has tried to be inclusive in everything that Randolph does.
"Everyone's on the same level," Propson said. "Football is just as important as band and band is as important as our art club and so on." 
Propson's wife, Angela, is an English/language arts teacher at Ripon Middle School. He also has a cousin, Rebecca Wenig, who is a third-grade teacher at Murray Park/Quest Elementary School. 
Propson has two children, a daughter who is a freshman in college and a son who is a freshman in high school.
Why do you want to be Ripon High School's next principal?
"Through academics, you get to impact every single student, every single day and you guys have done a great job as a staff and community to support your students and get them to where they are. … It's a great district to be at based on everything that I've been able to look at, people that I've talked to from other communities that are affiliated with Ripon.
What would you be really passionate about?
"The biggest thing that I'm passionate about is trying to make sure that every single student succeeds to the best of their own personal abilities. We know that not every single kid is ... given the same opportunity.  …  I really see that as the next new wave of education, that we're doing whatever it takes to allow students to succeed. … I'm a strong believer in Universal Design for Learning, so I'd like to provide something in that realm for our students to ensure that they are being successful, whether they're struggling in one skill or another skill or the whole content."
How do you go about developing relationships outside of the school building?
"I do believe that showing face is very important. You're in this position, you're integrated within the community in every way. I do believe that you have to be at events, whether that's activities, athletics, in the classroom, at chamber of commerce events, Rotary club, Kiwanis, you have to be a part of that. If you're not invested in the community, you're not going to be seen as invested in our students."
How can Ripon foster those opportunities for its students?
"We do offer a lot of opportunities for our students here at Ripon to be in the community and a lot for our community to be here in the building already. So it's about maximizing those opportunities. And it starts with creating those relationships with Kiwanis, Rotary and so on. And a lot of our CTE programs do a lot of great stuff already. To try to maximize those opportunities, [we need to] look where help might be needed within the community and try to get our students to be a part of that growth process."
What's the biggest issue students are facing and how can you help address that?
"I think coming out of COVID, most districts were able to identify mental health concerns as being something that affects our teens to probably the greatest extent. I don't think that was recognized as well as it should have prior to COVID. And I've seen that you guys already do evaluations, mental health screenings on students, and you recognize that and you have opportunities and programs for those students to get help. … In addition to that, we've got to look at some data and see where we can grow from there. And I think it starts with making those curriculums meaningful in every way, not just something that we check off the list, but how can students see it as something that is of importance to them?"
Bull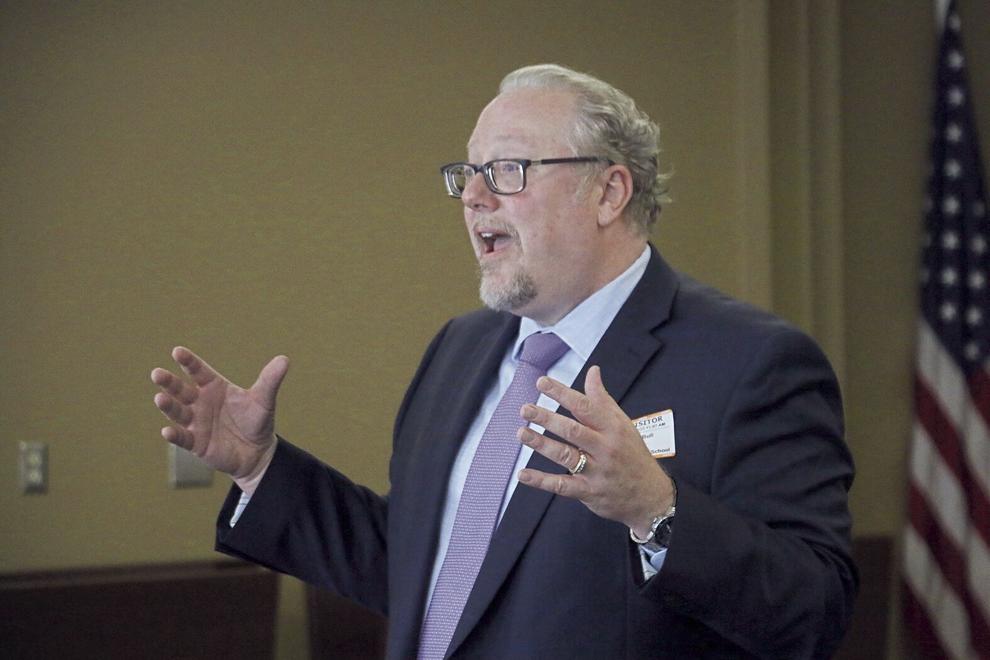 Bull is in his seventh year as the director of teaching, learning and assessment at the Manitowoc Public School District. Prior to that, he served five years as principal and three years as an associate principal at Sheboygan North High School.
In addition, he has taught at the middle school, high school, extension and college levels before entering administration. 
Bull has a degree in mathematics and is certified to teach grades to 6-12. He also has a K-12 principal and director of instruction licenses, superintendent license, is a certified leadership coach and has gone through equity training. 
He noted that with his mathematical background, he is comfortable working with data to identify gaps and celebrate the hard work and achievement of students and staff. Other positive qualities he believes he possesses include working together with others, communicating and bringing stakeholders together to plan and find solutions. 
"It feels like communicating and the way we digest information is changing by the day, so it's important just to continue to communicate and communicate early and often," Bull said. "And then the last thing I point to is that I know that none of that work can happen without building and maintaining relationships, those things are important."
Bull said he was drawn to the principal position at Ripon because, despite every effort, he's not with students enough.
"I want to get back to being around students and the energy and the craziness and the way I find joy working with students," he said. "The area's beautiful. It's a wonderful town. My family spends time here in the summer and it really excites me to know that there's a community and district that understands the past, but is also looking forward."
Bull lives in Sheboygan with his wife and two high school kids, a daughter who is a senior and a son who is a sophomore.
Why do you want to be Ripon High School's next principal?
"High School to me is the arm into the community. We are the last stop of the K-12 organization as students journey into whatever's next. And so I relish, enjoy and have a passion for supporting students in that journey; preparing them for whatever is next, whether it's college, military. Whatever their next is, it is exciting for me to be a part of that work. And to work with a group of staff members on the same page … was fun for me."
Why Ripon and what vision would you bring to Ripon?
"There are many things to be proud of here. ... I met with some of the board members; those folks are collaborating, those folks are here to support, they're on the same team. That is not the case in every district in this world. This district has a clear vision, strategic plan moving forward around some pillars. That is not the case everywhere. And so there are some components that I've done research around, have been solidified in my time here that are exciting and everyone in this room and beyond should be proud of. And the second part of that is, I don't know the answer to what I will bring, but I will come and listen and learn and really value the past, value what's going on here and then over time develop collaboratively a vision moving forward that we're all excited about."
What's your involvement in the community?
"It goes along with the arm of the community, so I want to be a part of the community. I want to be … a presence in community events, but also want to be a part of service organizations and opportunities to volunteer. I want to be part of the community informally by participating or engaging, but also formally in some organizations or opportunities there as well."
What's the biggest issue students are facing and how can you help address that?
"One of the things I'd point to is mental health, social-emotional learning all kind of tied in there. I don't know and I don't think many people know the long-term impact of the lockdown and all those pieces they've had on our students. I also see in my own home at times, this constant flow on the phone, so I don't know if that is impacting the social-emotional impact of that. Our students are navigating some difficult times… so how do we wrap ourselves around thinking about the whole child? Not that math and literacy and science aren't important, but how do we think about the whole child and how do we support those children becoming adults who are really ready to take on challenges, navigate difficult situations, fail and be OK with it ... because we all fail? How do we prepare them the best we can as individuals, and as a group, to be really for that?"