Laconia High School announced the students named to its second semester honor roll for the 2020-21 school year.
Students on the list include: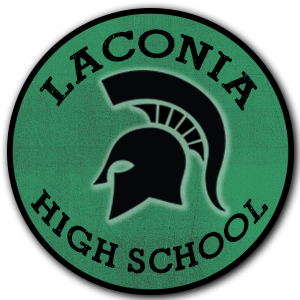 Highest Honor Roll (GPA 4.000 and above):
Seniors — Nora Alsum, Jaden Gosse, Myles Hensel, Jayda Janeczko, Emma Krueger, Monica Lalor, Isaac Leonard, Olivia Mahone, Brianna Pflum, Samantha Piechocky, Lauren Reilly, Haley Rens, Ruth Roltgen, Jazmyne Ruenger, Katherine Schommer, Gavin VandeKolk;
Juniors — Ryan Bailey, Netalya Challoner, Molly Johannes, Marsanna Johnson, Colton Lovejoy, Kaitlyn Radavich, William Riedeman, Annelise Schneider, Annyka Schnettler, Lailah Schuldt;
Sophomores — Maggie Alsum, Talia Erdmann, Bella Geisthardt, Mattie Isaac, Sydney Morgen, Samantha Slonecker;
Freshmen — Matthew Bauer, Alexandria Fauska, Savannah Pionke, Brynn Sievert, Benjamin Steffes, and Callista Vande Berg.
High Honor Roll (GPA 3.650-3.999):
Seniors — Gwyneth Bauer, Andrew Beck, Sophie Bergelin, Mason Bohn, Conner Bruins, Kylie Buteyn, Taylor Davies, Alec Hoffman, Macie Hoinacki, Maria Horvath, Mitchell Kastein, Tate Kimble, Elijah Leonard, Kylie Lichtenwald, KaydaRenee Lopez, Abigail Moore, Emma Mulder, Conner Pollock, Jayden Redeker, Alexys Smit, Harmony Snellenberger, Benjamin Swayze, Jenna TerBeest, George Wager, Megan Waller, Sophia Walters, Matthew White;
Juniors — Emily Balson, Aden Boeck, Autumn Engel, Caleb Frank, Amaya Gosse, Kelsy Laudolff, Samuel Mess, MaKaylee Nimmer, Abigail Oehmcke, Autumn Schroeder, Megan Thurke, Eve Williams;
Sophomores — Ava Bergelin, Madeline Borski, Galena Everson, Raelynn Hansen, Jada Jahn, Reece Keel, Matthew Moore, Jacob Pierstorff, Wyatt Schaefer, Connor Shaver, Zachary Wegner, Allison Wright;
Freshmen — Alissa Barthuly, Kylie Baurichter, Stephanie Bessette, Lilly Boyd, Grace Burling, Caroline Hensel, Mallory Kastein, Keely Kees, Addison Maurer, Alexander Radtke, Elsie Rens, Sharleah Sabel and Keegan Thiem.
Honors (GPA 3.000-3.649):
Seniors — Sierra Bohlman, Miranda Boyd, Kaysie Chitwood, Gabrielle Czoschke, Brielle Drews, Treyton Gold, Brenna Grainger, Sawyer Hau, Emilee Henker, Avry Henning, Brynn Johnson, Mason Kind, Trey Laudolff, Shelby Lienhard, Michael Lonnee, Will Mattheis, Faith Paine, Aidan Pinno, Ashley Pionke, Nicholas Pitts, Jerin Pucker, Nathan Ronson, Logan Sauer, Brodey Schroeder, Bryana Smit, Jack Walters, Kolton Witkowski;
Juniors — Lindsey Achterberg, Isabella Beltezore, Makayla Brewington, Cassandra Coffeen, Dillon Conger, Dakota Deich, Lydia Erdmann, Zaria Haseleu, Lydia Lange, Madison Lemke, Cody Leonard, Isaiah Loomans, Brianna Lundt, Christopher Palmer, Austin Rens, Kayla Seggerman, Mackenzie Sheehy, Trenten Strook, Matik Sullivan, Logen Sullivan, Rhaiyana Way;
Sophomores — Grace Clark, Keanu Duel, Draven Edwards, Carter Farrell, Jaeden Grade, Miles Jaeger, Tyson Keel, Dakya Kemnitz, Jared Kieffer, Cole Kind, Lakely Kloetzke, Joshua Lalor, Lillie Langenfeld, Mitchell Ludtke, Whitney Madison, Reed McCauley, Courtney Meenk, Lukas Mulder, Rhilee Norton, Tyler Rabe, Natalia Ramirez, Colton Tasch, Sydney Treptow, Zachary Vergeront, Benjamin Weber, Gage Wehle, Benjamin Westphal, Morgan Wiercinski, Alexander Wuest, Paige Zickert;
Freshmen — Karsyn Buteyn, Cory Conger, Austin Flores, Willow Fry, Oliver Glewen, Keeton Grade, Alexandra Janeczko, Dylan Kastein, Sophia Knoke, Emma Ladwig, Conner Lichtenwald, Julia Pierstorff, Bayley Pitts, Grace Pitts, Naomi Respalje, William Schommer, Alyssa Schuler, Kaylee Taplin, Cole Theyerl, Faith Thull, Evyn VandeBerg and Melissa Waggener.