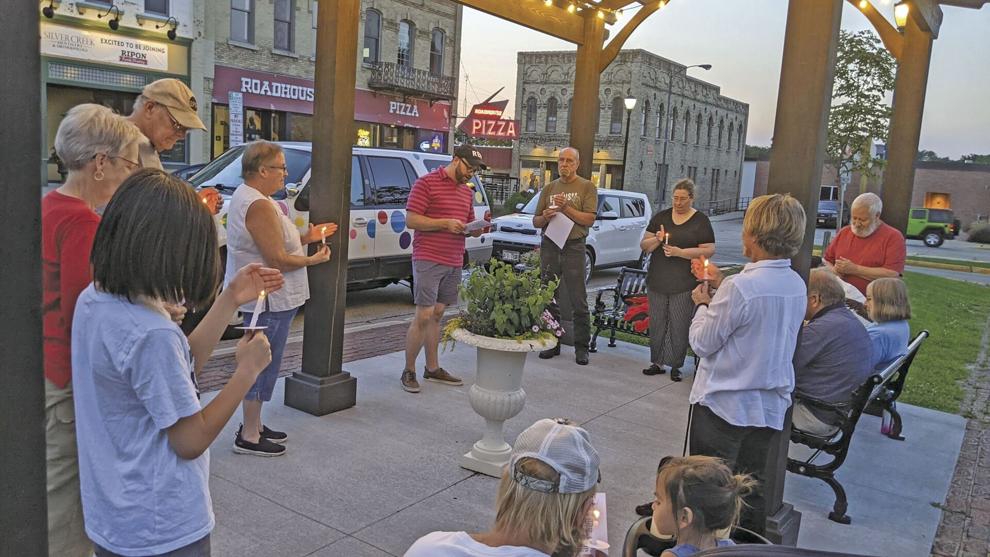 Candlelight shone beneath the Pergolas in Ripon's Rotary Square last week Saturday, honoring the late Rep. John Lewis, who dedicated his life to fighting for civil rights.
The League of Women Voters (LWV) of the Ripon Area joined leagues across Wisconsin when it hosted a candlelight vigil in recognition and remembrance of the fight for voting rights Lewis led from the 1960s through his death last year.
Saturday's gathering in downtown Ripon was dubbed the "Good Trouble Tribute" to honor Lewis' non-violent protest methods that he described as "good trouble."
During the vigil, the Rev. Jeffrey Dodson discussed Lewis' role in voting rights and led attendees in prayer.
"We give thanks for the life and legacy of John Lewis, a laborer in the restoration of the great covenant of our nation which promises us 'freedom and justice for all,'" Dodson said during his prayer. "We are reminded by John Lewis that, 'Freedom is not a state; it is an act. It is not some enchanted garden perched high on a distant plateau where we can finally sit down and rest. Freedom is the continuous action we all must take, and each generation must do its part to create an even more fair, more just society.'"
League of Women Voters honors John Lewis with 'Good trouble' vigil in downtown Ripon
LWV of the Ripon Area President Ellen Sorensen said Dodson "did a masterful job capturing Rep. Lewis' decades-long fight."
Attendees also participated in a moment of silence, sang "Amazing Grace," shared stories of Lewis and discussed how American history has selectively not shared all history, according to Sorensen.
The league chose to pay tribute to Lewis because both share a message of having educated voters and welcoming all United States citizens to exercise their right to vote, Sorensen said, noting the league was founded in 1920 by Ripon native Carrie Chapman Catt who was born in Ripon.
She explained that the non-partisan LWV encourages informed and active participation in government, while working to increase understanding of major issues and influence public policy through education and advocacy.
"For over 100 years the LWV has worked to expand voting rights. As we enter our second 100 years, the struggle continues," Sorensen said. "Many states including Wisconsin have been working to curtail voting rights.
"For Wisconsin, in particular, voting rights have disintegrated over the past 30 years."
Back in the '90s, she says Wisconsin was "an example of best practices in voter registration" that was "held up as an example of best practices nationally," but "that is no longer the case."
"We celebrate the work and 'good trouble' of John Lewis as a partner and example of non-violent civil disobedience in the same vein as David Henry Thoreau, Mahatma Gandhi and Carrie Chapman Catt," Sorensen said.
She added that continuing the fight for voting rights in Ripon is significant because it honors Catt's legacy of advocating for expanded voting rights as Catt was the architect of the 19th Amendment that ended women's suffrage.
Additionally, Catt founded LWV to educate voters, study issues and find consensus on policy positions.
"It is that premise by which the league still functions today," Sorensen said. "Educate the electorate in a policy-based, non-partisan manner and expand voting rights to all citizens of the United States."