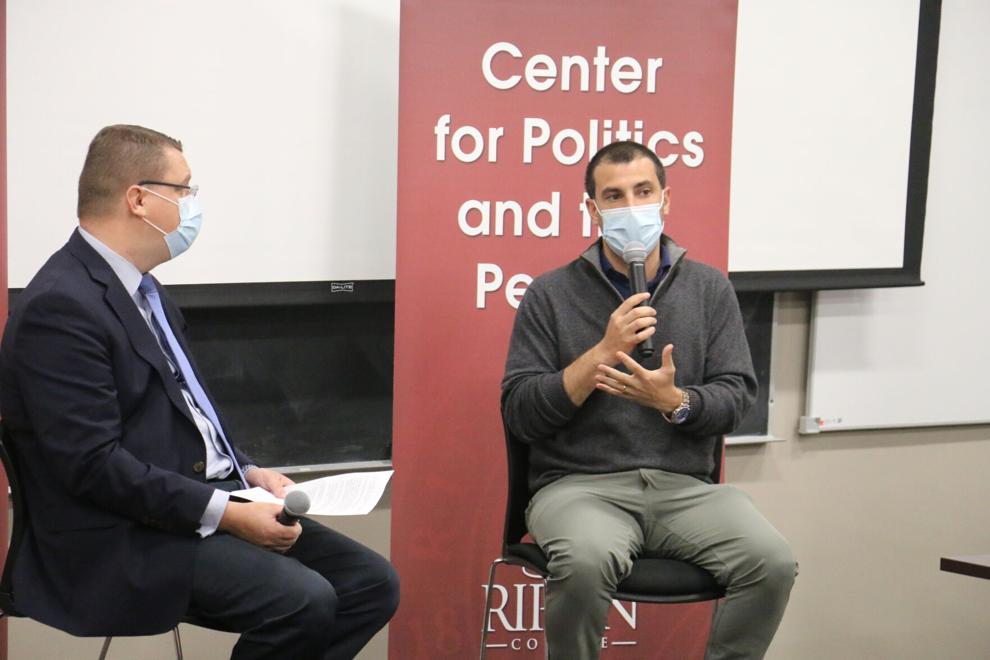 Milwaukee Buck co-owner and U.S. Senate candidate Alex Lasry framed himself as a progressive businessman who wants to get things done during a recent appearance at Ripon College.
The discussion with Lasry was hosted by the Center for Politics and the People at Ripon College and was moderated by Political Science professor Henrik Schatzinger.
During his stop at Ripon College last week Thursday, Lasry touched on an array of topics including the filibuster, partisan gridlock and workers rights.
Lasry described the story of his father Marc Lasry's upbringing as a jewish immigrant, who received a public education, learned to speak English at school, worked his way through college, got a union job and rose to become a billionaire hedge fund manager and co-owner of the Milwaukee Bucks.
"He always says that his story couldn't have happened in any other country other than this one," Lasry said of his father. "That's something I've taken to heart, and I've always believed that we should be giving back."
In today's America, however, Lasry believes it's much harder to achieve the American dream than it was when his father rose through the ranks in the 20th century.
"It's become increasingly harder to have that story written and to have that opportunity," Lasry said. "Our public school education system is crumbling, the infrastructure for public school education. We continue to see divestment in public school education, and in our university system."
That's why he's running for Senate, despite not planning to become a career politician, he said.
"For me, being a senator is not a career, it is a job in public service," Lasry said. "I have always said, I would rather be voted out of office because I tried to do things and accomplish things and spent that political capital rather than playing it safe."
Aside from serving on the leadership team for the Milwaukee Bucks, Lasry noted that he interned for Senate Majority Leader Chuck Schumer (D-New York) before working for the White House during the Obama administration.
In recent years, Lasry said he's grown frustrated with the gridlock in Washington, D.C. He pointed to his record of "getting things done," from forging a public-private partnership to construct the Fiserv Forum and the Deer District, to his role in trying to bring the 2020 Democratic National Convention to Milwaukee.
"One of the reasons I decided to get in was because I wanted to make sure that we were able to have the right people in office who could do good," he said. "One of the things that I've been most frustrated with is the fact that we keep sending politicians to Congress who make all these promises, and nothing gets done."
He said the country has seen multiple crises over the last 20 years including 9/11, the Great Recession and the COVID-19 pandemic, which have shown that the government needs to take a more proactive role in helping people recover.
"The news out of Washington is always problematic," Lasry said. "You don't hear about the great pieces of legislation or Congress coming to see a crisis and fixing it and making sure that we're prepared for the next one."
In terms of the increasingly polarizing nature of partisan politics, Lasry said the problem is lawmakers who aren't going to Washington to pass legislation for their constituents, but rather going because they like power.
He noted there aren't enough politicians who know what it's like to negotiate a deal, with the understanding that compromises need to be made.
"To negotiate a deal, that means I'm not going to get 100% of what I want, but that's okay because if you get 80% of what you asked for, that's progress," Lasry said.
The Milwaukee Bucks co-owner added that obstruction has become rewarded in modern American politics, where politicians return to their home states to brag about the legislation they blocked instead of the legislation they passed.
He suggested abandoning the filibuster as a way to end the obstruction in Washington, noting it would give both parties the chance to pass legislation when they hold majorities in both chambers of Congress and the White House.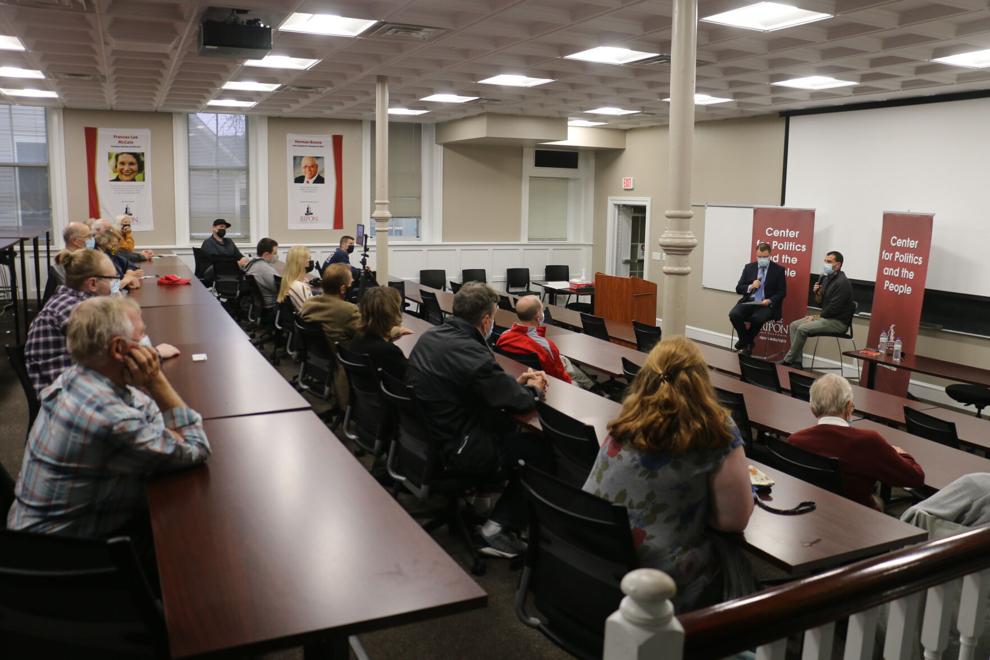 "That's what elections are for: You have that debate, and hopefully you win that argument, and your party gets elected; you then should be able to do what the voters asked you to do," Lasry said. "If they don't like it, they vote you out in the next election."
Lasry said he would support legislation to provide tax incentives to businesses for their behavior, pointing to allowing employees to unionize or returning supply chains to America as examples.
"These are the things that we want to incentivize so that companies and workers are all winning, because … I want American companies to succeed," he said. "... If you're doing the things that will help grow this country and grow our economy, you should be rewarded for that.
"I have no problem with companies making a lot of profit, and I want to make sure small businesses can grow and make a lot of profit. I think that's great, but I also think we need to make sure that that's not coming on the backs of the people working."
When crises — such as the COVID-19 pandemic — happen, Lasry said the government has a role to help businesses suffering "through no fault of their own."
However, he added that the government still needs to let the free market work to weed out businesses with a bad business model and promote innovation.
"If I do have a bad idea, that business should fail. We don't need bad ideas," Lasry said. "But what we do need are people who have good ideas and who are running their business successfully to be protected for when something happens through an act of God."
On the topic of healthcare, Lasry said he was in favor of a "robust public option," while preserving the private insurance industry.
"If unions want to be able to negotiate for better healthcare packages through private insurance, or a business wants to offer it as an incentive, then they should be able to," he said. "If you don't want to be on that package, you should be able to be on the public insurance. It shouldn't be that if you have this job, you're stuck with that insurance."
Overall, Lasry said, if elected, he wants to represent all Wisconsinites in Washington — not just Democrats — because the problems impacting the state aren't exclusive to one party.
"A lot of the issues that face the state of Wisconsin aren't rural or urban; they're Wisconsin issues," he said. "We've got clean water issues in rural Wisconsin, we've got clean water issues in urban Wisconsin."