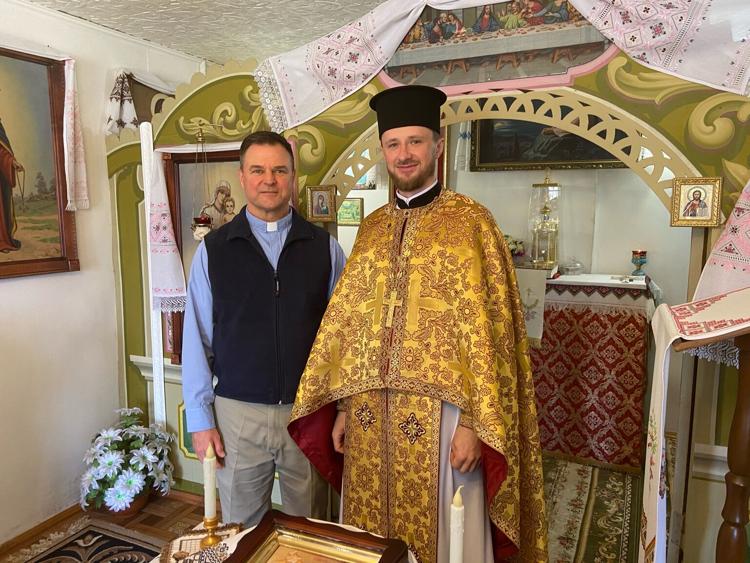 Cornhole, sitting around a fire, barbecuing, fishing, hiking … It seems like a typical summer in Wisconsin.
People may take for granted the leisure of these activities when they don't have a mission to complete, and when they're not thousands of miles away from home.
These are just some of the activities the Rev. Clay Salmela did in his spare time while stationed in western Ukraine for 10 months, from October 2019 to August of this year.
He has been the pastor of Grace Evangelical Lutheran Church since 2011. He also is a husband, a father of three and part-time brigade chaplain in the Wisconsin Army National Guard 32nd Infantry Brigade Combat Team.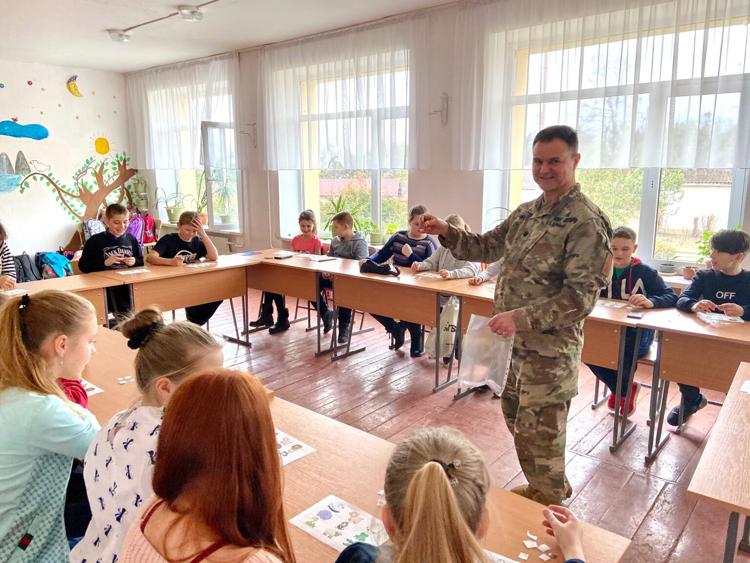 Salmela said that in western militaries, chaplains serve as a "moral compass" for the unit. Additionally, they help their unit with counseling, services, devotions, invocations and benedictions, as well as study religious demographics.
Mission in Ukraine
The mission, Salmela noted, was to train Ukranian military forces to be more independent from their predecessor rulership, the Soviet Union. He was in a 165-person element of the brigade team to help Ukranian forces adapt to new circumstances.
After Ukraine declared its independence in 1991, the country began a transition to conduct business its own way as opposed to "the old Soviet way." Part of that was to transition its military to a more western style, Salmela said.
But in 2014, Russia annexed the Crimean Peninsula, which had been part of Ukraine, and invaded the eastern side of the country. Ukraine deployed and mobilized its military resources to defend its country, but it was stuck with old equipment.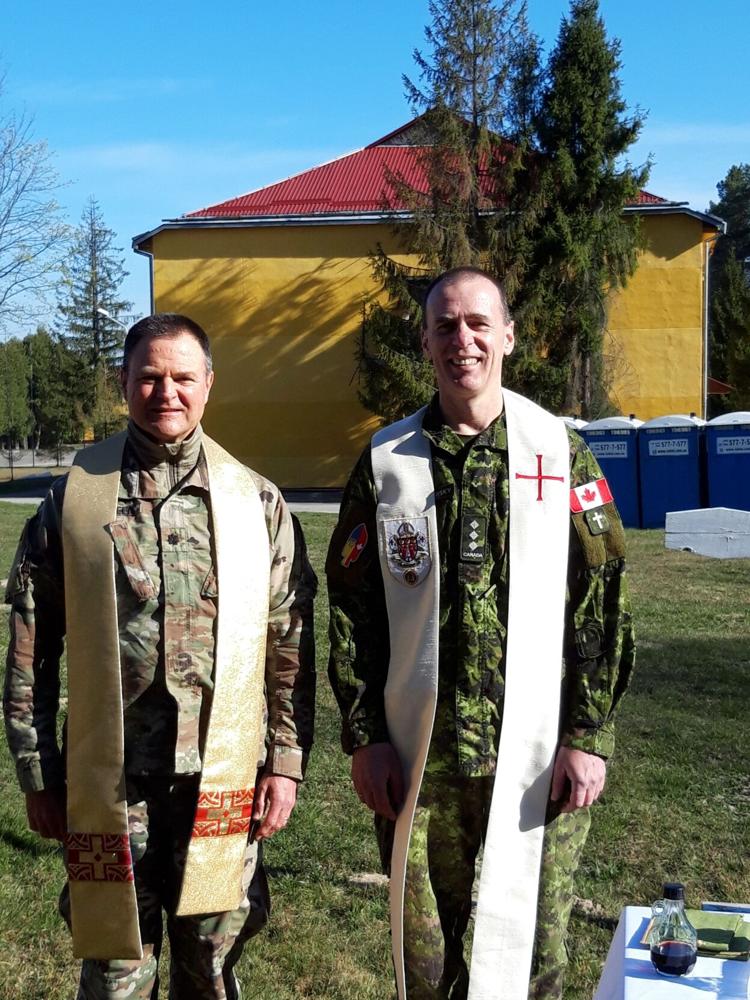 "Ukraine is not as wealthy as the United States or many western countries. They were strapped for resources," Salmela said.
NATO, Canada, the United States and Canada have been providing economic aid to Ukraine since that invasion in 2014.
"For several years now, there has been a multinational program of NATO countries to have a presence in Ukraine to help train them so that their military forces are better trained and better able to defend the country," Salmela said.
He and the rest of the element were stationed just outside of a larger city in Ukraine called "Lviv." The unit he was assigned to was called the "International Peacekeeping and Security Center."
This location was multinational, where military units from countries such as Canada, Poland, Lithuania, Denmark and Sweden also were there to assist in Ukraine's growing independence.
"It was a political statement to let the Russians know that there are several countries that are supporting Ukraine in their efforts to defend their territory and their independence," Salmela said.
He added that the Soviet Union stressed atheism, so belief in any religion was strongly discouraged. The chaplain corps was still very new to them.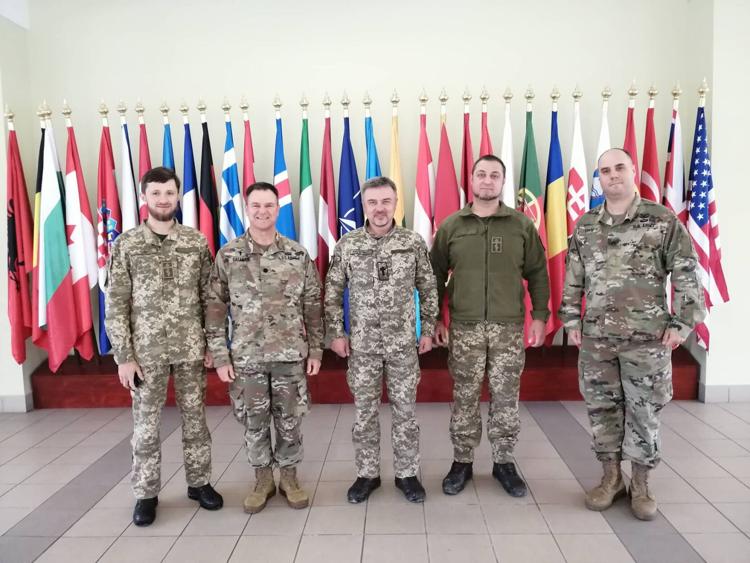 "Ukranians are a good, solid people," Salmela said. "When the local people would find out that we were Americans, they were so welcoming and so appreciative that we were there to help.
"The sense of appreciation that they have for what we're doing to help them, it was really gratifying. I never felt taken for granted. They were really willing to work with us, to share knowledge with us, to learn knowledge from us, to work in partnership, to learn about our culture, to share their culture."
In one particular training, Salmela went over the Military Decision Making Process with the Ukranian chaplains to help them look at courses of actions for a certain goal. They set up hypothetical situations for which the Ukranian chaplains would utilize the seven-step process to determine the best actions to achieve the goal at hand.
"It was really interesting to get to know our Ukrainian counterparts, do some good training, good classes and help Ukrainians stand up their chaplain corps."
Off-base activities
Aside from working with Ukranian military personnel, Salmela spent a lot of his free time out in local communities.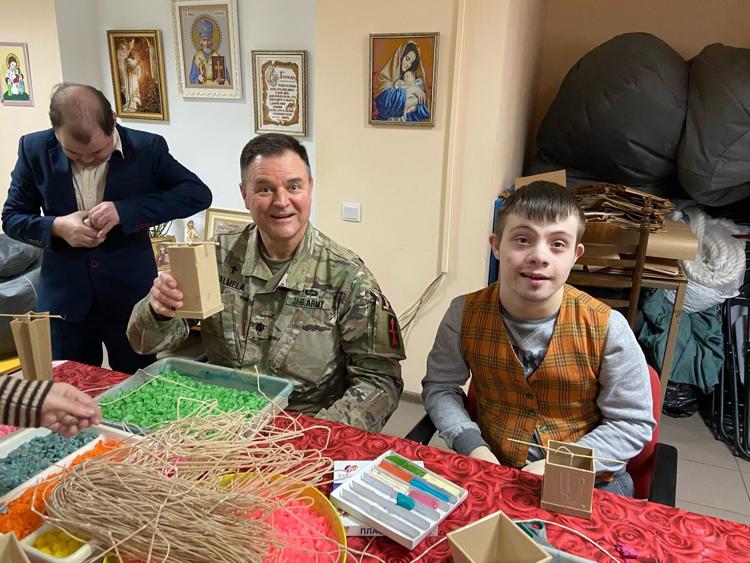 In two villages nearby, he and some volunteer soldiers would go to schools to help the students learn English. They played games to help them practice saying words and phrases.
When they played volleyball, he would have them keep score in English, or make sure they knew words like "set," "the ball," "the net," "serve" and "rotate players."
A social center for cognitively impaired children and adults to spend the day while parents or caretakers were away also was nearby. Salmela and soldier volunteers would go to do some activities with them, such as candle-making.
Additionally, there was a committee dedicated to helping keep spirits up at the base. The unit held Morale, Welfare and Recreation (MWR) events that were good for the mind while being away from home.
Some activities led by the MWR committee included cards, bingo, karaoke, Bible studies, excursions off-post, 5- and 10k runs and even a marathon.
Coronavirus challenges
But when COVID-19 hit, everything changed.
Social distancing was put into place, capacities were cut in half or more, and units were confined to only the base.
"No more going out and experiencing the culture," Salmela said.
He added that training with Ukranians was suspended for a number of weeks and contact there was severely limited with their multinational partners.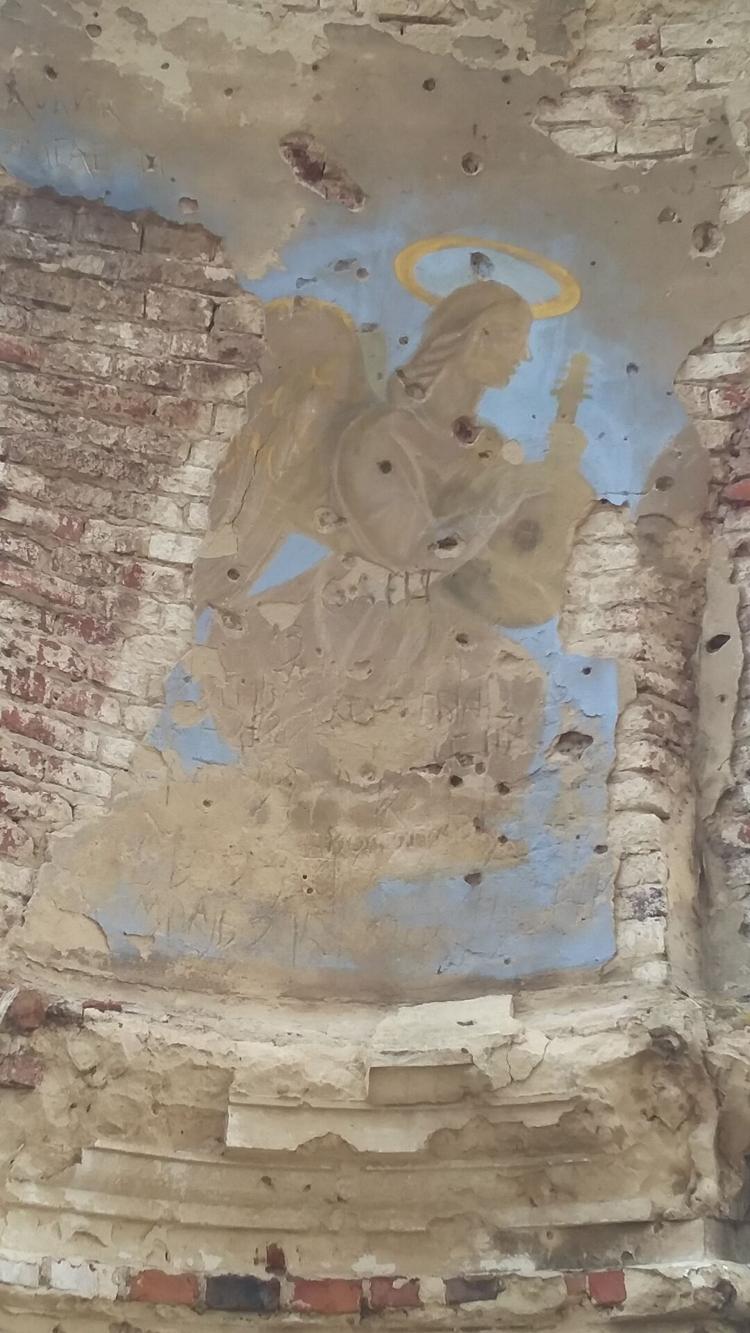 Additionally, communal places on post also were shut down, such as the gym, the base's tavern, and even activities were prohibited such as playing games and sitting around fires.
"That took a toll on people's morale," Salmela said. "That increased our counseling load by quite a bit. We had to work within that environment to help keep soldiers' morale up and focus on continuing our mission as best as we could."
With the mission in mind and plenty of activities, soon to be cancelled by COVID, that initially helped keep soldiers' minds off what they were missing back at home. But as time went on, it started to wear on everyone, including Salmela.
"I missed my family, I missed being there for important events," Salmela said. "My wife would be quick to tell you that I've probably been away for military training on more anniversaries than I've been home. You miss those hard things: you miss anniversaries, you miss birthdays; that tugs the heartstrings."
Luckily, Salmela and many other deployed soldiers had an app called "Signal," where they could make encrypted calls with ease from anywhere with a signal.
"It was just like calling from one community to another; say, from Ripon calling somebody in Berlin, Salmela said. "It's still hard, but it helps that we're able to talk with [family] on a regular basis."
Return home
The unit's final day at the Ukranian base was July 31. They then flew to Fort Bliss in New Mexico to quarantine for 14 days before flying back to Volk Field in Madison.
After his arrival home on Aug. 21, Salmela recalled the emotions he felt throughout his deployment.
"You get on that plane and you're not coming back for 10 months," Salmela said. "But after that moment is over, you focus on the mission, focus on the people that you're with, building those friendships and professional relationships that we'll need to do the mission. … You focus on taking care of your fellow soldiers, you focus on what's coming up ahead."
Salmela added that arriving home was bittersweet because his family couldn't attend the welcoming ceremony.
But he said it was all right because what he was doing in Ukraine was what really mattered.
"The most rewarding thing for me was making those relationships with the Ukrainian chaplains and making friendships, professional relationships, sharing our cultures and sharing our professional knowledge."
On top of new friendships, Salmela noted it was important that he deepened his relationships with his fellow U.S. soldiers, and that they accomplished the mission they were sent to do.
"The people of Wisconsin can really be proud of our Wisconsin Army National Guard and the mission that we did there," he said. "It was time and resources well spent to share with a country that's really in need and a country that really appreciates what we're doing to help them."