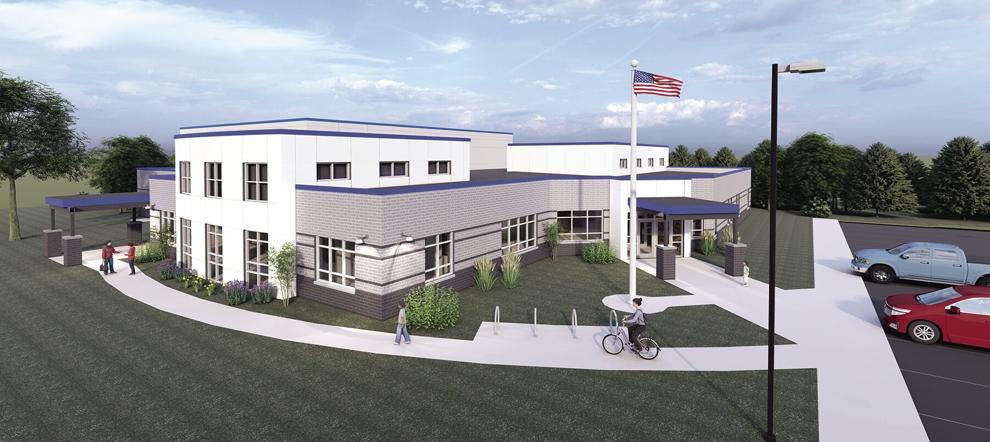 After more than five years of work by the community, it's official: Ripon will get a Boys & Girls Club — pending the closing of the sale of the former Republican House restaurant, located at 303 Blackburn St.
"We are more than thrilled that the new site will give Ripon's youngsters a safe, accessible, vibrant, and exciting location where they can benefit immediately, as well as in the long term, through programming that includes academics, health, recreation, leadership and character building," said Mary Lyke, board president for the Boys & Girls Club of the Tri-County Area and someone who worked tirelessly to bring the Boys & Girls Club to Ripon.
The Boys & Girls Club of the Tri-County Area announced Tuesday that an offer to purchase the Republican House was accepted by current owner William MacLeod, who is an attorney and Ripon College trustee.
The amount of the purchase has not been released, but the sale was made possible through a private gift that helped the Boys & Girls Club solidify investment in the community and its youth.
"That gift, I think, acted as a catalyst for both the leadership of the Boys & Girls Club, the board of the Boys & Girls Club and the Ripon steering committee to give us a sense of 'This can be done,'" Boys & Girls Club of the Tri-County Area CEO Jason Presto said. "Seed money like that — when somebody comes forward and invests in kids and invests in the community in that kind of way — is truly inspiring to others."
FINDING THE RIGHT LOCATION
The Republican House property has sat vacant for more than 12 years, resulting in irreparable damage to the building.
It will serve as the site of a new state-of-the art building centrally located between Barlow Park/Journey and Murray Park/Quest elementary schools, enabling the club to serve elementary-aged children and the community by offering staffing opportunities to Ripon College students looking for job experience. In addition, the center also will eventually provide programming and services to Ripon middle- and high-school age students.
The Boys & Girls Club looked for a suitable site in Ripon for a while and even explored partnerships with churches and the Ripon Area School District for shared spaces, Presto said.
He said the club also explored a potential site on the west side of Ripon with a developer, but neither the shared spaces nor the west side development materialized.
"We gained so much support and traction in getting this done one way or another, that the notion of building was going to be the path to bringing a club to the community," Presto said. "As such, you're fairly limited to the number of available parcels in the community, of a certain size and in a certain location that would be well positioned to meet the needs of the community."
The Republican House ended up being the ideal location due to its visibility and close proximity to the elementary schools, Ripon College and Selfridge Park, he explained.
"There just aren't a lot of opportunities to acquire over an acre of property in the middle of town, in such a visible location," Presto said. "The position between the two elementary schools is ideal for parents in terms of drop off and pickup access and bus routes. It [also] has a residential feel to it."
The Ripon site aims to pay homage to the history of the Republican House building, like the Boys & Girls Club in Berlin pays tribute to the former Washington School property.
Presto explained that the Berlin site utilized an iconic statue of George Washington from the school in the club's front lobby.
"We haven't given a ton of thought to how we will do that in Ripon, but in some way, shape or form, we will definitely include some sort of display or homage to the building," he said.
The Little White Schoolhouse, which is on a neighboring piece of land to the Republican House, will remain untouched by the acquisition.
"This project will be a wonderful addition to the community and would not infringe on the integrity or landmark status of the Little White Schoolhouse," said Tyler Howe, state archaeologist and compliance manager for the Wisconsin Historical Society's Preservation office. "We are excited to work with the Boys & Girls Club to bring this project to life."
COMMUNITY EFFORT BRINGS CLUB TO RIPON
Discussions surrounding a Boys & Girls Club site in Ripon began more than five years ago after the community showed interest in a more robust after-school program.
"The Boys & Girls Club by its nature does not set out to build clubs or put clubs in other communities and force its way into a community. That's not how growth happens," Presto said. "Clubs have to be needed, wanted and there has to be the ability to support them financially in the local community."
To address the community's request, the Boys & Girls Club established an ad hoc steering committee composed of community members including Tim Lyke, Drew Diedrich, Lee Baird, Pat Grahn, Mary Avery, Tami Schattschneider and Jolene Schatzinger.
The committee conducted a community-needs assessment by holding interviews with community members, potential donors, parents, business leaders and school personnel, which was followed by a public town hall meeting.
These efforts led to creation of a permanent steering committee comprised of club President Mary Lyke as well as board members Baird, Diedrich and Craig Johnson.
"This doesn't happen without them," Presto said of both committees. "... They put in hundreds of hours, they asked all the right questions, they met with all the right people and in the end it was obvious from the feedback we got that the city of Ripon lacked and needed consistent, year-round and affordable youth programs."
BENEFITING THE COMMUNITY
The process uncovered a need for a "whole-child" approach to youth programming, which aims to meet basic needs of children. That includes meals, hygiene, family support as well as academic and recreational programs.
For children to thrive, their basic needs need to be met, which is why the Boys & Girls Club aims to "eliminate barriers" to maximize children's opportunities, according to Boys & Girls Club of the Tri-County Area Operations Director Mindy Collado.
"Bringing a club site to Ripon enables us to support working parents year-round and provide a safe place for children to be cared for by trained youth development professionals," Collado said. "Over the past several years the number of Ripon families utilizing our Berlin site in the summer has continued to grow and more and more families are inquiring about a club in Ripon.
"We've worked hard to make this dream a reality and we look forward to serving the families of Ripon."
As private, non-profit organizations, the more than 5,000 clubs across the country rely predominantly on private and corporate giving to build and sustain their programs. The same will be the case in Ripon.
"No question, and not unlike the club in neighboring Berlin, it will take a village," Presto said. "However, we are confident and hopeful that the residents and companies of Ripon are up for that challenge."
Presto added that roughly 40% of youth remain residents in their local communities, representing "some of our lowest achievers."
"As such, it is critical to invest in the youth who need us the most in an effort to improve their overall quality of life while helping lift up our community," he said.
In fact, every $1 invested in a Boys & Girls Club facility results in $12.46 being saved on future healthcare, social service and incarceration costs, according to a 2018 University of Michigan Study.
"We have a choice, spend a little bit now or a lot later," Presto said. "We believe in the club's ability to level the playing field and create opportunities for all youth. We are excited and privileged to be given the opportunity to meet those challenges, working alongside community members."
He added that the Boys & Girls Club looks to serve children from all walks of life.
"It doesn't matter if you're rich or poor, or black or white, the reality is that any child — even from the most wealthy, affluent background — is at risk of bullying, is at risk of hanging out with the wrong crowd [and] is at risk of getting involved with drug and alcohol issues," he said. "The Boys & Girls Club is a place for all kids to grow and develop into positive contributing members of this community."
Additional details about the project will be made available to the public as they are finalized, including a timeline and architectural renderings.
"I believe that indeed, it takes a village, but I also think that while the village is busy doing what villages do, the Boys & Girls Club will guide our youth onto a glide path from which they can launch into adulthood as successful, responsible, contributing adults," Mary Lyke said.