By the time the fire at 518 E. Jackson St. was discovered Sunday afternoon, it was already too late for the upstairs resident to escape.
Fortunately, the quick actions by neighbors helped ensure that no one was hurt.
"We got a call of a house fire with somebody trapped on second floor [of that home]," Ripon Area Fire District Chief Tim Saul said.
When that call came in at 1:53 p.m., the fire already was burning rapidly at the multi-family residence.
"The first-floor occupant heard a crackling noise ... She looked out the kitchen window and the entire side of the house was involved," Saul said.
The resident immediately started screaming for the upstairs occupant to escape, but the outdoor stairwell to the apartment "was already blocked by fire," Saul added.
With no way out of the apartment, neighbors stepped in to save the woman trapped on the second floor.
"Police arrived first and found the neighbors from across the street had a ladder and were helping the person down the front of the building," Saul said. "By that time the side of the house was fully involved ...
"The neighbors should be recognized for doing what they did."
Though the occupant had been asleep when the fire started, she escaped safely with the help of Ripon Police and neighbors, ensuring no one was injured in the blaze.
The home, however, was heavily damaged, even though the first firefighters arrived in record time.
"The Rapid Response Vehicle was out doing some driver training [when they saw] the smoke and started to go that way," Saul said. "Their pager activated about 15 seconds away — they were literally a few blocks away when that call came in."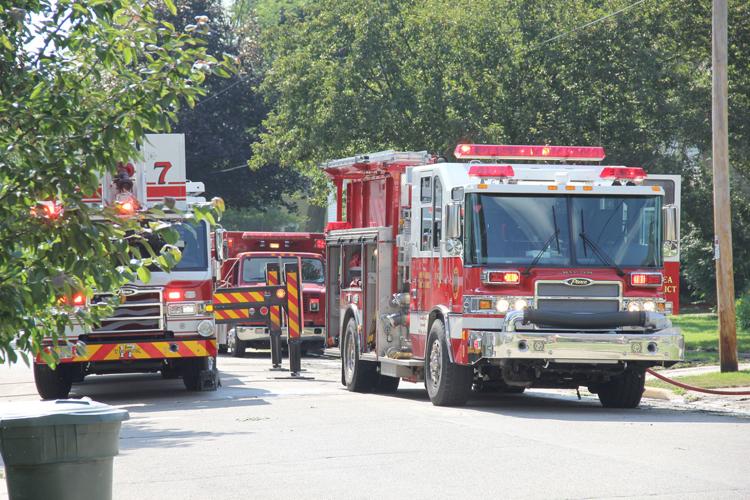 So, within 45 seconds of the call to 911 coming in, the Rapid Response Vehicle was on scene.
"If we wouldn't have had that [vehicle so close], the engine probably arrived 5 minutes later, and that probably would have been the difference," Saul said. "We probably would have lost part or all of the roof, because it was already up to the roof when the Rapid Response Vehicle got there."
The heat from the fire was so intense that it ignited a parked vehicle and melted the siding off a garage next door.
The garage was able to be saved, but the home did not fare as well.
"It's uninhabitable. It's going to need to be gutted," Saul said. "It will be uninhabitable for the foreseeable future due to the water damage, smoke damage, fire damage and the damage we had to do to get to the hot spots."
Read the full story in the July 9, 2020 edition of the Ripon Commonwealth Press.