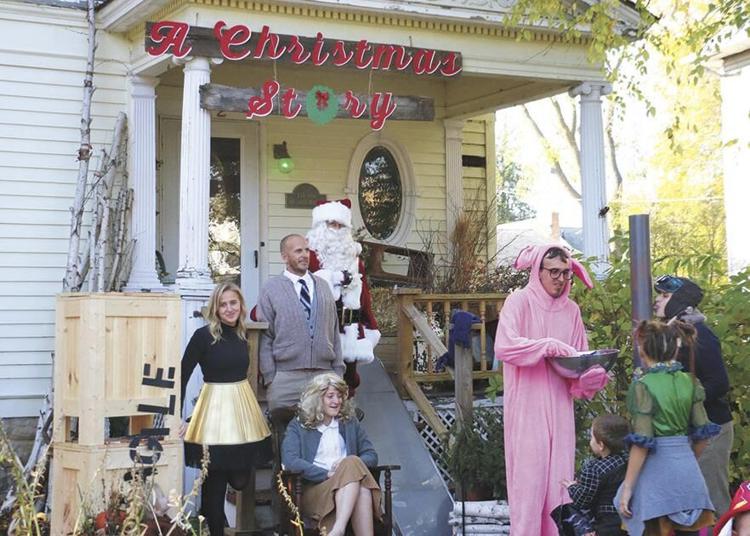 While trick-or-treating will be held this year in the cities of Ripon and Green Lake, it could look a little different as public health officials recommend making some changes to the iconic tradition.
Trick-or-treating will take place in Ripon and Green Lake Sunday, Oct. 25 from 3 to 5 p.m. Officials are reminding participants to maintain social distance and to explore contactless options for handing out candy. 
"Be mindful of social distancing," the Green Lake Police Department said on social media of trick-or-treating. "There are several ways of handing out candy that are contactless; Facebook and Pinterest have many versions to check out."
Meanwhile, Halloween festivities proved to be a point of discussion at last week Tuesday's Ripon Common Council meeting. Ultimately, Mayor Ted Grant noted the city doesn't technically sponsor trick-or-treating and it is not preventing or promoting it this year.
"The CDC has stated that traditional trick-or-treating is a high risk activity," Grant said. "If you were to ask me ... I would not send my child out trick-or-treating this year"
Even so, Ald. Jolene Schatzinger expressed concern about trick-or-treaters stopping at houses that don't have lights on. 
"One individual that works in healthcare is concerned that even when she has her lights off, there are people already ringing her doorbell," Schatzinger said. "She'll have about 700 to 1,000 people coming to her door on Watson Street. So, working in healthcare, this person was greatly concerned about this situation."
She suggested the city put out a communication via social media to remind people to respect the houses without lights on. 
Ald. Howard Hansen, however, noted the pandemic had already taken so much away from area youth that he felt trick-or-treating would give them a sense of normalcy, if done safely. 
"If you're afraid of it, don't go," Hansen said. "But the main thing is, be safe, be smart."
Part of being safe and being smart is following guidelines from local public health officials. 
The Fond du Lac County Health Department released a list of guidelines for trick-or-treaters to keep in mind:
Stay home if sick; do not hand out treats or trick-or-treat if you are sick

Trick-or-treat with people you live with

Practice social distancing; remain 6 feet away from people you don't live with

Wear a face mask that covers your mouth and nose; even under or over a Halloween accessory

People handing out treats should do so without in-person contact by placing treats in a bucket or on a table

Have hand sanitizer available and use it often

Avoid public interaction with high-risk groups

Examine all treats and wash hands before eating them

Avoid eating homemade treats made by strangers
Additionally, the state Department of Health Services (DHS) is recommending folks avoid traditional door-to-door trick-or-treating, traveling to events in other communities, in-person parties, large outdoor gatherings and other in-person activities.
DHS also included a list of items to think about to stay safe this Halloween season:
Stay at home to celebrate — especially if you are sick.

Wear a cloth face covering in public settings.

Stay at least 6 feet away from people you don't live with.

Wash your hands regularly for at least 20 seconds.

If you are experiencing symptoms or have been exposed to COVID-19, get tested and quarantine while waiting for your results
At the end of the day, Green Lake School Superintendent Mary Allen isn't sure how many area families will trick-or-treat amid the pandemic. Still, she hopes those that do are mindful of the public health recommendations.
"I think it can be safe if [kids] are monitored carefully," Allen said. "It's really up to the individual family. I know my daughter's family loves trick-or-treating, but I don't know if they're even going to be doing it this year."