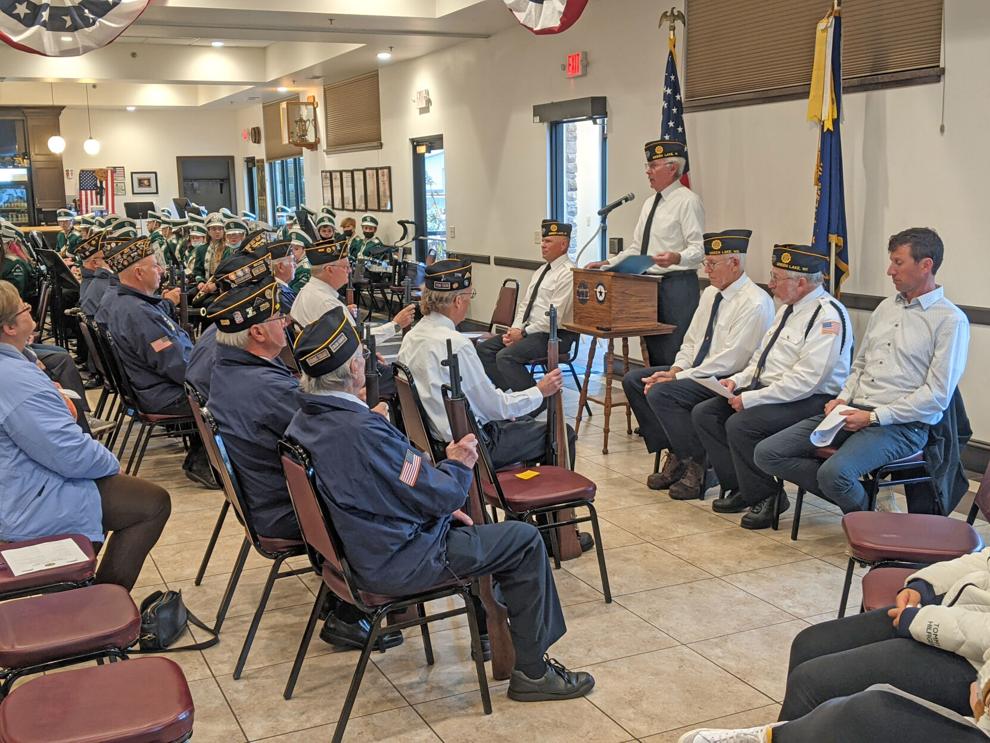 "The defense of freedom requires men and women of character. We are fortunate that there are Americans of every race, creed and background who had the courage to put service before self. Our veterans have all earned our respect and our gratitude."
That was part of the message delivered by former Air Force pilot and American Legion Willis Chapel Post 306 member Chuck Hardesty during Green Lake's Veterans Day program today, which was held inside the Green Lake American Legion building.
Hardesty, who delivered the Veterans Day address, told a packed building featuring many veterans that "We thank them for serving with honor, courage, commitment and integrity. They were always ready, always faithful and they were always there."
He also said that "We're proud of our veterans. We're also proud of those who are serving today. Today is the day we say 'thank you' to all of them. We thank them for their service."
According to Hardesty, every veteran he's ever known was proud of their military service and noted "they have good reason to be proud" as "there's honor in serving your country."
Green Lake Veterans Day program 2021
"Their satisfaction in knowing you did your duty," he said. "Our veterans were part of a military team whose job it was to protect us and to defend our freedoms. They did an important job. They did a necessary job. And they did a good job. We enjoy our freedoms today because of those who served and also those who are still serving."
Hardesty added that the mottos of each of the veterans' branches of the service — Army, Navy, Coast Guard, Air Force, Marine Corps — describe the principles that guide them, the values that define their service and what it takes to wear a military uniform.
The Veterans Day program also featured a greeting from American Legion Willis Chapel Post 306 Commander Art Claggett, an invocation and benediction from Terrace Shores Evangelical Church Director of Student Ministries Ryan Jingst, music by the Green Lake High School choir and Green Lake High School and middle school band and a 21-gun salute presented the American Legion Willis Chapel Post 306 Honor Guard.
The event initially was slated to take place outside of Town Square, but was moved inside of the Green Lake American Legion building as a result of inclement weather.