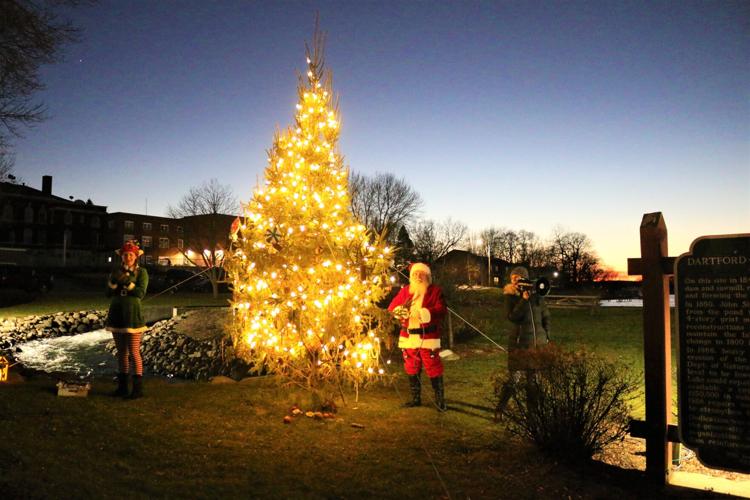 Santa Claus came to Green Lake to light the community Christmas tree tonight (Friday). 
The community came out to greet him, as he pulled into the Dartford Mill Pond around 5 p.m.
Folks took photographs and stopped to say "Hi" as he made his way to meet Green Lake Area Chamber of Commerce Executive Director Lisa Beck to help light the community tree. 
Keep the Cheer Here Community Tree Lighting
After the tree was lit, Santa walked across the street to have his picture taken with area youth. 
Many attendees wore masks, and Beck noted hosting the event outdoors was a measure meant to help keep everyone safe amid the COVID-19 pandemic. 
At a chamber meeting earlier this month, she said that in future years she would like to create a bigger holiday event to help boost tourism during the winter months. 
However, this year's holiday fun doesn't end with Santa's departure from Green Lake.
The tree lighting event was part of a larger, "Keep the Cheer Here" event aimed at supporting small business. 
As part of the event, the chamber is hosting a Shop Local Bingo Walk from today (Friday) until Dec. 24.
Shoppers have the chance to win $75 in Green Lake Area Chamber of Commerce gift certificates by visiting participating stores and restaurants.
Individuals may print out a bingo card at www.visitgreenlake.com or pick it up in person at the chamber office, Crossroads Market or Sassafras Coffee shop.
Participants must have a receipt or stamp from the business dated between this time frame to officially mark off a space.
Cards may be dropped off, mailed to GLACC, 550 Mill Street, Green Lake, 54941. A picture of a stamped card (or receipts), along with a name, phone and email also can be emailed to info@visitgreenlake.com by Dec. 24.
The winners will be randomly drawn Friday, Dec. 28 at 12 p.m.